Florida Quilt Network - Newsletter #129
March 4, 2009
Quilting Friends,
If you've been receiving this newsletter for any length of time, you know I use this space to tell you something I'm excited about. Think of it as my monthly blog. I can't imagine having enough content to be an actual blogger, but so far, I can handle once a month. LOL
Well, this month, I'm excited about our new Stash Busters Club at The Sewing Studio in Maitland. We're going to get together on the 4th Saturday afternoon of each month and talk scrap quilts! I'll have some demos of scrap quilts, maybe a quick project, your show 'n tell, and just a fun time talking about using up our stash. How fun is that? The club is FREE for 2 hours of quilting fun and fellowship. Call the store to reserve your spot now, while you're thinking of it: 407-831-6488. Oh, it will be from 1-3pm on the 4th Saturday, and if you want to make a day of it, my good friend Jane Hamrock will be leading a Beading Club on the same 4th Saturday from 10am-noon. One more thing…you'll get a 15% discount card on everything you buy that day at The Sewing Studio! Oh, another thing…just because we're calling it a club doesn't mean you have to sign up for every month. Just come as often as you can!
Oh, I have another thing I'm excited about this month (how 'bout that!). Ami Simms has created a new national website, www.FindAQuiltTeacher.com, which will be a one-stop-shop for all you hard working program chairs out there. I know I would have loved just such a resource when I was a program chair. And if you're a teacher, she's charging a very reasonable fee to have your info on her website. Check it out. Let's get all this info in one place!
Green Tip #15
Part Deux for uses for leftover batting:
Sarah H says "kids love fabric scraps ... make all sorts of masterpieces with them. Find somewhere local to donate any scraps that are too small to use (or, if you are like me, too lazy to use). Our guild also donates nap size quilts so they have something to lay on and cuddle.",
Jocylyn P says: "I stuffed the pin cushions with leftover batting. It worked well because it was easy to stuff in the hole and move around with a pencil till it was full and firm. "
As always, if you have email changes, let me know:subscribe@FloridaQuiltNetwork.com
--------------------------------------------------------------------------------
CALENDAR OF EVENTS: (Newsletter number follows)
2009
March 5-6 Quilt Show in Mt. Dora www.LakeQuiltGuild.com (#126)
March 11-13 Applique workshops & Lecture in Tampa djohns47 @ tampabay.rr.com (#128)
March 13-15 Quilt Show in Ft. Lauderdale www.browardquiltexpo.com
March 13-14 Quilt Show in Sarasota pattiw @ tampabay.rr.com (#126)
March 14 Quilt Show in Bushnell steinhaus40 @ wmconnect.com (#119)
March 14 Quilt Show & Festival in Trenton 352-463-3842 (#128)
March 20,21 Quilt Show in Crystal River www.geocities.com/creativeqcc (#123)
March 21 Fabric Collage demonstration in Melbourne www.adventurequilter.com (#129)
March 25-29 Quilt Retreat in Leesburg www.BeSewCreative.com (#129)
March 26-28 Super Quilt Seminar in Ocala http://www.rickytims.com/seminars.html
(#128)
March 30 – May 3 Quilt Exhibit in Delray Beach vsmith @ aos.org (#124)
April 3-5 Quilt Show in High Springs info @ HighSpringsQuilt.org (#126)
April 4 Bus Shop Hop in North Central Florida www.aquiltersdream.biz (#129)
April 4-6 Bonnie McCaffery Workshop in Orlando www.FloridaCabinFever.com (#126)
Apr 19-21 Quilt Workshops in Kentucky margie @ cfl.rr.com (#128)
May 2,3 Quilt Show in Gainesville 352-373-1902 (#128)
May 8-21 Textile Tour to France www.jeannemillstours.com (#122)
June 18-21 Quilt Retreat in Eustis Talacam @ aol.com (#120)
July 8-12 Quilt Retreat in Leesburg www.BeSewCreative.com (#129)
July 22-26 Quilt Retreat in Leesburg www.BeSewCreative.com (#129)
July 29 – August 2 Quilt Retreat in Leesburg www.BeSewCreative.com (#129)
Sept 23-27 Quilt Retreat in Leesburg www.BeSewCreative.com (#129)
November 4-17 Textile Tour to Japan www.jeannemillstours.com (#128)
Nov 13-14 Quilts & Tea Festival in Davenport davenporthistsociety @ msn.com (#128)
--------------------------------------------------------------------------------
Ellen Lindner Fabric Collage Exhibit
Boutique 4 Quilters is delighted to showcase the quilts of Ellen Lindner, in an exhibit called Around the Neighborhood. From the simple beauty of grocery store produce, to the vivid colors of local vegetation, Ellen has been inspired to interpret her surroundings in fabric, using a raw edge collage technique. Her amazing results will be on display in the classroom throughout the month of March.
In addition, Ellen will be conducting a Fabric Collage demonstration on March 21st, at 2 p.m. This will be lively and interactive, as Ellen talks about her quilts and techniques. Then, she'll put her audience to work, as they help her create a new quilt.
Boutique 4 Quilters, 2945 W. New Haven Ave., Melbourne, FL, M-F 9:30-5, Sat. 9:30-4
Ellen's website: www.adventurequilter.com
<![if !vml]>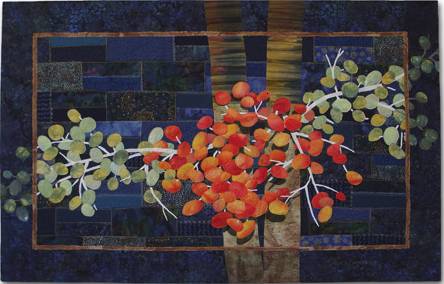 <![endif]>
--------------------------------------------------------------------------------
Bus Shop Hop Saturday April 4th
Visit 3 Quilt Shops: A Quilter's Dream, Leesburg, Tomorrow's Treasures in Crystal River and Suwannee Quilt Shop in Trenton. Bus will leave at 8 am sharp from A Quilter's Dream then go to Crystal River then Trenton then back to A Quilter's Dream. Three great shops no driving.
The cost is $40.00 per person, no driving includes lunch, will play games on the bus, prizes and lots of fun. Sign up today only 46 seats available.
A $20.00 non refundable deposit is required.
Connie Czernuch
A Quilter's Dream
719 W. Main Street
Leesburg, Fl 34748
352-728-1482
www.aquiltersdream.biz
--------------------------------------------------------------------------------
QUILT SHOW IN GAINESVILLE
Today's Stitches -- Tomorrow's Treasurers
Saturday & Sunday, May 2 & 3, 2009
10 a.m. - 4 p.m.
Admission: $6
Presented by the Tree City Quilters' Guild
Gainesville, Florida
120 quilts on display
Special Exhibit: Robert Kaufman Batik Remix
Contest-winning quilts
Viewers' Choice
Silent Auctions
Ribbons
Appraisals
Show DVD
Door prizes
Vendors
Quiltique
Demonstrations
Quilts for sale
Refreshments
Entertainment
Make-it / Take-it
Free Parking
Handicapped accessible
No strollers, please
Best Western Gateway Grand Hotel (Gainesville)
4200 N. W. 97th Boulevard
Gainesville, FL
(I-75 Exit 390)
for more information, contact:
Sandra Pozzetta (352) 373-1902
or
Sharon Fuentes (386) 418-1002
--------------------------------------------------------------------------------
BeSewCreative Quilt Retreats are located in Central Florida, near Leesburg. We host 3-4-5 day retreats with open registration, fund raiser retreats for quilt guilds, and retreats for quilt shops that want to offer their clients a chance to get away together. All retreat activities, meals and accommodations are included. Non Quilting Companion rates available for spouses who like to golf or fish while you quilt. See www.BeSewCreative.com for more details.
March 25-29, Sanity Savers Quilt retreat, seating still available.
July 8-12, Retreat features Margaret Miller teaching 2-day workshop.
July 22-26, Mystery Quilt Retreat
July 29-August 2, Mom's Summer Camp
August 12-16 Retreat featuring Debbie Caffrey teaching 2-day workshop.
September 23-27, Retreat featuring Bonnie McCaffery teaching 2-day workshop.
Rhonda Baker
BeSewCreative Quilt Retreats
Cissy33@BeSewCreative.com
www.BeSewCreative.com