Florida Quilt Network - Newsletter #140
April 1, 2010
Quilting Friends,
I've been teaching a Stashbuster Club for a year now, and that means I'm making and demonstrating at least 2 new quilts a month, as well as a quick project. All quilts and quick projects are designed to use up fabric, be it a stack of fat quarters, a jelly roll, a bag of 'strings', a stack of 5" squares, or what have you. Amazingly enough, I've been working on my stash HARD now, for a year, and guess what? I still can't close my cabinet doors completely. How is that possible? I've decided that I've been fluffing my fabric up each time I go through it, and eventually it will settle down and I'll find room for new fabric. What do you think?
Well anyway, if you're in the area, the Club meets at The Sewing Studio in Maitland, on the 4th Saturday of each month, from 1-3pm. We have a blast and YOU are invited! Did I mention it is FREE and you get a 15% shopping discount that day?
Oh, and before we get to the good stuff: I have decided to start a whole new page on the website: LongArm Business Directory. If you know someone who machine quilts for a living in Florida, please ask them to drop me an email with their contact information. I'll be adding the new page in the next few weeks.
To get a complete, organized, hotlinked listing of all the upcoming shows, retreats, workshops, shop hops, exhibits, etc, please visit www.floridaquiltnetwork.com/calendar.html
-------------------------------------------------------------------------
CALENDAR OF EVENTS: (Newsletter number follows)
2010
Now – Apr 25 Quilt Exhibit in Gainesville http://www.qacdg.org/docs/quiltNatFla.htm (#136)
March 6 – April 31 Art Exhibit in Daytona Beach www.marymcbridearts.homestead.com (#139)
<![if !supportLineBreakNewLine]>
<![endif]>
April 10 Bus Shop Hop in Central Florida aqd @ embarqmail.com (#140)
April 14-16 Joe Morton Workshop in Tampa www.featherprincesses.org (#140)
April 17 Quilt Study Group Mtg in Trenton sewmuch63 @ hotmail.com (#139)
May 10-23 Tour of France www.jeannemillstours.com (#136)
May 12-19 Elly Sienkiewicz Workshop in Tampa www.featherprincesses.org (#140)
June 3-6 Quilt Retreat in Leesburg aquiltersdream.biz (#137)
June 12-22 Quilt Tour in Ireland m.forton@cietours.com (#140)
Sept 16-19 Quilt Retreat in Deland www.besewcreative.com (#138)
Oct 16-18 Quilt Show in White Springs rdewees@yahoo.com (#140)
<![if !supportLineBreakNewLine]>
<![endif]>
Oct 29-30 Quilt Show in McIntosh Marilyn @ Reintreestables.com (#139)
Nov 5-7 Quilt Retreat in Leesburg www.besewcreative.com (#137)
Nov 5-6 Quilt Show in Ocala 352-629-8182 or 352-438-0055 (#140)
Nov 6 Quilt Show in Tampa CCQG@cypresscreekquilters.org (#140)
Nov 12-13 Quilt Show in Tampa http://www.featherprincesses.org/QuiltShow.htm (#137)
Nov 12-13 Quilt Show & Tea in Davenport www.quiltsandtea.com (#140)
Nov 19-20 Quilt Show in Riverview www.brandonquiltguild.com (#139)
2011
Jan 21-22 Quilt Show in Orlando www.FloridaCabinFever.com (#138)
Jan 28-29 Quilt Show in Largo www.largocrackerquilters.org (#134)
April 6-10 SSQA Symposium in Tampa www.SSQA.org (#140)
-------------------------------------------------------------------------
QUILTERS TOUR TO IRELAND
We've still got space on the fantastic Quilters Tour to Ireland June 12-22, 2010. More info here
I would also like to offer a $100.00 discount on this tour to any FQN Member! Deposit must be made by April 12 to receive the discount. Please mention the FQN discount when you call/email.
Margaret M. Forton
CIE TOURS INTERNATIONAL
Director of Sales, Southeast
8811 Gatehouse Rd., #1
Plantation, FL 33324
954-370-1970
-------------------------------------------------------------------------
The Bus Shop Hop will go to 4 different shops. A Quilter's Dream, Tomorrows Treasures in Ocala, Suananne Valley Quilt Shop in Trenton and Tomorrows Treasures in Ocala. The cost is $45.00 per person which includes lots of food and a goodie bag. Each shop will have shop kits specials and a special in the shop.
To catch a bus please call
Tommorrows Treasuers in Ocala 352-690-1915,
Tomorrows Treasures in Crystal River 352-795-6200
or Suwannee Valley Quilt Shop in Trenton 352-463-3842
The bus is full for A Quilters Dream.

Connie Czernuch
A Quilter's Dream, LLC
719 W. Main Street
Leesburg, Fl 34748
352-728-1482
http://aquiltersdream.biz
-------------------------------------------------------------------------
Sunshine State Quilters Association, Florida's state-wide guild, is presenting a symposium April 6--10 next year in Tampa at the Airport Hilton with teachers Velda Newman, SallySchneider, Mary Sorenson, and Leigh Mc Donald. Something for everyone! All quilters welcome!
Details are going up on the website as available: http://www.ssqa.org/symposium.htm
2010 Grants closing
The 2010 SSQA grants for Quilt Discovery Days will be closed to applications on March 31st.
In 2011, the grants program will be expanded to educational and charitable events, not limited to just Quilt Discovery Days. The same time frame will be in effect: applications open from January 1 through March 31st; awards committee decisions made in April/ May, and grants given in June.
New information will be on the website later this year, but the program will be similar to the current one. http://www.ssqa.org
-------------------------------------------------------------------------
Ellen Lindner Participating in Transformations Exhibit
Transformations is an exciting new exhibit, sponsored jointly by Florida Institute of Technology and the Brevard Art Museum. In it, twelve visual artists have been paired with twelve poets. The idea is for each pair to become familiar with one other's work, and to be create new work that's influenced by it. A very loose collaboration, of sorts.
Ellen Lindner has been selected as one of the visual artists, (and the only fiber artist.) She's very excited to be part of this project. It will be displayed at the Brevard Art Museum, in Melbourne, FL, opening April 17th. In addition, a book has been published showcasing the resulting pieces, additional work from each participant, and in-progress photos and information.
<![if !vml]>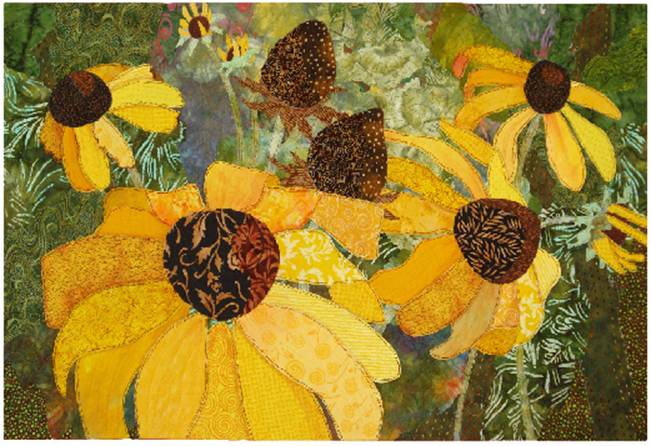 <![endif]>
Ellen's piece for this exhibit is called Natural Progression. She has blogged extensively about her inspiration for this piece, as well as the process.
Read Ellen's blog at http://adventurequilter.com/blog/
Learn more about this exhibit at http://411.fit.edu/transformations/
-------------------------------------------------------------------------
CCQG Bi-Annual Quilt Show Coming in November!


Mark your calendars NOW for November 6th when CCQG will present 'As Our Garden Grows' at the beautiful University of South Florida's Botanical Gardens. We encourage you to come enjoy the beauty of our quilts where nature is our background and the sky is the limit!

We'll have lots of beautiful quilts on display for your viewing pleasure, a Boutique bursting with home-made goodies for you to purchase for yourself or as a gift for your BFF and of course our Charity Quilt Auction which will benefit USF Hope House. Hope House offers a wide range of resources for all people affected by and suffering from eating disorders. To learn more about Hope House and eating disorders click the following link: Hope House
<![if !supportLineBreakNewLine]>
<![endif]>
Saturday, November 6, 2010 10:00 a.m. - 5:00 p.m.
(Rain date is Sunday, November, 7th)
USF Botanical Gardens located at 12210 USF Pine Dr Tampa, FL 33612
Admission: $5 per person, children under 12 get in free


<![if !supportLineBreakNewLine]>
<![endif]>
Florida Cracker
<![if !vml]>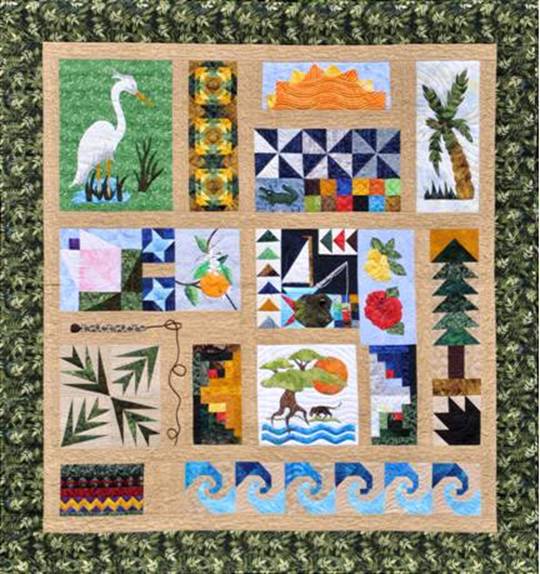 <![endif]>
62 1/2 x 65 1/2
Would you like to own this quilt? Email us at CCQG@cypresscreekquilters.org to fnd out how or to learn more about the show!
-------------------------------------------------------------------------
JO MORTON & ELLY SIENKIEWICZ IN TAMPA
The Feather Princesses, Tampa Chapter of The Appliqué Society,
will host national teachers, Jo Morton on April 14 - 16 and
Elly Sienkiewicz on May 12 - 19, 2010. Their lectures and classes
will be held at:
The Studio
13345 Casey Road
Tampa, Florida 33618
For information about the lectures and classes that Jo and Elly will teach,
please see our website at: www.featherprincesses.org.
-------------------------------------------------------------------------
It will be held November 5 and 6, 2010 from 9am to 4 pm.
Our guild is the Country Road Quilters of Ocala, FL
The location is Central Florida Community College, Ewers Century Center, 3001 SW College Road (SR 200), Ocala, FL
Contact: Freda Jones 352-438-0055
-------------------------------------------------------------------------
Abstracted Visions Exhibition
March 16 through April 20, 2010
Gateway Center for the Arts
386-668-5553
http://www.GatewayCenterfortheArts.org
<![if !supportLineBreakNewLine]>
<![endif]>
Abstracted Visions

The Gateway Center for the Arts in DeBary will host an opening reception for Abstracted Visions, an exhibition featuring work of 5 Central Florida painters. The reception will take place at 880 North Highway 17-92 in DeBary from 2:00 to 4:00 PM. This event is free and open to the public.
Abstracted Visions presents works by five powerful women painters from eastern Volusia County. They have exhibited both statewide and nationally in galleries and museums, earning prestigious awards and commissions. Abstracted Visions represents their first joint exhibition.
Artists exhibiting include: Carol Bertrand, Judy Gilmer, Gretchen Nass, Kathy O'Meara, and Betty Parker. Curator Mary McBride said that she wanted to bring their works together because of the strong statements they make in their art which create a new harmonic voice when shown together.
Carol Bertrand tries to "reach beyond and under emotions and intellect" to touch her soul in her acrylic and mixed media art. She is a monthly artist contributor to "Psyche's Journey," a national psychology magazine and exhibits her paintings throughout the area including the Mary McLeod Bethune Performing Arts Center opening of the Visual Arts Gallery.
Judy Gilmer who has exhibited in international and national exhibits with her expressive abstract work has also exhibited throughout Florida including a solo exhibit at Eustis Museum, the Peabody Auditorium in Daytona, Mt. Dora, Old School House in Boca Rotan. Her Ancient Rhythms work can be seen in Miami at the Carl Gustav Gallery. Working intuitively and responding to her canvas she often uses bold colors and has a personal dialogue with each surface.
Gretchen Nass says that "being an intuitive painter allows my work to be unpredictable and infinitely challenging." She works mainly in acrylics on canvas and her work can been seen in Arts on Douglas Fine Arts and Collectibles in New Smyrna Beach. Recent exhibitions include the 58th Annual All Florida Juried Competition Exhibition in Boca Raton Museum of Art.
Although Kathy O'Meara is well known for her assemblages, her acrylic paintings also draw in the viewer and create their own metaphoric references. Just a few of the places her work has been exhibited include the Brevard Museum of Art, the BCC Performing Arts Center and the Florida School of the Arts.
Betty Morris Parker's art can be seen at almost every art festival in the area. Her work with Collage/Décollage involves hours of painting, sanding, tearing, gluing, and repainting. She says, "my artwork reflects personal messages, moods and memories" of her formative years learning to quilt and crochet. She was one of four artists chosen for the Museum of Arts and Sciences of Daytona Beach's inaugural Contemporary Artist exhibit.
-------------------------------------------------------------------------
QUILT SHOW IN WHITE SPRINGS
<![if !supportLineBreakNewLine]>
<![endif]>
October 16-18, 2010
Suwannee River Quilt show, Stephen Foster Culture Center State Park, US 41 in White Springs, Fl Over 200 quilt on display in a beautiful setting. Judged show with over 10 vendors, boutiques, drawings, a block contest, raffles and food concessions. Contact Ramona Dewees, <rdewees@yahoo.com>. 386-208-1381, Camping available in the Park, 1-877-635-3655, Buses Welcome!
-------------------------------------------------------------------------
10th Annual Quilts and Tea,
"Childhood Remembered"
November 12 & 13, 2010 from 9 to 3
Historic District Davenport
1 South Allapaha Ave. Davenport, FL 33837
Contact: Harriet Rust
Website: www.quiltsandtea.com available May 1, 2010
Travel the historic district by tram or carriage to view quilts, tea and antique displays, vendors, antique vehicles and specialty foods. New this year teddy bears, dolls and antique toys.
Indoor and tented vendors and boutiques.
Quilting Bee, Bed Touring, Quilt Appraisals and Demonstrations
Entertainment by the Davenport School of the Arts.
200 plus quilts, bears and dolls.
Sponsored by: The Davenport Historical Society, City of Davenport and the Central Florida Visitors Bureau.
For additional information regarding accommodations in the area visit: visitcentralflorida.org
---------------------------------------------------------
CALL FOR QUILTS
I am writing to you because we are currently organizing our first Quilting and Fabric Arts Show taking place in October 2010 in Historic Cocoa Village. This first year we are planning this show in conjunction with our usual Fall Art and Crafts Show which takes place the third weekend in October.
Our 2-day Quilting and Fabric Arts Show will showcase quilts and quilting organizations from all over Florida and the south-Eastern states.
We plan on having many quilting vendors and Fabric suppliers, a showcase of your beautiful quilts in a historic setting and also a quilting contest with some fantastic prizes…!
I would like you to consider submitting some of your quilts for display or for competition purposes, or maybe you would like to organize a bus trip for your members to our Historic Village that weekend.
We have been hosting four craft shows each year for almost 30 years in Historic Cocoa Village and our Fall Craft Show is hugely popular.
Please let me know if you might be interested in hearing more about this event or if you would like some quilt competition details.
Have a great week…!!
Warm Regards,
Catherine Sligh
Events Coordinator
Historic Cocoa Village Association
321 631 9075
Check us out on FaceBook/HistoricCocoaVillage
Weekly Events:
Wednesdays - Farmers' Market - Myrt Tharp Park.
Fridays - Brown Bag Lunch and Jazz - Myrt Tharp Park.