Florida Quilt Network - Newsletter #144

August 6, 2010

Quilting Friends,

Its been a great summer, very different from summers past. We usually travel most of July and August, but this year our trips were done by the first week of July. So we have been home in Central Florida to enjoy each and every day of this extended heat wave. Thank goodness my favorite hobby is indoors! And I've been indulging in my second hobby, reading, more than usual. Here is a list of books I can recommend highly:

The Help by Kathryn Stockett

Same Kind of Different as Me by Ron Hall & Denver Moore

To Kill a Mockingbird by Harper Lee (this is the 50th anniversary of this book)

The Guernsey Literary and Potato Peel Pie Society by Mary Ann Shaffer

Pearl of China by Anchee Min.

There is an unintended theme here, and I'm not sure why; I didn't even know what the books were about before I read them. Each book is so well written, but also thought provoking and eye opening.

I hope you get lots of time to indulge in YOUR favorite hobbies!

To get a complete, organized, hotlinked listing of all the upcoming shows, retreats, workshops, shop hops, exhibits, etc, please visit www.floridaquiltnetwork.com/calendar.html

-------------------------------------------------------------------------

CALENDAR OF EVENTS: (Newsletter number follows)

2010

Aug 11 Quilty Auction in Orange City 407-489-1471 (#144)

Aug 19-21 Pam Bono Lecture & Workshops in Palm Harbor johnwwoods @ ij.net (#144)

Sept 16-19 Quilt Retreat in Deland www.besewcreative.com (#142)

Sept 16-18 Jan Krentz Workshop in Hudson crwargny @ aol.com (#143)

Sept 23-25 QuiltFest in Jacksonville www.QuiltFestJax.com (#143)

Oct 2 FL Quilt Study Group Meeting in Trenton sewmuch63 @ hotmail.com (#144)

Oct 15-17 Quilt Show & Sale in White Springs rdewees @ yahoo.com (#142)

Oct 16-17 Fall Festival in Wesley Chapel

www.wesleychapelchamber.com (#144)

Oct 28 – Jan 23 Quilt Show in Tallahassee www.museumoffloridahistory.com (#144)

Oct 29-30 Quilt Show in McIntosh Marilyn @ Reintreestables.com (#139)

Nov 5-7 Quilt Retreat in Leesburg www.besewcreative.com (#137)

Nov 5-6 Quilt Show in Ocala 352-629-8182 or

352-438-0055 (#140)

Nov 6 Quilt Show in Tampa

CCQG @ cypresscreekquilters.org (#140)

Nov 10-13 Shop Hop in North Central Florida aquiltersdream.biz (#144)

Nov 12-13 Quilt Show in Tampa www.featherprincesses.org/QuiltShow.htm (#137)

Nov 12-13 Quilt Show & Tea in Davenport

www.quiltsandtea.com (#140)

Nov 12-14 Quilt Show in West Palm Beach www.quiltfest.com (#143)

Nov 18-20 Sharon Schamber Workshops in Lakeland

teddyw @ tampabay.rr.com (#141)

Nov 19-20 Quilt Show in Riverview

www.brandonquiltguild.com (#139)

Dec 4 FL Quilt Study Group Meeting in Trenton sewmuch63 @ hotmail.com (#144)

Dec 12 - 19 Quilt Cruise in Ft. Lauderdale WWW.CRUISE-CONSULTANTS.COM (#144)

2011

Jan 21-22 Quilt Show in Orlando

www.FloridaCabinFever.com (#138)

Jan 21-22 Quilt Show in Cape Coral

www.artquiltersunlimited.com (#141)

Jan 23 Quilt Show in Tallahassee

www.museumoffloridahistory.com

(#142)


Jan 28-29 Quilters Marketplace in Lake Worth hqgosf@gmail.com (#143)

Jan 28-29 Quilt Show in Largo

www.largocrackerquilters.org (#134)

Jan 28-29 Quilt Show in The Villages www.QGOTV.org (#144)

Jan 29 Quilt Show in Dade City epquilters @ yahoo.com (#141)

Feb 5 FL Quilt Study Group Meeting in Trenton sewmuch63 @ hotmail.com (#144)

Feb 11-12 Quilt Show in Titusville

pstitchthis @ bellsouth.net (#142)

Feb 11-12 Quilt Show in Sebring hcquilt2011 @ gmail.com (#142)

Feb

11-12 Quilt Show in Clearwater www.QuiltersCrossing.net (#144)

Feb 25-26 Quilt Show in Punta Gorda prqgpubchair @ yahoo.com (#142)

Mar 5-6 Quilt Show in Naples www.naplesquiltersguild.com/Show.html (#141)

Mar 11-12 Quilt Show in Crystal River

www.creativequiltersofcitruscounty.com (#143)

Mar 11-12 Quilt Show in Sarasota www.friendshipknotquiltersguild.com

(#141)

April 2 FL Quilt Study Group Meeting in Trenton sewmuch63 @ hotmail.com (#144)

April 6-10 SSQA Symposium in Tampa

www.SSQA.org (#140)

April 30-May 1 Quilt Show in Gainesville

hayesbernina@bellsouth.net (#143)

-------------------------------------------------------------------------

Quilters' Crossing Quilt Guild will host Quilting Under the Palms Quilt Show, our 12th bi-annual show.

Show dates and info: Friday, February 11 and Saturday, February 12, 2011 from

9 am to 4 pm, entrance fee $6.00,

Place: Countryside Recreation Center, 2640 Sabal Springs Dr., Clearwater, Florida 33761.

Contact for more info or to purchase Opportunity Quilt tickets: Jan Hale (cell phone) 727-858-1394 or email: birdseye2@earthlink.net.

Map for show location on website: www.QuiltersCrossing.net. The show features over 200 Quilts, Wearable Art, Vendor Mall, Door Prizes, Quilt Appraiser, large Boutique, Peoples' Choice Awards, Opportunity Quilt (proceeds of ticket sales to Hospice of the Florida Suncoast), Small Quilt Auction, Demonstrations, "Quilt Trolley," and a chance to win a New Sewing Machine donated by Sue's Bay Area Sewing.

Buses Welcome.

-------------------------------------------------------------------------

QUILT DOCUMENTATAION IN GENEVA

The Geneva Historical Society has been awarded a grant to host a Quilt Documentation Day in March 2011. The event will be held at the Geneva Rural Heritage Center. Each quilt will be photographed with the owner and described by a quilt expert. They are interested in ALL old quilts regardless of condition. New quilts will also be documented. Pictures and information collected will be placed in a national database.

Experienced documenters will train volunteers to assist in the documentation at a

Training Session on August 7, 2010 from 9 A.M. to 4 P.M. at the Rural Heritage Center (old brick school house at Main and First). Nan Moore of Sunshine State Quilters will begin the session by speaking at 9:15. There will be a lunch break at noon. Either bring your lunch or we will order sandwiches for you. Beverages will be furnished. Each person attending may bring one quilt to the training session for documentation. No quilting skills are necessary. There is no cost to attend. Provide the information below to register.

In conjunction with the March 2011 Quilt Documentation Day we also plan an exhibit of quilts from the East Central Florida Rural Area, workshops, children's quilting sessions, and a lecture. We would love to include local quilt history in the lecture. The Historical Society would like to hear your stories. Please contact Cindy Simonton at (407) 312-2204 or Wanda Currie (407) 349-5400 if you are interested in sharing them.

With such an ambitious program, we really need the help of interested members of the community. Please let us know if you can assist. No quilting experience is necessary.

Also, a number of women in Geneva, Black Hammock and Chuluota have expressed an interest in forming

Quilting Circles. Some are experienced and some are new to quilting. Some want to hand quilt and some want to machine quilt. Some can meet during the day and some on weekends or evenings only. If you would like to be part of one of these groups, please contact Bonnie Banda at (407) 366-2784 or 1200 Brumley Road, Chuluota, Florida 32766 or chefbb@bellsouth.net.

PLEASE FILL IN THE INFORMATION BELOW AND EITHER EMAIL to Artha Callinan toomanyquilts@gmail.com subject line GENEVA DOCUMENTATION or Snail Mail to 11098 Summerspring Lakes Dr, Orlando, FL 32825

Name:

E-mail:

Phone:

Group you're with:

-------------------------------------------------------------------------

Save the dates!

Mark your calendars for the Florida Quilt Study Group meetings in 2010-11.

October 2, 2010

December 4, 2010

February 5, 2011

April 2, 2011

These are all Saturdays at the Suwannee Valley Quilt Shop on Main Street in

Trenton. Doors open at 9:30am; meeting starts at 10:00am. I hope you can join

us. To be added to the mailing list, please contact Mary Anne Randall at

sewmuch63@hotmail.com.

-------------------------------------------------------------------------

The Greater Wesley Chapel Chamber of Commerce is excited to announce the 2010 Wesley Chapel Fall Festival

October 16 and 17, 2010

We hope you can join us!

Location: The Grove in Wesley Chapel

Directions: From I-75 North or South-


Take exit 279, Hwy 54 (Wesley Chapel Blvd.), then travel west for 200 yards and turn right on Oakley Blvd. It features one mile of I-75 frontage, at the intersection of the most traveled roads in Pasco County, allowing for excellent visibility and easy access. In excess of 52,000 traffic count pass by the one mile frontage per day.

In addition to our art and crafts, we will also feature the following:

Battle of the Wings Contest (Saturday)

Chili Cook-Off (Sunday)

Ronnie Setser Custom Car Show (Both Days)

Live Entertainment (Both Days)

Large Children's Area

Show hours are 10am-5pm both Saturday and Sunday

10x10 booth space $100.00 - $125.00 after 09/15/10 deadline

Advertising includes multiple print, web and radio sources

For information please call Cindy at (813)505-3065/Laura (813)382-8412 or email

wcchamber1@aol.com

Applications are available at

www.wesleychapelchamber.com

Sincerely,

The Greater Wesley Chapel Chamber of Commerce

813-994-8534

-------------------------------------------------------------------------

WORKSHOP IN PALM HARBOR

Pam Bono is coming to the Procrastinating Quilter's Guild in August. We are inviting everyone to join us for her Lecture & Trunk Show program and two workshops scheduled as follows:

Trunk Show: Pam Bono will give a lecture and trunk show on Thursday Evening, August 19, 2010 at 7 p.m.

Location: Crossroads Baptist Church Hall, 2276 Curlew Road, Palm Harbor, Florida

Cost: $5 for non-members

Workshops: Bursting Buds on Friday, August 20, 2010 from 8:30 a.m.–3 p.m. and Snowmen Are Just A Bunch Of Flakes on Saturday, August 21, 2010 from 8:30 a.m.–3 p.m.

Location: Crossroads Baptist Church Hall, 2276 Curlew Road, Palm Harbor, Florida

Cost: Each workshop is $40 paid in full to reserve a spot. This includes the Angler tool and pattern.

Contact Person: Lynn Woods 727-399-9407 (home), 727-542-3411 (cell). Check with Lynn on workshop space before mailing payment.

Email:

johnwwoods@ij.net

Address: 9244 133rd Lane N., Seminole, FL 33776

Check out Pam Bono's designs, unique quilting technique and workshops on her website at

www.pambonodesigns.com.

-------------------------------------------------------------------------

Eastern Caribbean Quilting Cruise

December 12th 2010

Cruise with Jan Krentz onboard Royal Caribbean's Allure of the Seas to the Eastern Caribbean departing Fort Lauderdale on Dec 12th 2010 (Soon to be the world's newest and largest cruise ship). Allure of the Seas original inaugural sailing was moved from Dec 12th to Dec 5th, allowing us to secure the conference rooms.

Bernina sewing machines will be setup in the conference center for your use. With 3 1/2 sea days, we will have ample time for projects. Don't delay booking this fantastic trip as it will fill quickly. Allure of the Seas is the sister ship of Oasis of the Seas, and is presently under construction in Finland. Contact Cruise Consultants of North TX for booking details. Gloria Cook can be reached at 817-371-5329, toll free at

888-719-7698 or via email: gloria@cruise-consultants.com

Workshop fee of $50. Bring your own fabric or choose optional $100 per kit fee. Each kit consists of precut fabrics and custom ruler. Order kit in advance if desired. (Workship fee and optional kit payable by check to Jan Krentz)

Inside cabins from $1139* (guaranteed only-No cabin selection-Limited availability)

Boardwalk, Central Park and Ocean View balcony staterooms (from $1,259 per person* A deposit of $300 will hold your cabin. Final payment due September 25th.

*Gratituties not included, no fuel surcharge at this time. Add $115.36 per person for government fees and taxes.

WWW.CRUISE-CONSULTANTS.COM

CLICK FOR ROUTE MAP/ITINERARY ALLURE DECK PLAN ONLINE REGISTRATION FORM

-------------------------------------------------------------------------

Our annual Capital City Show will open on October 28, 2010 and extend through January 23, 2011. This year's title is The Garden Party: Capital City Quilt Show. The Museum of Florida History partners with Quilters Unlimited of Tallahassee annually for this show. This is the 29th annual quilt show. There are more than 100 beautifully hand-made and machine constructed quilts of various sizes in the exhibit. There is a drawing for the "Opportunity Quilt" to be given away at the end of the exhibit run.

Wanda Richey

Public Relations

Museum of Florida History

500 South Bronough Street

Tallahassee, FL 32399-0250

850.245.6400

www.museumoffloridahistory.com

-------------------------------------------------------------------------

Ellen Lindner Featured in Spaces Magazine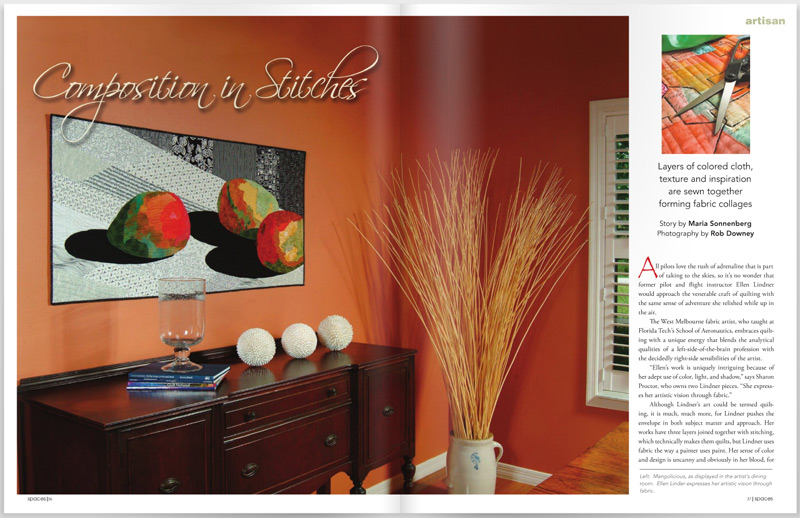 Art quilter, Ellen Lindner, is the featured artist in the current edition of Spaces Magazine. The article, "Composition in Stitches," showcases her work, as well as her creative space and techniques. Ellen is especially happy with this article since it reaches an upscale audience not normally familiar with quilts as art. Plus, the eight pages feature fabulous photography of her quilts and her home. The article may be seen at www.spacesonline.com , pages 36-43, July/August edition.
Ellen Lindner's work may be seen on her website, www.AdventureQuilter.com.
-------------------------------------------------------------------------
SHOP HOP IN NORTH CENTRAL FLORIDA
Holiday Workshop Shop Hop Nov 10th -13th.
passports $5.00 each stay tuned for more details.
Grand Prize Sewing Machine carrying case filled with
goodies, like pattern, book 3 yard of backing fabric 108" wide neutral in color and more.
For more information email Connie at aqd@embarqmail.com
Wine Walk August 12th 5-8 pm.
Machine Quilt Class with Mary-Jeanine Ibarguen - August 20th $30.00 per person.
Hand Applique class August 24th.
For more information go to a aquiltersdream.biz


Connie Czernuch
A Quilter's Dream, LLC
719 W. Main Street
Leesburg, Fl 34748
352-728-1482
aquiltersdream.biz
www.itsyourdowntown.com

-------------------------------------------------------------------------
Nimble Fingers Quilters Guild –
MAKE IT, BAKE IT, GROW IT, SEW IT Auction
will be held on Wednesday, August 11, 2010,
at the First Congregational Church,
201 West University Avenue, Orange City FL 32763.
Doors will open at 7:00 PM and the auction will start at 7:30.
Please come join us for a great evening of shopping!
If you have any questions, please call Brenda Sturges at 407-489-1471.
-------------------------------------------------------------------------
Showcase of Quilts
January 28 and 29, 2011
Savannah Center The Villages
Web site is
www.QGOTV.org
-------------------------------------------------------------------------