Florida Quilt Network - Newsletter #147
November 1, 2010
Quilting Friends,
If you enjoy looking at beautiful quilts on the web, head on over to the Blogger's Quilt Festival to see some beautiful creations. I keep the window active and look at a few each time I sit down at my computer.
I also found a website that brings in updates from various quilting blogs, so the work of looking for blogs is done for you.
Don't forget we are still building the best LongArm Quilter List in Florida! Take a look and make sure your favorite LAQ is listed.
To get a complete, organized, hotlinked listing of all the upcoming shows, retreats, workshops, shop hops, exhibits, etc, please visit www.floridaquiltnetwork.com/calendar.html
-------------------------------------------------------------------------
CALENDAR OF EVENTS: (Newsletter number follows)
2010
Now till Nov 30 Quilt Exhibit in Melbourne 321-768-2060 (#147)
Oct 28 – Jan 23 Quilt Show in Tallahassee www.museumoffloridahistory.com (#144)
Nov 5-7 Quilt Retreat in Leesburg www.besewcreative.com (#137)
Nov 5-6 Quilt Show in Ocala 352-629-8182 or 352-438-0055 (#140)
Nov 6 Quilt Show in Tampa www.cypresscreekquilters.org (#146)
Nov 6-7 Studio Grand Opening in Orlando www.wanderingstitches.com (#147)
<![if !supportLineBreakNewLine]>
<![endif]>
Nov 10-13 Shop Hop in North Central Florida aquiltersdream.biz (#145)
Nov 12 Ellen Lindner Lecture in Cocoa www.rocketquilters.com/ (#147)
Nov 12-13 Quilt Show in Tampa http://www.featherprincesses.org/QuiltShow.htm (#137)
Nov 12-13 Quilt Show & Tea in Davenport www.quiltsandtea.com (#140 & #145)
Nov 12-14 Quilt Show in West Palm Beach www.quiltfest.com (#143)
Nov 12-13 SSQA Events at the Mancuso Show in WPB www.SSQA.org (#145)
Nov 15 Quilter's Meet & Greet in Boca Raton quilttogether @ gmail.com (#147)
Nov 18-20 Sharon Schamber Workshops in Lakeland teddyw @ tampabay.rr.com (#141)
Nov 19-20 Quilt Show in Riverview www.brandonquiltguild.com (#139)
Nov 27 Stashbuster Free Club in Maitland http://sewing.net/training.htm (#140)
Dec 4 FL Quilt Study Group Meeting in Trenton sewmuch63 @ hotmail.com (#144)
2011
Jan 21-22 Quilt Show in Orlando www.FloridaCabinFever.com (#138)
Jan 21-22 Quilt Show in Cape Coral www.artquiltersunlimited.com (#141)
Jan 21-22 Contemporary Quilt Show in Fort Myers www.artquiltersunlimited.com (#145)
Jan 22 Stashbuster Free Club in Maitland http://sewing.net/training.htm (#140)
Jan 23 Quilt Show in Tallahassee www.museumoffloridahistory.com
(#142)
<![if !supportLineBreakNewLine]>
<![endif]>
Jan 28-29 Hibiscus Garden Walk & Quilter's Marketplace in Lake Worth hqgosf@gmail.com or www.hibiscusquiltguild.org (#145)
Jan 28-29 Quilt Show in Largo www.largocrackerquilters.org (#134)
Jan 28-29 Quilt Show in The Villages www.QGOTV.org (#144)
Jan 28-29 Quilters Walk & Marketplace in Lake Worth www.hibiscusquiltguild.org (#145)
Jan 29 Quilt Show in Dade City epquilters @ yahoo.com (#141)
Feb 4-5 Quilt Documentation Days in Vero Beach (#145)
Feb 5 FL Quilt Study Group Meeting in Trenton sewmuch63 @ hotmail.com (#144)
Feb 11-12 Quilt Show in Titusville pstitchthis @ bellsouth.net (#142)
Feb 11-12 Quilt Show in Sebring hcquilt2011 @ gmail.com (#142)
Feb 11-12 Quilt Show in Clearwater www.QuiltersCrossing.net (#144)
Feb 11-13 Quilt Retreat in Delray Beach Talacam@aol.com (#146)
Feb 19 Nancy Prince Workshop in Palm Coast www.flaglercountyartleague.com (#147)
Feb 25-26 Quilt Show in Punta Gorda prqgpubchair @ yahoo.com (#142)
Feb 25-26 Quilt Show in Tampa Bay Delilahl@verizon.net (#145)
Feb 25-26 Quilt Show in Amelia Island aiquilters.com (#147)

Feb 26 Stashbuster Free Club in Maitland http://sewing.net/training.htm (#140)
March 3-4 Quilt Show in Mt. Dora www.LakeQuiltGuild.com (#145)
Mar 5-6 Quilt Show in Naples www.naplesquiltersguild.com/Show.html (#141)
Mar 11-12 Quilt Show in Crystal River http://www.creativequiltersofcitruscounty.com (#143)
Mar 11-12 Quilt Show in Sarasota www.friendshipknotquiltersguild.com (#141)
March 19 Quilt Documentation Days in Jacksonville (#145)
March 26 Quilt Documentation Days in Geneva (#145)
April 2 FL Quilt Study Group Meeting in Trenton sewmuch63 @ hotmail.com (#144)
April 6-10 SSQA Symposium in Tampa www.SSQA.org (#140)
April 30-May 1 Quilt Show in Gainesville hayesbernina@bellsouth.net (#143)
May 1 Quilt Cruise with Mary-Jeanine Brochure (#145)
June 20-23 Quilt Retreat in Silver Springs talacam@aol.com (#146)
-------------------------------------------------------------------------
Quilters Meet & Greet
Are you interested in starting and joining a new daytime quilting group in the south Palm Beach area? On November 15th at 10am at the Boca Raton Community Center we are hosting a gathering. The purpose of this gathering is to bring together quilters, like you, who may be interested in starting up a new group. Please RSVP to quilttogether@gmail.com. Refreshments will be served.
-------------------------------------------------------------------------
NANCY PRINCE WORKSHOP IN PALM COAST
Hi, I am from the Flagler County Art League in Palm Coast, FL . We are hosting a workshop with Nancy Prince "Thread Painting Landscapes". It is February 19, 2011. One day workshop-members $60, nonmembers $70. For more information call 386-445-0571 or go to our website www.flaglercountyartleague.com
We are located at 160 Cypress Point Pkwy Palm Coast, FL 32164
-------------------------------------------------------------------------
Wandering Stitches Quilting Studio
Grand Opening
November 6, 2010 9 am to 6 pm and November 7, 2010 11 am to 5 pm
Please stop by the new studio at 5780 Hoffner Avenue, Suite 404, Orlando, FL 32822 and visit us during the Grand Opening! Our open house will allow you to test our APQS Quilting Systems ~ including Millennium, George, Bliss, and Quilt Glide. Come in and play on the longarms, your creations will become part of our studio decor! Refreshments will be served. Door prizes will be given away, including a free Rental Certification Class!
Lots of new classes have been added to the classes page on our website including Freehand Flowers, Using Tools and Pantographs. Rental Certification Classes are listed through December. Sign up now to quilt your own Christmas Quilts!
Would you like to save $50? Anyone that signs up for a rental certification class prior to the Grand Opening receives two free hours of rental time!
We are having a sale on basic edge to edge quilting...a penny a square inch! This price won't last long so get your tops together and get on the list! Our new Intelliquilter is due anytime now and this price is good for both freehand and computerized basic quilting. Price good through November 15, 2010!
November 17, 2010 at 7pm the Studio is happy to host the first meeting of a longarm quilting guild! We will be the local IMQA Regional Group. Come and help us plan out the next year!
Sue Patten is coming to visit January 5 to 9, 2011 ~ look for more information soon!
Contact Lisa at 407-658-4044 for more information!
Looking forward to seeing you all at the Studio!
Gone Quilting!
Lisa Mullins
Wandering Stitches Quilting Studio
APQS Rental, Sales, Service & Education
321-443-6513
5780 Hoffner Ave, Suite 404, Orlando, FL 32822 ~ 407-658-4044
-------------------------------------------------------------------------
LECTURE BY ELLEN LINDNER IN COCOA
Playing with Fabric
A slide lecture by Ellen Lindner
<![if !vml]>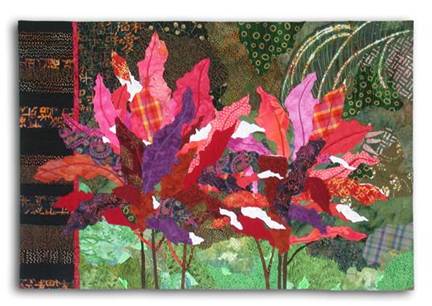 <![endif]>
November 12, 2010, 9:30 A.M.
Central Brevard Library, 308 Forrest Ave., Cocoa, FL
Hosted by the Rocket Quilters Guild, as part of their monthly meeting
Everyone welcome. No charge.
Rocket Quilters Website: www.rocketquilters.com/
Ellen Lindner website: www.adventurequilter.com
-------------------------------------------------------------------------
QUILT EXHIBIT IN MELBOURNE
Held Over
Fiber Art Exhibit:
Dirty Dozen Exposed 2010
7th annual exhibit
<![if !vml]>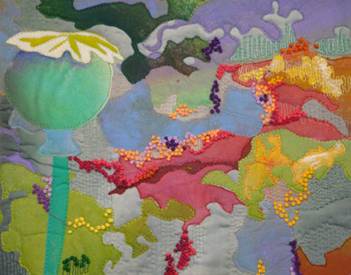 <![endif]>
©2010 Martha Wolfe (detail)
From October 2nd through November 30th (extended dates)
Boutique 4 Quilters
The Dirty Dozen Fiber Artists have transformed the Boutique 4 Quilters classroom into an exhibit of over 80 original fiber art pieces, each made with intriguing materials and techniques.
Two unique group projects are also featured.
New Event: Artist Demonstration November 13th, 2 PM
Featured: Surface design with oil paint sticks,
Weaving fabric as a design element,
Freeform composition with tiny pieces of fabric
Boutique 4 Quilters is located at 2945 W. New Haven Ave., West Melbourne, FL
Store hours are M-F 9:30-5, Sat. 9:30-4. Phone 321-768-2060
Dirty Dozen Fiber Artists: Barbara Bilbo, Jill Brown, Paula Furgason,
Peggy Horsfield, Elizabeth King, Ellen Lindner, Bev O'Connell, Dij Pacarro,
Ruth Anne Parker, Lisa-Marie Sanders, Irene Watson, Martha Wolfe
-------------------------------------------------------------------------
CALL FOR ENTRIES
Enter your quilt in the Kumquat Festival January 29, 2011 in Dade City
Forms can be found here: http://www.dadecitychamber.org/main/kumquat_festival.php
-------------------------------------------------------------------------
QUILT SHOW IN WEST PALM BEACH
Don't miss World Quilt Florida at the Palm Beach County Convention Center on November 12-14 where the Gold Coast Quilters' Guild's 2010 Challenge "A Perfect 10" will be on display as a special exhibit.
The Gold Coast Quilters exhibit "The Art World Meets The Quilt World" will open on November 14th at the Rosen Museum Gallery at the Levis Jewish Community Center, 9801 Donna Klein Boulevard, Boca Raton, FL 33428. (located off 95th Avenue South between Lyons Road and U.S. 441 in west Boca Raton) Phone: 561-852-3200 www.levisjcc.org
-------------------------------------------------------------------------
SHOP HOP IN NORTH CENTRAL FLORIDA
Santa Workshop Shop Hop Nov 10th-13th. Visit all 4 stores for a chance to win the Grand Prize Wheeled Sewing Machine Cart donated by Brewer Sewing and Quilting along with 4 $100.00 Gift Certificates.
Each shop will have a gift basket to be given away with a retail value of $100.00. Each shop will have a kit special and fabric special.
When you get your passport stamped at each shop you will receive a free project kit. http://www.aquiltersdream.biz/shop_hops.shtml
Purchase passport from A Quilters Dream and receive a free fat quarter

Connie Czernuch
A Quilter's Dream, LLC
719 W. Main Street
Leesburg, Fl 34748
352-728-1482
http://aquiltersdream.biz
www.itsyourdowntown.com
<![if !supportLineBreakNewLine]>
<![endif]>
-------------------------------------------------------------------------
Quilt Discovery Days - West Pasco Quilters' Guild, Inc.
West Pasco Quilters' Guild has received a $1400 grant to participate in the Florida Quilt Project, sponsored by the Sunshine State Quilters Association (SSQA). The Florida Quilt Project has been accepted into the Quilt Index, a national online repository for documentation records. This record is held by the Alliance of American Quilts at Michigan State University Museum.
We will be holding Quilt Discovery Days (documentation) after every guild meeting for our guild members and our sister guilds in the Tampa Bay area. Please get in touch with one of the contact people listed below (Robby or Laura) if you wish to bring a quilt for documentation so we'll be prepared. Our meeting place is Veterans Memorial Park 14333 Hicks Rd. Hudson, Fl. 34669 on the 3rd Thursday of the month. Documentation will begin after our guild meeting at approximately 1PM and go until approximately 4PM. Please wear your guild name badges. There is no cost for documentation. Quilt Discovery Days for the general public will be held Friday & Saturday, March 11 & 12, 2011.
The documentation process is painless! - but there is a 10 page form to fill out - not every question can or needs to be answered but if you pick up a form beforehand at the guild meeting or download it from the guild web site - www.westpascoquilters.org - click on "Quilt Documentation Days" - the process will go quickly.

Contact Robby Wargny, 727 372-8219/crwargny@aol.com or Laura Vernola, 727 857-3921/llauragoofy@aol.com if you have questions. You can also refer to the SSQA and Quilt Index web sites - www.ssqa.org and www.quiltindex.org to learn more about this endeavor.
-------------------------------------------------------------------------
QUILT SHOW IN AMELIA ISLAND
The Amelia Island Quilt Guild will present "Quilts By The Sea," a member quilt show, February 25 & 26, 2011. The show will be open to the public from 9 AM to 5 PM both days at the Peck Center Gymnasium, South 10th & Elm Streets, Fernandina Beach, Florida. Admission for the show will be $5. In addition to the judged exhibit of member quilts and quilting techniques, the weekend will include a quilt raffle, craft boutique, quilt appraisals, a merchant mall, a silent auction and door prizes. Jane Hall of Raleigh, North Carolina will be the judge. Jane has lectured and taught quilt making for guilds and quilt conferences in the United States and abroad for twenty-five years. She is an author and quilt designer as well as a teacher, and judge. Holly Anderson, Georgia's only certified quilt appraiser, will be on hand to appraise quilts.
Funds raised by the triennial quilt show are used to support the educational and charitable programs of the guild, which include member-made quilt donations to many other local charitable organizations. Quilts have been donated to Hospice, Shands Newborn Intensive Care Unit, Habitat for Humanity, and mission endeavors of local churches. Additionally, over 80 quilts have been made and donated to wounded service men and women through the "Quilts of Valor" program by guild members.
Show co-chairs Pam Wise and Linda Berry are excited about all of the quilts, exhibits, vendors, and all of the activities scheduled for the show weekend. More information about the show, including appraisals available to the public, will be available at the guild website, aiquilters.com.