Florida Quilt Network - Newsletter #154
July 5, 2011
Quilting Friends,
Whew, just back from our little 25th anniversary tour of Oahu and the Big Island. We had a long list of to-do's, and managed to hit most all of them. I also had a little list of fabric and quilt shops that just 'happened' to be on the way to something, and gosh darn it, we managed to hit them all! LOL. I thought I'd do a little review of each one, in case you're headed over to Hawaii sometime soon. See my post below the Calendar. We also dined at two out-of-the-way little restaurants that were so good I thought I'd dish: La Mariana on the south end of Oahu and Naung Mai Thai Kitchen in downtown Hilo (on the Big Island). La Mariana was on a marina, so if you sat on the lanai, like we did, there was lots to watch. Service, food and the constant breeze were fabulous. The Thai Kitchen was tiny but popular. I took Yelp's suggestion and had the pumpkin curry. I think it was the most delicious thing I ate the whole week, so of course I had to go back two more times that week for more.
I had a few non-quilting tips I wanted to share with you this month:
TIP #1: Address Labels for electronics: do you have a smartphone that requires a password to turn on? Then if you lose it, or God-forbid, you are in an accident, how is the finder supposed to look up your ICE number? I found these great little black labels that don't wear off ! We stick them on everything: cameras, gps, kindles, phones, ipods, prescription sunglasses, etc. Only $10 for a sheet of labels, and they have definitely paid for themselves in our household, since my children have left their phones and ipods on the school bus. We have a sheet with my cell number listed, and another sheet with DH's cell number listed, so we've got every contingency covered. Here is the website. This would be a great back-to-school gift.
TIP #2: Iced Coffee: I usually cannot drink coffee, too much caffeine and acid, but I recently made the Pioneer Woman's recipe for iced coffee. Boy, is that delicious and refreshing on a hot summer day. I also discovered (at a coffee farm tour in Hawaii) that the darker the roast, the less caffeine. I'm on my second batch of coffee concentrate. Let me know what you think.
To get a complete, organized, hotlinked listing of all the upcoming shows, retreats, workshops, shop hops, exhibits, etc, please visit www.floridaquiltnetwork.com/calendar.html
Happy Quilting, Mary-Jeanine
-------------------------------------------------------------------------
CALENDAR OF EVENTS: (Newsletter number follows)
2011
July 11-16 Shop Hop in N Central Florida aquiltersdream.biz (#154)
July 19-20 Birgit Schueller workshops in Orlando www.wanderingstitches.com (#152)
July 27 Judy Momenzadeh Lecture in Coral Springs http://www.miamithreads.blogspot.com/ (#153)
July 29 Quilt Apraisals in Leesburg www.aquiltersdream.biz (#154)
August 1 Ellen Lindner Workshop in Melbourne tinyurl.com/Design-Nature-class (#154)
August 5-6 Shop Hop in East Florida (#154)
August 20 Quilt Show in Historic Cocoa Beach cocoavillage@bellsouth.net (#152)
Sept 3 StashBuster Lecture in Daytona http://www.sewinggarret.com/ (#152)
Sept 8-11 Quilt Retreat in Lake Yale http://www.BeSewCreative.com (#154)
Sept 16-19 Quilt Retreat in St. Augustine talacam@aol.com (#154)
Sept 22-24 QuiltFest in Jacksonville www.quiltfestjax.com (#153)
October 15-16 Fall Festival in Wesley Chapel www.wesleychapelchamber.com (#151)
Nov 10-12 Mancuso World Quilt Show in West Palm Beach www.quiltfest.com (#154)
Nov 12 Quilt Show in Spring Hill www.hernandoquiltersguild.com (#154)
Nov 13 Quilt Show in Tallahassee www.museumoffloridahistory.com (#153)
Nov 13-17 Quilt Cruise with Pat Lester patlester9@gmail.com (#153)
2012
Jan 1-8 Quilt Cruise with Nancy Hinds www.SewManyPlaces.com (#153)
Jan 26-30 Quilt Cruise with Flamingo Island Designs www.flamingoislanddesigns.com (#153)
Jan 28 Quilt Show in Dade City epquilters@yahoo.com (#153)
Feb 17-18 Quilt Show in DeFuniak Springs chautauquaquilters@yahoo.com (#154)
Feb 24-25 Quilt Show in Punta Gorda dpqg@yahoo.com (#154)
Mar 9-11 Quilt Show in Hudson http://westpascoquilters.org/QuiltShows.htm (#154)
Mar 16-17 Quilt Show in New Smyrna Beach PelicanPiecemakersFL@yahoo.com (#153)
Mar 23-24 Quilt Show in West Bradenton www.manateepatchworkers.org (#153)
2013
Feb 1-2 Quilt Show in Sebring quiltshow2013@gmail.com (#153)
Mar 8-9 Quilt Show in Palm Beach Www.palmbeachquilters.com (#154)
-------------------------------------------------------------------------
REVIEW OF Quilt/Fabric Shops in Oahu and the Big Island
My first stop was Fabric Mart in Oahu. Oh-my-gosh, I've never seen such a place, and I was so impressed I took a picture of this one. Wish I thought to take a picture at the rest of the shops…oh well. Anyway, this is just a small stack of Hawaiian print cotton rolls.

They had a pretty good selection of batiks, for the amazing price of $6.95. Most of the batiks are fairly high contrast, and I happen to like the more nature-type prints, so I only picked up a few. The Hawaiian cotton prints were $4.95. Lots of polar fleece (in Hawaii?!?!), silks, kids prints and flannels, trims, etc.
Turns out there were 3 locations of Fabric Mart, all on Oahu, and the two I visited carry basically the same selections. Of course in between time, I came up with new ideas for what to do with Hawaiian fabric, so I hit the second shop with those ideas in mind (can you say PILLOWCASES for Christmas gifts?).
1st Fabric Mart: 1631 Kalakaua Ave, Honolulu, HI, 96826 (808) 947-4466
2nd Fabric Mart: 98-023 Hekaha St, Aiea, HI 96701 (808) 488-8882
Didn't visit Fabric Mart: 45-681 Kam Hwy, Kaneohe, HI 96744 (808)234-6604
Here is their website: www.hawaiifabricmart.com
Oh, across the parking lot from the Aiea Fabric Mart was The Quilt Hut, but they are closing soon.
On to the Big Island. My first stop was Discount Fabric Warehouse in Hilo. Very similar to Fabric Mart, but I'd already gotten my fill of Hawaiian fabrics. Their batiks were a few dollars more, and they also had a great selection of fashion fabrics. Its good to know so many people are still making their own clothes.
One day we drove north from Hilo all the way to Waimea, so of course we stopped at Top Stitch. The owner is Liz Moiha, and the shop's address is 64-1067 Mamalahoa Hwy, Waimea, HI 96743 www.TopStitchHawaii.com. She has a nice variety of quilt shop fabrics, books, patterns, rulers, notions, etc. It looks like she tries to carry local patterns and displays the sample quilts to go with those patterns. I'm hoping to send her a few of my published patterns to carry soon.
Finally, there was Kimura's Fabrics (just south of Kailua-Kona, the other large town on the Big Island). An interesting blend of fabrics and household items like mousetraps and key rings and dishes. Unfortunately, being so close to the coast, they felt the need to keep a lot of their fabric in big plastic bags, which kinda ruined the effect for me. Again, their batik cottons were very low in price, and beautiful fat quarters for $1.40. Had to get plenty of those for the stash! Address is 79-7408 Mamalohoa Hwy, Kealakehua, HI 96750 (808) 322-3771
~~ Mary-Jeanine (mji@FloridaQuiltNetwork.com)
-------------------------------------------------------------------------
KUDOS TO QUILTERS IN MELBOURNE
Item #1:
Kids in the Melbourne area are excited about their newly formed sewing club, The Block Buster Gang. Most of the kids, ages 9 and up, just attended Kids Summer Quilt Camp in Satellite Beach and made a personal quilt. The camp and the club are sponsored by EduQuilters, with huge additional help from Seaside Piecemakers Quilt Club. The local kids enjoy making quilts so much that we felt we had to continue to give them sewing opportunities. The Block Busters' first project is a big one – making quilts for kids in transition, those without permanent shelter, in the Melbourne area. The quilt project is part of QAKH, so please read about QAKH.
Item #2
Too many kids in the Melbourne area and all of central Florida go to bed with their tummies growling! When the quilters in Seaside Piecemakers and EduQuilters learned that the food program held in prior years to feed children lunch during the summer was not going to be funded, they charged into action. Immediately, a check was sent to Second Harvest to provide food for kids. They also found ways to further provide for in-transition children, those with no permanent shelter. The project, QAKH (Quilters Against Kids Hunger) is being jointly coordinated by Seaside Piecemakers and EduQuilters, with assistance from the city of Satellite Beach and Publix markets. Raffle quilts and Seaside Piecemakers' gorgeous opportunity quilt for their March 2012 quilt show will provide more funds for Second Harvest. If you would like to receive The QAKH Gazette (its pronounced quack!) subscribe through margie@cfl.rr.com. Everyone can help in their own community by donating to the Second Harvest of Central Florida which can convert a one dollar donation into nine dollars worth of food! A local politician said that he found it very interesting that quilters can organize and produce funds and comfort faster than any group he has observed! We quilters are not at all surprised, are we!
-------------------------------------------------------------------------
SHOP HOP IN NORTH CENTRAL FLORIDA
Summer Picnic Stroll Shop Hop July 11th - 16th. Free passport when you go to www.aquiltersdream.biz then click shop hop page and following the instructions to print your passport. Also on that page is a coupon for 20% off for one item in the shop. Coupon expires July 9th. During the hop you will receive a free pattern from each shop when you get your passport stamped.
A Quilter's Dream has many different classes going on during the summer go to www.aquiltersdream.biz click class schedule and find a class just for you. Some of the classes include Quilted Jacket by Linda, Birds at home, Trip Around the World, Old Glory and classes for kids ages 10 and up July 12th - 15th.
Friday July 29th Quilt Appraisals 10-4 pm

Connie Czernuch
A Quilter's Dream, LLC
719 W. Main Street
Leesburg, Fl 34748
352-728-1482
http://aquiltersdream.biz
www.itsyourdowntown.com
-------------------------------------------------------------------------
Ellen Lindner Teaching in Melbourne August 1st
August 1, 2011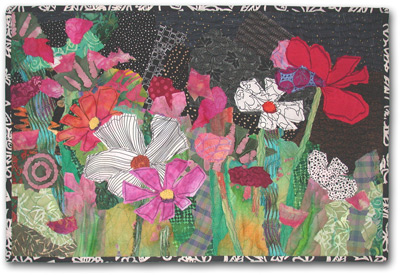 Design Your Own Nature Quilt
6 hours, no sewing,
$65, (includes $5 kit fee)
This class will help take the fear out of design. Using your own nature photo, you'll learn how to interpret it in fabric. Multiple group and solo exercises will give you the skills and confidence you need to start your own design. A raw edge collage technique will ensure maximum flexibility and speedy results.
These are just a few of the things you'll be learning:
- Creating a sense of depth.
- Identifying and placing a focal point.
- How cropping can help a composition.
- Getting your fabric to do the work.
- How to work with raw edge collage.
Appropriate for intermediate quilters.
Note: No artistic skills are needed, but artistic courage is required.
Location: Courtyard Studio, 1419 Highland Ave., Melbourne, FL
Time: 9:30- 4:00. Please arrive a few minutes early. We'll take a 30 minute break for lunch. Please pack your lunch. Both morning and afternoon sessions will start promptly.
Class sample above: Cosmo Cotillion. Note: Your quilt will look entirely different, since you'll design it from your own photo
Full class details at tinyurl.com/Design-Nature-class
See Ellen's art, blog, and newsletter at EllenLindner.com
Can't make the class? See LearnWithEllen.com for other options.

-------------------------------------------------------------------------
LIFE'S A BEACH
SHOP HOP
August 5 and 6
9:00-6:00

LIFE'S A BEACH SHOP HOP 2011

Come and join the fun!! We're having a Shop Hop August 5th and 6th from 9:00-6:00. Buy a passport for $5.00 at any of the locations listed below, then on August 5th and/or 6th visit each shop and get your passport stamped. At your last stop your completed passport will be placed in a drawing for the Grand Prize...drum roll please...a new Viking Sewing Machine!! Other prizes include gift cards from each shop for $25.00.
Get your passports, get ready for fun and get ready to travel!! See you soon!!
The Quilt Place 575 Barton Blvd. Rockledge, FL 32955
The Quilted Lily 1165 Commerce Ave. Vero Beach, FL 32960
Marilou's Quilt Shop 8802 N. US 1 Sebastian, FL 32958
Boutique 4 Quilters 2945 S. New Haven Ave. W Melbourne, FL 32904
Sewing Gallery 4501 N. Wickham Rd. Melbourne, FL 32935
Quilting Folks 200 Forrest Ave. Cocoa, FL 32922
-------------------------------------------------------------------------
Fun-Fast-n-Fearless Quilt Retreat
WHEN: Sept 8-11, 2011 Thursday 10 am – Sunday 4 pm
WHERE: Lake Yale, FL
Hosted by: BeSewCreative Quilting Retreats
This 4 day / 3 night retreat features 3 workshops, single or private accommodations (no bunk beds), 10 meals, games, door prizes, as well as plenty of open sew, shopping, and girlfriend time.
These three workshops will show you how to FEARLESSLY make these quilts with FUN & FAST techniques.

Double Wedding Ring with Connie, owner of A Quilters Dream, Leesburg http://www.aquiltersdream.biz/
Lil Twister with Barbara, owner of Crafty Threads, Oldsmar http://www.craftythreads.com/
Freezer Paper Piecing with Rhonda, co-owner of BeSewCreative Quilting Retreats.
For more information see http://www.BeSewCreative.com, email: Rhonda Baker Cissy33@BeSewCreative.com , or Like us on Facebook at http://www.facebook.com/BeSewCreativeQuiltingRetreats
-------------------------------------------------------------------------
QUILT RETREAT IN ST. AUGUSTINE
Just Sew Quilt Retreat
September 16th - 19th, 2011 in St Augustine, Florida


Thanks,
Glenda Irvine (talacam@aol.com)
Just Sew Quilts
-------------------------------------------------------------------------
Go Around the World in Three Days – Quilt Style!
The World Quilt Show – Florida
Returns to the Palm Beach County Convention Center, November 10-12, 2011
Want to see quilts from across the globe? No need to spend eighty days traveling by boat – the quilts are traveling to you! Join us November 10-12, 2011 at the Palm Beach County Convention Center for the World Quilt Show – Florida III. The show's highlight, the quilts from all over the globe competing in the 2011 World Quilt Competition XV, presents a mix of culture, diversity and creative talent. Enjoy a wide range of quilt and textile related activities including workshops and lectures presented by an internationally known faculty. Also, if you need to cap-off your unfinished summer project or jump-start something fresh, the show's Merchants Mall will offer everything you may possibly need!
The quilt festival will also host the 2011 World Quilt Competition XV: On Tour. This international quilt competition draws entries from across the globe and will feature quilts from Africa, Asia, Australia, Europe, New Zealand and North America. Enjoy viewing the diverse talent and technique that is captured through quilt making. It is the largest and most comprehensive showing of international quilts in the United States.
NEW SHOW DAYS – In 2011, the show will be open from 10:00 am to 6:00 pm on Thursday, Friday and Saturday for viewing, shopping, and participation in the workshops, lectures and activities that will be offered.
Renowned instructors will present seminars sharing their skills, secrets, and special tips. If you are a beginner who wants to discover new skills or a veteran wishing to build on your own expertise, the instructor line-up will satisfy all of your quilting needs! In 2011, the well-known faculty will include Sue Dennis from Australia as well as Marjan Kluepfel, Dierdra McElroy, Sue Nickels, Bobbie Bergquist, Judi Gunter, Phyllis Twigg Hatcher, Virginia Walton and Pat Yamin. Also, Phyllis Twigg Hatcher, an AQS certified appraiser of quilts and textiles, will be available by appointment to evaluate your new or vintage quilt.
NEW THIS YEAR – Show Management has added exciting new features and activities including an all-inclusive show and hotel package available to quilt show registrants. Also among the NEW highlights of the 2011 World Quilt Show is a special luncheon presentation by well-known instructor Dierdra McElroy titled "The Tifaifai Way."
In addition, the World Quilt Show – Florida will feature the always popular Meet & Greet event, hosted by Sue Nickels on Saturday afternoon and Friday evening's "most fun you will have at a quilt show" event, Quilt-O with host Pat Yamin.
EXPANDED QUILT COMPETITION – The World Quilt Show will feature a new Southeastern States Quilt Competition open to residents of North Carolina, South Carolina, Georgia, Florida, Tennessee, Alabama and Mississippi only. In addition, residents of Florida will compete for the prestigious Best of Florida Quilt Award.
The event will also highlight several special exhibits from Florida guilds that will be magnificent displays of "hometown" quilting art! This, along with many other special exhibitions is sure to create a spark of excitement with enough "eye candy" to satisfy all the quilt loving enthusiasts who will be attending.
Pre-registration and other information is available on the show's website, www.worldquilt.com. View and/or print the event brochure from the website, or to receive a brochure in the mail please send $3 (payable to Mancuso Show Management) to:
World Quilt Show - Florida, Dept. P, P.O. Box 667, New Hope, PA 18938.
Sponsors ABM Innova, Coats and Clark and Handi Quilter generously support the World Quilt Show – Florida.
When you go …
What

Where

Palm Beach County Convention Center

650 Okeechobee Blvd

West Palm Beach, Florida 33401

When

November 10-12, 2011

Thursday, Friday & Saturday: 10 am – 6 pm

How Much

Admission $12, includes re-admission

Accompanied children under 16 free.
For more information contact:
Mancuso Show Management
P.O. Box 667, New Hope, PA 18938
215-862-5828
mancuso@quiltfest.com
-------------------------------------------------------------------------
QUILT SHOW IN SPRING HILL
The Hernando Quilters' Guild is having their bi-annual quilt show in the Spring Hill Botanical Gardens on Parker Avenue in Spring Hill, Florida
on Saturday, November 12, 2011 from 9:00am to 5:00pm.
There will be vendor booths, a boutique table and a beautiful queen size raffle quilt.
For more information contact: Barbara Theriault at btheriault1@tampabay.rr.com.
The raffle quilt will be available for viewing on the website in the near future. www.hernandoquiltersguild.com
-------------------------------------------------------------------------
QUILT SHOW IN DeFUNIAK SPRINGS
The Chautauqua Quilters Guild Inc. will hold its quilt show on February 17-18, 2012 at the DeFuniak Springs Community Center, 361 N. 10th Street, DeFuniak Springs, Florida. The show will be open from 9:00 a.m. until 4:00 p.m. each day, Friday and Saturday. The event will include vendors, classes, demonstrations, Make & Takes, antique quilt displays, an opportunity quilt, guild boutique, and more. Admission is $2.00 per person, and those 12 years of age and under get in free.
For more information please call Lesa Harrison at 850-585-2796.
-------------------------------------------------------------------------
QUILT SHOW IN PUNTA GORDA
Disconnected Piecers Quilt Guild Inc. is hosting it's 9th Biennial Quilt Show, Gathering of Quilts 2012.
This judged show will be held February 24 & 25, 2012 at the Charlotte Harbor Event & Conference Center, 75 Taylor St, Punta Gorda FL 33950.
Hours are Friday 9 am to 5 pm and Saturday 9 am to 4 pm. Admission $7.00,
250+ Traditional, Art & Antique Quilts. 18 Vendors, Huge Boutique, Opportunity Quilt, Door Prizes, Quilter's Auction, Special Exhibits, Food available, Buses Welcome, several hotels within walking distance.
For more information email Peggy dpqg@yahoo.com or call Joan Balmer at 941-276-1647
-------------------------------------------------------------------------
Kaleidoscope of Colors Sew Many Quilts
West Pasco Quilters' Guild, Inc
2012 Biennial Quilt Show
March 9-11, 2012
Friday/Saturday 9-5
Sunday 9-4
Veterans Park Complex
14333 Hicks Road
Hudson, Fl 34669
Daily Admission Donation $6.00
Multi-Day $10.00
Contact : Robby Wargny (727) 372-8219
Rhonda Koning (727) 869-9604
Live Quilt Auction Chair Mary Borders (727) 869-7194
westpascoquilters.org/QuiltShows.htm
-------------------------------------------------------------------------
Palm Beach County Quilters Guild Show
March 8, and 9, 2013
Contact
See our website for more details: Www.palmbeachquilters.com