Florida Quilt Network - Newsletter #166
July 6, 2012
Quilting Friends,
I hung my first personal quilt exhibit last Sunday at the Maitland Public Library. If you live in the Central Florida area, I hope you get a chance to swing by. They've asked me to do a free-to-the-public lecture on quilts; I'll keep you posted about that one.
Here is one of the quilts in the exhibit, 'Polka Dotted Happiness':
<![if !vml]>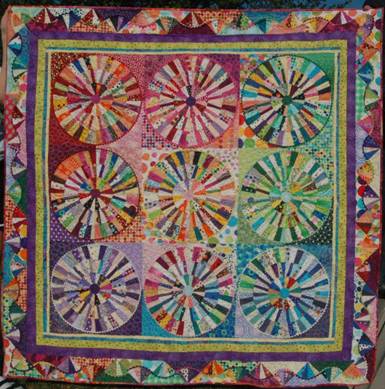 <![endif]>
  *********************************  
To get a complete, organized, hotlinked listing of all the upcoming shows, retreats, workshops, shop hops, exhibits, etc, please visit the Calendar.
Happy Quilting, Mary-Jeanine
------------------------------------------------------------------
CALENDAR OF EVENTS: (Newsletter number follows)
2012
May 19 – Aug 18 Quilt Exhibit in Melbourne website (#165)
July 1-31 Quilt Exhibit in Maitland www.MaitlandPublicLibrary.org (#164)
July 3-Aug 1 Multi-media Exhibit in Daytona Beach www.peabodyauditorium.org (#166)
July 14 Marlene Glickman Workshop in Sarasota Marlene@123webmagic.com (#164)
July 13-21 Shop Hop in Central Florida http://sewphisticated.net/ (#164)
July 28 Stashbuster Lecture in Maitland more info
Aug 1-Oct 26 Quilt Exhibit in Highland lifenart@bellsouth.net (#164)
Aug 1-6 Quilting Bus Trip 561/965-3182 (#165)
Aug 7-Sept 1 Fiber Art Exhibit in Daytona Beach www.peabodyauditorium.org (#166)
Aug 17 – Nov 4 Quilt Exhibit in Tallahassee www.museumoffloridahistory.com (#165)
August 25 Stashbuster Lecture in Maitland more info
Sept 11-Jan 20 Quilt Exhibit in Boca Raton www.bocamuseum.org (#166)
Sept 13-16 Quilt Retreat in Deland website (#160)
Sept 20-22 Quilt Show in Jacksonville www.quiltfestjax.com (#164)
Sept 21 Bus Trip from Daytona to Jax Show www.DOTS-DaytonaBeach.com
(#164)
Sept 20-21 Bus Trip to Jax Show 561/965- 3182 (#165)
Sept 22 Stashbuster Lecture in Maitland more info
Sept 29-30 Quilt Show in Deland www.quiltshopofdeland.com (#165)
Oct 13 Quilt Exhibit in Delray Beach lifenart@bellsouth.net (#164)
Oct 12-13 Quilt Show in Brandon www.brandonquiltguild.com (#158)
Oct 13-14 Arts & Craft Show in Wesley Chapel www.wesleychapelchamber.com
(#164)
Oct 27 Stashbuster Lecture in Maitland more info
Nov 1-4 Bus Trip to Houston Quilt Show casadar884@bellsouth.net (#166)
<![if !supportLineBreakNewLine]>
<![endif]>
Nov 2 & 3 Quilt Show in Ocala www.countryroadquiltersocala.com (#163)
Nov 8-10 International Quilt Show in West Palm Beach www.quiltfest.com
Nov 9 & 10 Quilt Show in Davenport www.quiltsandtea.com
(#163)
Nov 10 Quilt Show in Tampa cypresscreekquiltersguild.org (#164)
Nov 15-18 Quilt Workshop & Lecture in Lakeland http://www.LadiesoftheLakes.org (#165)
Nov 15-18 Quilt Retreat in Lake Yale http://www.BeSewCreative.com (#165)
Nov 28 Stashbuster Lecture in Maitland more info
2013
Jan 11-12 Quilters Marketplace in Lake Worth www.hibiscusquiltguild.org (#161)
Jan 25-26 Quilt Show in Clearwater www.QuiltersCrossing.net (#164)
Jan 25-26 Quilt Show in The Villages Showcase2013@QGOTV.org (#165)
<![if !supportLineBreakNewLine]>
<![endif]>
Feb 1-2 Quilt Show in Sebring quiltshow2013@gmail.com (#166)
Feb. 1 - 2 Quilt Show in Orlando quiltfever2013@floridacabinfever.com
Feb 7-10 Quilt Retreat in Jacksonville Honeybeequilters.org/retreat (#166)
Feb 8-9 Quilt Show in Vero Beach www.sbonnets1979.org (#164)
Feb 15-16 Quilt Show in Tampa area delilahl@verizon.net (#156)
Feb 15-16 Quilt Show in Titusville www.SpacecoastQuilters.com (#166)
Feb 16 Quilting Cruise leaving from New Orleans www.roundbobbin.com (#164)
Feb. 22-23 Quilt Show in Largo www.largocrackerquilters.org (#165)
Feb. 22-23 Quilt Show in Punta Gorda prqpubchair12@yahoo.com (#165)
Mar 1-2 Quilt Show in Naples www.naplesquiltersguild.com/Show.html (#165)
Mar 1-3 Quilt Show in Tampa www.FeatherPrincesses.org
Mar 8-9 Quilt Show in Palm Beach Www.palmbeachquilters.com (#154)
Mar 21-24 Quilt Retreat in Lake Yale http://www.BeSewCreative.com (#165)
Apr 11th-Aug 25th Quilt Exhibit in Delray Beach lifenart@bellsouth.net (#164)
April 15-June 3 Quilt Exhibit in Boca Raton lifenart@bellsouth.net (#164)
------------------------------------------------------------------
MIXED MEDIA EXHIBIT IN DAYTONA BEACH
<![if !vml]>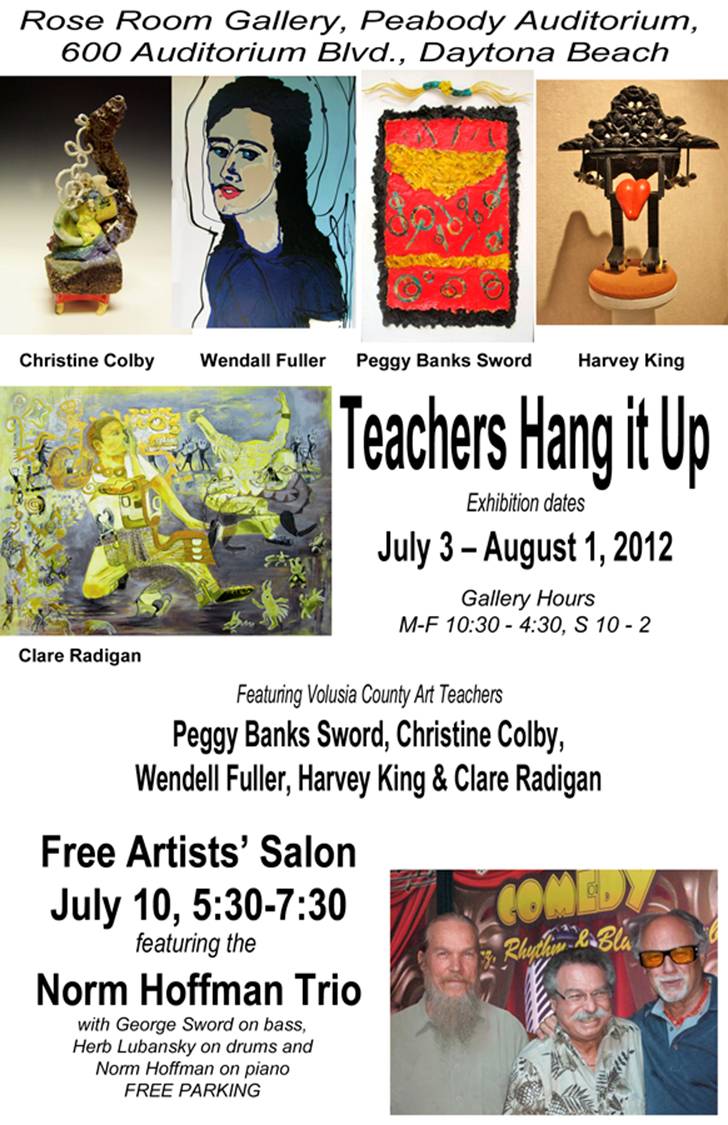 <![endif]>
Art Exhibition: Teachers Hang it Up
July 3 – August 1, 2012
Salon: July 10, 5:30-7:30 PM
Featuring teachers/artists Peggy Banks Sword, Christine Colby,
Wendell Fuller, Harvey King and Clare Radigan
along with The Norm Hoffman Trio
Rose Room Gallery, Peabody Auditorium
600 Auditorium Blvd., Daytona Beach
Contact: Mary McBride, 386-736-3039
www.peabodyauditorium.org, curator
Each year the curators of Peabody select a special segment of our society for a free exhibition with the hopes that it will make people more aware of the art being created here in Volusia County. We are excited about the exhibition Teachers Hang it Up featuring 4 art teachers from various schools around the county. The exhibition is open July 3 through August 1. There is a Salon with wine and refreshments on Tuesday, July 10 from 5:30 to 7:30 featuring the artists and a jazz band. Visitors may park for free behind the Peabody and enter the Rose Room Gallery through the Wild Olive Avenue patio gates. There is no admission fee and the building is handicap friendly.
As the arts become more endangered by budget cuts and overcrowding of schools, we hope to bring these issues to the forefront of the public's attention. As artists and members of a cultural organization, we understand the power of art and the necessity of keeping art in the schools. We are proud to present five singular artists who are members of the Volusia County School System this year.
Peggy Banks Sword, Fine Art/Advanced Placement instructor at DeLand High School, has been teaching art for the past 16 years. Her handmade paper assemblages reflect her European travels that are actually educational tours that she organizes to expose students to the world of art.
Christine Colby, The School of Visual and Performing Arts at New Smyrna Beach High School works in ceramics and sculpture. These two series of her works in porcelain include humorous, tiny reflections on society plus her appreciation of muscle cars and a reference to her years growing up around men with cars.
Wendell P. Fuller, Jr., McInnis Elementary School in DeLeon Springs has learned simplicity of the image from his students as he opens their eyes to the art world. This expressive series of portraits is part of over 100 paintings of larger than life-size figures celebrating people he has known.
Harvey King, Pine Crest High School in Deltona, is teaching all aspects from drawing to sculpture in his classes this coming year. His own works ought to inspire the students with enough ideas that they should feel free to develop works in their own voices.
Clare Radigan, River Springs Middle School in Orange City, constantly tells her students to "Surprise you!" In other words, create something that is new. While developing a diversity of themes for the students, she has built an impressive body of work. These paintings explore the unconscious mind and feature works from her series on her husband's Peruvian roots, hip hop and mechanics.
Along with the artists, the Salon on July 10th features The Norm Hoffman Trio who have been playing together for over 10 years, most notably at Mario's in Ormond Beach, Down South Phillies, and Trapazzano's in Port Orange. The music of Norm Hoffman on piano, George Sword on bass and Herb Lubansky on drums is a unique blend of classic jazz improv with a hard bop approach. Fans of the Trio find their music exciting and upbeat.
------------------------------------------------------------------
<![if !vml]>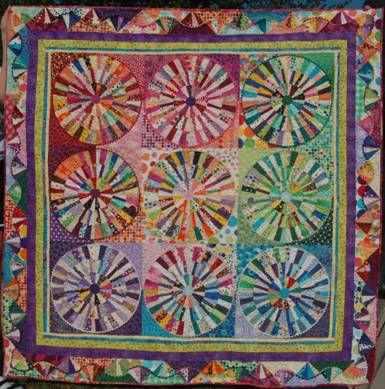 <![endif]>
Mary-Jeanine Ibarguen (founder and publisher of the Florida Quilt Network) will be exhibiting some of her work at the Maitland Public Library for the month of July 2012.
http://www.maitlandpubliclibrary.org/
------------------------------------------------------------------
Exploitation of Fabric
ArtsEtc Surface Design Group
August 7 - September 1
Peabody Auditorium, 600 Auditorium Blvd.
Daytona Beach FL 32724
Mary
Mary E. McBride
www.peabodyauditorium.org, curator
------------------------------------------------------------------
<![if !vml]>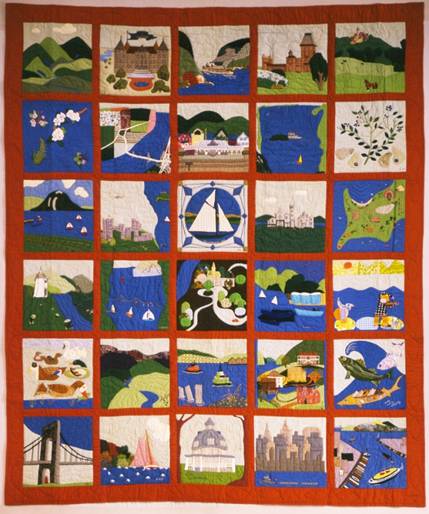 <![endif]>
Hudson River Quilt, Irene Preston Miller (1917–2007), 1969–1972, cotton, wool, and blends with cotton embroidery, 95 1/4 x 80 inches,
American Folk Art Museum, Gift of the J.M. Kaplan Fund, 1991.3.1, Photo by Matt Hoebermann
"Quilts with Something to Say" Chronicles Two Centuries
of American Art and Patriotic Expression
7/2/2012
Boca Raton, FL – They say politics makes strange bedfellows; and it's especially true when it comes to the American tradition of quilting. Women across the country have been encoding their political ideas and opinions into textiles since Betsy Ross first stitched the American flag.
Beginning Sept. 11 through Jan. 20, The Boca Raton Museum of Art celebrates quilting as a medium both for art and social advocacy. Politics NOT as Usual: Quilts with Something to Say is an exhibition applauding two centuries of women who wouldn't take "no" for an answer; women who used quilting as a venue to cast their votes, comment on the political landscape, and participate in national life.
Drawn from the American Folk Art Museum in New York City, the collection demonstrates quilts as one of the most eloquent and consistent reflections of American life from the colonial period to the present, primarily from a female perspective.
From quilts expressing Union pride following the Civil War, promoting presidential candidates, anger at being denied the right to vote, to a call for Hawaiian independence, Politics NOT as Usual offers visitors a unique and personal context to our country's past. The unparalleled quality of these quilts – their rare fabrics, skilled workmanship, and well-preserved condition – will permit viewers to truly understand a medium that bridges the gap between fine art and folk craft. Graphic strategy and technique transform these bedcovers into monumental assertions of self-identity and statements of belief.
The exhibition also marks the first opportunity for viewers to see the 9/11 National Tribute Quilt outside of the American Folk Art Museum in New York City. The art piece incorporates quilt blocks from five hundred people in fifty states as well as Canada, Spain, Denmark, and Australia to acknowledge the loss of thousands of lives on that infamous day. The four central panels form a montage of the twin towers of the World Trade Center against the New York City skyline. In recognition of the quilt's inclusion in the exhibition and to commemorate the day, the Museum will offer complimentary admission to the general public on September 11.
Politics NOT as Usual is curated by Stacy Hollander, Chief Curator at the American Folk Art Museum.
For high resolution images contact Austin Modine at amodine@bocamuseum.org
Boca Raton Museum of Art
The Boca Raton Museum of Art is one of the leading cultural institutions in South Florida, achieving international recognition as a world-class visual arts institution for its dynamic, changing exhibitions from acclaimed artists and distinguished permanent collection. The Museum's many public programs include artist presentations, family activities, art films, the Annual Art Festival, and more than 100 classes per week at its studio Art School. Museum Auxiliaries include The Artists' Guild, Friends Auxiliary, and Collectors' Forum. For more information call 561.392.2500 or visit www.bocamuseum.org.
###
Austin Modine
Marketing and PR Associate
<![if !vml]>

<![endif]> Boca Raton Museum of Art
501 Plaza Real │ Boca Raton │ FL │ 33432
E amodine@bocamuseum.org │ T 561.392.2500 ext.207│ F 561.391.6410
Visit bocamuseum.org for current and upcoming exhibition and event information
------------------------------------------------------------------
Final Notice
Hello Everyone!!
We have 10 seats still available

On July 31st – the trip will be officially closed
At that point in time we will need to make our exact room reservations with
the hotel and make our final trip payments.

We currently have the number of people we need to make the trip happen J

We just wanted to give everyone one more shot at taking
advantage of the remaining empty seats before we stop taking reservations.
Please let your friends and fellow guild members know.

We would love to have you join us ;-)
Cheers – Dar Arnswald
If you have any questions – please email me at:
casadar884@bellsouth.net
<![if !vml]><![endif]>

Florida Cabin Fever Quilters Guild (Orlando)
Houston International Quilt Show Bus Trip

October 31st thru November 4th , 2012
3 FULL DAYS at the show!!!


Visit our website to view or download our
Houston Flyer and Houston Fact Sheet.
http://www.floridacabinfever.com/activities_bus.html
<![if !supportLineBreakNewLine]>
<![endif]>
------------------------------------------------------------------
'Quilting in the Highlands'
Sponsored by
Highlands County Quilt Guild
February 1st. & 2nd. 2013
at the
Highlands County Fair &
Convention Center
781 Magnolia Avenue
Sebring, Florida 33870
Larger Venue & Lots of Parking
ADMISSION: $7.00
Doors open 9:00 am.—4:00 pm.
Friday and Saturday
QUILTS, QUILTS & more QUILTS
Merchant Mall, Boutique, Demos,
Opportunity Quilt, Silent Mini Quilt Auction, Challenge Quilts, Door Prizes, Displays and Food Vendor
Plenty of parking, busses welcome.
quiltshow2013@gmail.com
Karen Doughty 1-863-453-3585
------------------------------------------------------------------
River Bend Quilting Retreat
(formerly Honeybee Quilting Retreat)
February 7-10, 2012
Teachers: Laura Wasilowski, Susan Brubaker Knapp, Karen Stone, Linda Majidimehr
Website: Honeybeequilters.org/retreat
------------------------------------------------------------------
Space Coast Quilter's
Titusville, Florida 32780
Sponsors of
Quilting From The Heart XI
February 15 & 16, 2013
9am to 5pm both days
Brevard Community College
Titusville Campus Gymnatorium
N Us Hwy 1
Admission: $7.00
Bus and RV Parking Available

www.SpacecoastQuilters.com

Titusville, Florida 32780
Contact: Ann Giles 321- 268-1969
Show Highlights
Guest Speakers: Friday, Margie Engel
Saturday, Juanita Yeager
Bed Turning, Boutique, Demonstrations, Donation Quilt, Door Prizes, Food Concession, Consignment Shop, Judged Quilts, Judged Wearable Art, Quilt Appraiser, Quilts of Valor, Scottish Sister Guild: The Busy Bees and Vendors.
------------------------------------------------------------------
Open call to all artists
Deadline: August 1
Contact: Mary McBride
The 20th World Bromeliad Conference, hosted by Florida Council of Bromeliad Societies, will be held in Orlando on September 24-30. This world-class event includes outstanding sales, a Rare Plant Auction, seminars, tours, and an opportunity to meet bromeliad collectors and growers from all over the world!
As part of the exciting programs, the society is presenting an exhibition of bromeliad related art in all media and size. The Conference will be at the Caribe Royale Hotel with the art on display alongside exceptional plants in the main ballroom where they will all be judged by specialists in the field of bromeliads. Five cash awards will be presented to artists for exceptional depictions of bromeliads either real or fantasy. Artists have until August 1 to submit their work to participate in the massive exhibition.
Please visit this website for more information about the conference: http://fcbs.org
Applications and art exhibition information may be obtained at http://tinyurl.com/BromeliadArt.
Images attached are winners from the Art of Bromeliads, Oct. 2011.
Darleen Hunt, watercolor, Florida Epiphyte (1st Place)
Marianne Williamson, fiber, Bromeliad in a Round Pot (Recognition)
Urszula Dudek, oil, Cryptanthus (Best of Show)
Mary
Mary E. McBride
386-736-3039
www.marymcbridearts.wordpress.com
www.theartofbromeliads.wordpress.com