Florida Quilt Network - Newsletter #170
Nov 5, 2012
Quilting Friends,
Wow, here we are, a few days before the big Election, and 6 days after Hurricane Sandy. Many of us in Florida know firsthand the scary, frustrating, unstable, anxiety-ridden time after a big storm. Millions in NY, NJ and beyond are experiencing all those emotions and more this week. If you are inclined to send them a warm hug of a quilt, here is a good link to get started: http://www.equilter.com/cgi-bin/webc.cgi/quiltrelief.html. EQuilter Quilt Relief is ready and waiting for your donations of quilts to distribute to hurricane victims. Keep the link open and visit often to see how you can help. Organize a sew-in at church, guild or your local quilt shop, finish a UFO, finish someone else's UFO, donate money….we can all do something and we SHOULD do something, don't you think?
On a completely other topic, some of you may know the history of FQN newsletter and website. I was a guild program chair and I was looking for ways to connect to other guilds to be able to share the expense of a national quilting teacher. We did some great work back then, and I'd like to see that happen again. To that end, I bring you this request:
Would anyone out there be interested in hosting Sharon Schamber the weekend of March 29th 2013 for classes/lectures? The West Pasco Quilters' Guild will be hosting Sharon Schamber for a members only retreat March 24-28, 2013 and it would just make sense for her stay on a few extra days for another group.... It would also help us if we could share some of her travel expense.... Please call Rhonda Koning (Retreat committee member for the guild) at 727-808-3667 or 727-861-7225 ext 105
To get a complete, organized, hotlinked listing of all the upcoming shows, retreats, workshops, shop hops, exhibits, etc, please visit the Calendar.
Happy Quilting, Mary-Jeanine
------------------------------------------------------------------
If you are in the market for a reasonably priced LongArm quilting machine, take a look:
My name is Kathy Davis.
I have a Nolting Fun Quilter 17" with Stitch Regulator for sale for $5500. The machine is 1 1/2 years old, made in the USA ...factory support is wonderful ...I just don't like using the longarm. I don't want to ship...I'd like someone to pick it up.
<![if !vml]>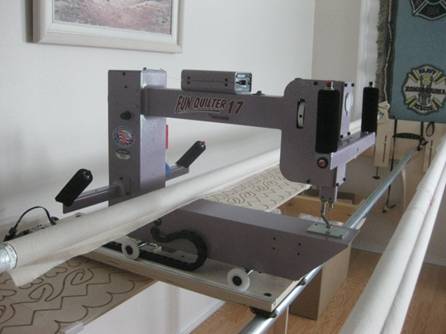 <![endif]>
<![if !vml]>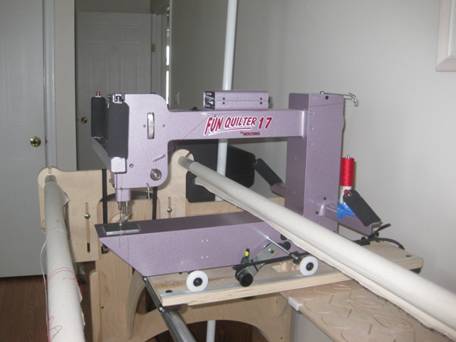 <![endif]>
Nolting Fun Quilter17'' with stitch regulator
Hinterberg Frame with 10' poles and leaders and video
5 pantographs with laser
Pro Bobbin Winder
Micro Handles
Ruler Base Table
Templates & Ruler
Extra needles
Extra bobbins
Pin cushion & pins
Centering tape
Threads
Oil
Manual
Horizontal Thread holders

Please call or email if you're interested:
Kathy Davis 386-265-4760
kathyquilts64@hotmail.com
------------------------------------------------------------------
CALENDAR OF EVENTS: (Newsletter number follows)
2012
Now – Nov 10 Fiber Exhibit in Deland www.floridamuseumforwomenartists.org/ (#168)
Now -Jan 20 Quilt Exhibit in Boca Raton www.bocamuseum.org (#167)
Now – Jan 6 Quilt Exhibit in Gainesville (#170)
Nov 8-10 International Quilt Show in West Palm Beach www.quiltfest.com
Nov 9 & 10 Quilt Show in Davenport www.quiltsandtea.com (#163)
Nov 8-17 Shop Hop in Central Florida (#170)
Nov 10 Bus Trip to West Palm Show from Orlando juanitayeager@gmail.com (#168)
Nov 10 Quilt Show in Tampa cypresscreekquiltersguild.org (#164)
Nov 10 Grand Opening Shop in Tampa www.happyapplequilts.com (#170)
Nov 10 Quilt Exhibit & Conference in Daytona Beach mrsgorgon@gmail.com (#167, #168)
Nov 10 – Dec 3 SAQA Exhibit in Deland mrsgorgon@gmail.com
Nov 15-18 Quilt Workshop & Lecture in Lakeland http://www.LadiesoftheLakes.org (#165)
Nov 15-18 Quilt Retreat in Lake Yale http://www.BeSewCreative.com (#165)
Nov 28 Stashbuster Lecture in Maitland more info
2013
Jan 11-12 Quilters Marketplace in Lake Worth www.hibiscusquiltguild.org (#161)
Jan 25-26 Quilt Show in Clearwater www.QuiltersCrossing.net (#164)
Jan 25-26 Quilt Show in The Villages Showcase2013@QGOTV.org (#165)
<![if !supportLineBreakNewLine]>
<![endif]>
Jan 26 Quilt Show in Dade City www.kumquatfestival.org (#167)
Feb 2-3 Quilt Show in Dade City www.pioneerfloridamuseum.org
(#167)
Feb 1-2 Quilt Show in Sebring quiltshow2013@gmail.com (#166)
Feb. 1-2 Quilt Show in Orlando quiltfever2013@floridacabinfever.com (#168)
Feb 2-Apr 3 Quilt Exhibit in Clearwater www.surfacedesignguild.com/call-to-artists
(#168)
Feb 8-9 Quilt Show in Vero Beach www.sbonnets1979.org (#164)
Feb 9 Quilters Luncheon in Largo brenda@thimbletales.com (#169)
Feb 8-10 Quilters Retreat in Delray Beach Talacam@aol.com (#169)
Feb 15-16 Quilt Show in Tampa area delilahl@verizon.net (#156)
Feb 15-16 Quilt Show in Titusville www.SpacecoastQuilters.com (#166)
Feb 15-16 Quilt Show in Panama City www.sabqg.org (#170)
Feb 16 Quilting Cruise leaving from New Orleans www.roundbobbin.com (#164)
Feb 18-20 Quilting Party in Homosassa Springs www.floridaquiltparty.com (#168)
Feb. 22-23 Quilt Show in Largo www.largocrackerquilters.org (#165)
Feb. 22-23 Quilt Show in Punta Gorda prqpubchair@yahoo.com (#165)
Feb 28, Mar 1,2 Quilt Show in Destin www.BeachRetreatAndShow.com (#170)
Mar 1-2 Quilt Show in Naples www.naplesquiltersguild.com/Show.html (#165)
Mar 1-3 Quilt Show in Tampa www.FeatherPrincesses.org
Mar 7-8 Quilt Show in Mt. Dora www.LakeQuiltGuild.com (#167)
Mar 8 Evening with Eleanor Burns in Melbourne www.seasidepiecemakers.com (#168)
Mar 8-9 Quilt Show in Palm Beach Www.palmbeachquilters.com (#154)
Mar 8-9 Quilt Show in Sarasota more info (#167)
Mar 14-16 Quilt Show in Ft. Lauderdale http://www.browardquiltexpo.com/ (#169)
Mar 21-24 Quilt Retreat in Lake Yale http://www.BeSewCreative.com (#165)
Apr 11th-Aug 25th Quilt Exhibit in Delray Beach lifenart@bellsouth.net (#164)
Apr 15-June 3 Quilt Exhibit in Boca Raton lifenart@bellsouth.net (#164)
Apr 23-28 Bus Trip to Paducah http://www.dots-daytonabeach.com/ (#168)
May 3-6 Quilters Retreat in Silver Springs Talacam@aol.com (#169)
June 7-9 Trip to Quilt Festival in Ireland sewmanyplaces.com (#167)
------------------------------------------------------------------
Quilters of Alachua County Day Guild
Help Deck the Halls at Trinity United Methodist Church
Gainesville, Florida – Continuing the tradition established by the Art Exhibit Committee of Trinity United Methodist Church, members of Quilters of Alachua County Day Guild, Inc. (QACDG) have been invited to place their quilts and other works of fiber art on display in the church's art gallery through the holiday season. The public is invited to come to view and enjoy the installation in the gallery on the second floor, education building of Trinity United Methodist Church, located at 4000 NW 53rd Avenue in Gainesville.
Bringing beauty from the community into the halls of the church is a tradition of the Art Exhibit Committee of Trinity United Methodist Church. The church mounts four exhibitions each year, showcasing art produced or collected by the Alachua County community. QACDG's exhibition will include quilts that go on beds, quilts that hang on walls, and fiber art creations that will reside in a showcase. The quilts and other works of fiber art will remain on display in the church's art gallery through the holiday season.
The quilts and fiber art works are on exhibition now through Sunday, January 6, 2013. Art gallery hours are Monday through Thursday, 8 a.m. to 9 p.m., Friday from 8 a.m. to 5 p.m., and Sunday, 8 a.m. to noon. The gallery is closed Saturday.
"Over the past couple of decades, we've witnessed a movement in quilting from utility to art," said Judy Kavanagh, exhibit coordinator for QACDG. "We appreciate this opportunity provided by Trinity United Methodist Church for our members to show their work in an artistic venue. It is a truly beautiful setting for art."
For more information, contact Judy Kavanagh, (386) 518-6402, or Grace TeSelle, art exhibit committee, (352) 372-8673, at Trinity United Methodist Church, (352) 376-6615.
------------------------------------------------------------------
Fiber Art Exhibition and Mini-Conference
Art Exhibition, Conference & Lecture
SAQA* in Florida exhibition of fiber art (*Studio Art Quilt Associates)
Rose Room Gallery, Peabody Auditorium
600 Auditorium Blvd., Daytona Beach
November 6 – December 3
Studio Art Quilt Associates Mini –Conference for fiber artists, Nov. 10, 10 AM – 2 PM, $20
Open to everyone, includes lunch
Rose Room Gallery, Peabody Auditorium
600 Auditorium Blvd., Daytona Beach
Meet the Artists Reception, Nov. 10, 12:30-2 PM, free
Rose Room Gallery, Peabody Auditorium
600 Auditorium Blvd., Daytona Beach
Panel Discussions & Dinner , Nov. 10, 2:30-7:30 PM, $25
Atlantic Center for the Arts
1414 Art Center Avenue, New Smyrna Beach
Women in Art: The Art of Fabric and the Fabric of Art
Lecture by Dr. Roberta Favis
Nov. 10, 8 PM, free
Harris Theater, Atlantic Center for the Arts
1414 Art Center Avenue, New Smyrna Beach
Questions and additional Information:
Mary McBride mrsgorgon@gmail.com
Phone: 386-736-3039, day of event: 386-748-0819
------------------------------------------------------------------
<![if !vml]>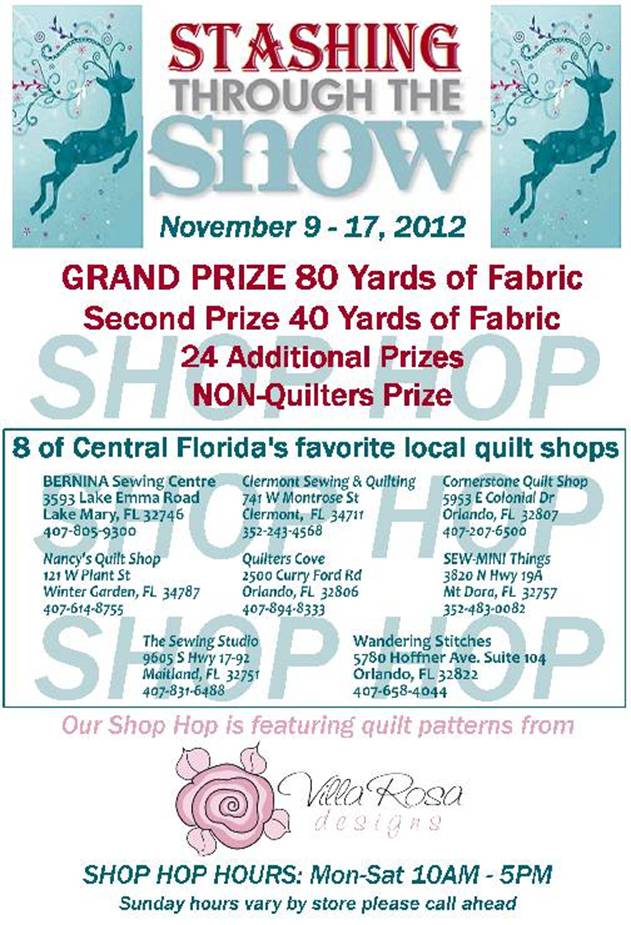 <![endif]>
------------------------------------------------------------------
QUILT SHOW IN TAMPA
Don't forget: Cypress Creek Quilters' Guild Outdoor Quilt Show is on Nov. 10th at the USF Botanical Gardens in Tampa.
------------------------------------------------------------------
GRAND OPENING
of Happy Apple Quilts
At the Shoppes of Cloverplace
3281 Tampa Rd, Palm Harbor, FL
727-786-0800
November 10, 2012
11 am to 2:00 pm
All shops at the Shoppes of Cloverplace are participating in the Celebration and also welcoming Chain Reaction Bike & Skate and the expansion of Sweet Caroline's!
------------------------------------------------------------------
CALL FOR CRAFTERS
We have an event titled "A 1912 Florida Cracker Christmas" on Saturday, December 15, 2012 from 10 am to 3 pm. Last year it drew about 650 people, I am looking for craft vendors to come and sell and or demonstrate their talents and skills. Please see attached SAVE THE DATE flyer. Can you please extend this invitation to your readers and ask them to call or email me for more information if they are interested?
Thank you,
Christine A. Brown
Special Events Coordinator, Manatee Village Historical Park
For R.B. "Chips" Shore
Manatee County Clerk of the Circuit Court & Comptroller
christine.brown@manateeclerk.com
941-741-4075
"Pride in Service with a Vision to the Future"
------------------------------------------------------------------
QUILT SHOW IN DESTIN
Flying Needles Quilt Guild Presents:
The 2013 Emerald Coast
Quilt Retreat
& Show
Join Us "At The Beach"
For Our 15th Annual Event
February 28th , March 1st & 2nd 2013
At The Palms Resort & Conference Center
In Beautiful Destin, Florida
Featuring National Teachers, Authors & Designers:
Ellen Lindner
Award Winning Quilt
Artist, Teacher andInnovator.
Kathy Brown
Author of favorites such as:
· Strip-Smart Quilts
· Take 5-Quilts
· More Take 5 Quilts (just released !!)
Gayle Wallace
Award winner at Paducah, Dallas & Houston,
and Many, many More !!
--------------------------------------------------
· Half-Day, Full-Day, & 2-Day Classes All Skill Levels Evening Classes & Activities
· 5 minutes from the Beach Great Get-Away for the Girls !!
For classes & Registration go to : www.BeachRetreatAndShow.com
Or Contact Sharon Jacobs @ 850-226-3359
Room Reservations Call (850) 351-0500 For Special Rate mention "Flying Needles Quilt Guild"
Luxury Condo-Style Suites, Share w/Friends & Save a Bundle !!
QUILT SHOW FEATURES:
Ÿ Judging & Awards Ÿ Daily Demonstrations Ÿ Vendors Ÿ Quilt Raffle
Quilt Appraisals Ÿ Silent Auctions Ÿ Benefit for Quilts of Valor
Quilt Show Info: Rosemary (850) 897-0340 or Donna (850) 613-6589 or email: fnqgquiltshow@cox.net
www.BeachRetreatAndShow.com for Registration Forms, Class Samples, Teacher Info, Local Attractions, and more
------------------------------------------------------------------
QUILT SHOW IN PANAMA CITY
St. Andrew Bay Quilters' Guild in Panama City, FL. are presenting their Quilt Show on February 15 and 16, 2013. Information regarding the show can be obtained by visiting our website www.sabqg.org and messages sent via our webmaster@sabqg.org. We would like to be listed on your calendar and/or newsletter. We are currently looking for vendors for our show. This is our first year to offer vendors so we are trying to get ourselves on all networks
Beverly Pierzchala
Quilt Show Coordinator
------------------------------------------------------------------
NEW GUILD FORMING IN SARASOTA
Sarasota Modern Quilt Guild
We are forming a Guild for quilters in the Sarasota, Bradenton, St. Petersburg areas. The Sarasota MQG is for quilters at ALL skill levels who enjoy working in non-traditional ways. We honor tradition—and then we explore contemporary approaches to making functional quilts. Modern quilts use bold, bright contemporary fabrics, innovative block designs and improvisational design. Our quilts are for the bed--we are not an art quilt group but creativity is definitely encouraged. We are affiliated with a national association: http://themodernquiltguild.com/
Visit http://groups.yahoo.com/group/sarasotamodq/ to sign up for announcements on upcoming meetings and other activities. We plan to meet in the Ellenton//Bradenton area and have loads of fun sharing ideas, inspiring each other and learning more about quilting. Beginners are very welcome.
Please contact Carole at sarasotamodq@hotmail.com for more information.
------------------------------------------------------------------
CALL FOR PILLOWCASES
My name is Bonnie and I am the coordinator for the Orlando Chapter of ConKerr Cancer.
ConKerr Cancer is a charity whose mission is to help children feel special while battling life changing illnesses. ConKerr has recruited thousands of volunteers to sew and donate over 300,00 pillowcases to pediatric patients in the past 3 years! Our goal is to give a bright cheery pillowcase to every seriously ill child in America.
Would members of your organization be interested in participating in this mission? I have found that quilters have the biggest hearts and can sew up pillowcases in no time at all!
I would love to come out and speak at one of your meetings. Or, members can go online at www.conkerrcancer.org to get all the information about the ConKerr Cancer charity.
I look forward to hearing from your group, or from individuals who wish to help.
Regards,
Bonnie Gray
ConKerr Cancer Orlando Coordinator
conkerrorlando@ msn.com
ph 407-765-3023
------------------------------------------------------------------
CHARITY REPORT
The QAKH (Quilters Against Kids Hunger and Homelessness) folks in Satellite Beach have turned out over 400 quilts this season and are distributing the quilts to the homeless children in Brevard County. The quilts, 42" x 60" , were designed for the kids to wrap up in whether sleeping in cars, on cots, or on neighbor's couches and to give them both comfort and hope in a brighter tomorrow. Brevard County is not the only county in Florida with huge numbers of homeless children. If you would like information on the quilt patterns or distribution, email Margie@cfl.rr.com. If you would like to help in your own area and don't know whom to contact, call your local county school board – they are working with a multitude of homeless families in each Florida county.
There is a new quilt group rising in Satellite Beach! Beginning in January, Coastal Quilters will be meeting on the third Saturdays of each month at the Satellite Beach Civic Center. For information, consult www.eduquilters.org or emai Margie@cfl.rr.com. Coastal Quilters sprouted from the hearts of the volunteers who have been working on the quilts for the homeless children and is another extension of EduQuilters Inc., a ten-year-old quilt education group. Their focus will continue on quilt education for members and children in the community as well as continuing service efforts.
------------------------------------------------------------------
CHARITY REPORT
The Pelican Piecemakers Quilter's Guild of New Smyrna Beach presented 22 patriotic-themed quilts to American Legion Auxiliary members Alice Brixius, Flagler Post 115 and Millie Sampson, NSB Post 17, at their September 11th Business Meeting. Guild members made blocks and the group assembled and quilted the colorful quilts as part of their Community Service Outreach. Pictured left to right are PP members Karen Mosher, Community Service Chair Ollie Kryszczuk, and Kathy Davis, Education Chair, who organized the project and collected the squares, Alice Brixius of Flagler Post 115, Lisbeth Bullington (back), Millie Sampson of NSB Post 17, and Jean Raulerson. The American Legion Auxiliary will present the donated quilts to veterans at the VA Wellness Center of Port Orange at an upcoming luncheon.