Florida Quilt Network - Newsletter #172
Jan 3, 2013
Quilting Friends,
Have you ever looked at the Calendar page on the FQN website?  It is actually where I start when I want to see ALL the upcoming quilting events in one place.  Everything is hotlinked so its easy to find more info fast.  Give it a try.
Some of you know that I am a Quilt Teacher and Lecturer.  I've been traveling around the state for a few years now, meeting many of you and sharing the love of the art.  If your guild is looking for local talent, please send me an email to start the ball rolling.  I'd love to present one of my StashBuster Lecture series, or teach a class on Machine Quilting or one of many StashBuster quilts.  Check out my Classes page for more info.
And speaking of local talent, my husband, Stefan, has started a little cottage business making large ironing boards that fit right on top of your existing ironing board.  These are great for pressing yardage, quilt tops, or just having more horizontal space to work with.  My favorite thing about the Roomy Board is that it gives me room to let my blocks cool off while I'm pressing other blocks.  Everyone who has purchased one loves it, and some customers come back to buy another one for their favorite quilter.  You can get all the info on the Roomy Board page.
Job Opportunity for Dedicated Quilter
A premium fabric distributor is looking for a dedicated quilter to fill a sales rep job opening for the Florida territory.
Specially, they are looking for a dedicated quilter with sales experience. The applicant must be self-directed, willing to travel, can work full time, and can start in the near future. This job is a full time position. Duties include: contacting quilt and fabric stores within the territory, setting up appointments, visiting the quilts and showing the new fabric liens. The job is commission based, with the potential for a very nice income for the right person.
If you would like to be considered and are truly interested, please email me at karen@karencombs.com with contact information, work experience and resume. I will gather the information and pass it along to the owners of the company.
Thank you,
Karen Combs
And finally, a message from a generous quilter:
Hi Quilters: I'm an Ocala former quilter needing to downsize. Have a lot of fabrics from patch sizes to bed-size, including denim for creative recycling, and some batting and stuffing for toys. Do you accept donations, or recommend someone who does?
Your early reply much appreciated.
Darlene
352-629-5675 (I screen my calls, please leave a message for a call-back.)
To get a complete, organized, hotlinked listing of all the Florida upcoming shows, retreats, workshops, shop hops, exhibits, etc, please visit the Calendar. 
Happy Quilting,   Mary-Jeanine
PS: I love to hear from you, so drop me a line sometime!
------------------------------------------------------------------   
CALENDAR OF EVENTS: (Newsletter number follows)
2013
Now – Jan 6 Quilt Exhibit in Gainesville (#170)
Now -Jan 20 Quilt Exhibit in Boca Raton
www.bocamuseum.org
(#167)

Jan 7-Feb 4 Quilt Exhibit in Melbourne
quilterdij@earthlink.net
(#172)

Jan 11-12 Quilters Marketplace in Lake Worth
www.hibiscusquiltguild.org
(#161)

Jan 17-22 Quilt Shop Hop in East Central Florida
www.cinnamonsquilts.com
(#172)

Jan 19 Quilt Workshop with Chris Hoover in Winter Haven www.HeartFeltQuilting.net (#172)

Jan 25-26 Quilt Show in Clearwater
www.QuiltersCrossing.net
(#164)

Jan 25-26 Quilt Show in The Villages
Showcase2013@QGOTV.org
(#165)


Jan 26 Quilt Show in Dade City
www.kumquatfestival.org
(#167)

Feb 2-3 Quilt Show in Dade City
www.pioneerfloridamuseum.org
(#167)
Feb 1-2 Quilt Show in Sebring
quiltshow2013@gmail.com
(#166)

Feb. 1-2 Quilt Show in Orlando
quiltfever2013@floridacabinfever.com
(#168)

Feb 2 Florida Quilt Study Group in Trenton
sewmuch63@hotmail.com
(#171)

Feb 2-Apr 3 Quilt Exhibit in Clearwater
www.surfacedesignguild.com/call-to-artists
(#168)
Feb 8-9 Quilt Show in Vero Beach
www.sbonnets1979.org
(#172)

Feb 9 Quilters Luncheon in Largo
brenda@thimbletales.com
(#169)

Feb 8-10 Quilters Retreat in Delray Beach
Talacam@aol.com
(#169)

Feb 15-16 Quilt Show in Tampa area
delilahl@verizon.net
(#156)

Feb 15-16 Quilt Show in Titusville
www.SpacecoastQuilters.com
(#166)

Feb 15-16 Quilt Show in Panama City
www.sabqg.org
(#172)

Feb 16 Quilting Cruise leaving from New Orleans
www.roundbobbin.com
(#164)

Feb 18-20 Quilting Party in Homosassa Springs
www.floridaquiltparty.com
(#168)

Feb. 22-23 Quilt Show in Largo
www.largocrackerquilters.org
(#165)

Feb. 22-23 Quilt Show in Punta Gorda
prqpubchair12@yahoo.com
(#165)

Feb 28, Mar 1,2 Quilt Show in Destin
www.BeachRetreatAndShow.com
(#170)

Mar 1-2 Quilt Show in Naples
www.naplesquiltersguild.com/Show.html
(#165)

Mar 1-3 Quilt Show in Tampa
www.FeatherPrincesses.org
Mar 7-8 Quilt Show in Mt. Dora
www.LakeQuiltGuild.com
(#167)

Mar 8 Evening with Eleanor Burns in Melbourne
www.seasidepiecemakers.com
(#168)

Mar 8-9 Quilt Show in Palm Beach
Www.palmbeachquilters.com
(#154)

Mar 8-9 Quilt Show in Sarasota
more info
(#167)

Mar 14-16 Quilt Show in Ft. Lauderdale
http://www.browardquiltexpo.com/
(#169)

Mar 15-16 Quilt Show in Crystal River
www.creativequiltersofcitruscounty.com
(#171)
Mar 21-24 Quilt Retreat in Lake Yale
http://www.BeSewCreative.com
(#165)

Apr 11th-Aug 25th Quilt Exhibit in Delray Beach
lifenart@bellsouth.net
(#164)

Apr 15-June 3 Quilt Exhibit in Boca Raton
lifenart@bellsouth.net
(#164)

Apr 23-28 Bus Trip to Paducah
http://www.dots-daytonabeach.com/
(#168)

Apr 30-May 5 Quilt & Thread Painting Retreat in Orlando
www.nancyprince.com
(#171)

May 3-6 Quilters Retreat in Silver Springs
Talacam@aol.com
(#169)

June 7-9 Trip to Quilt Festival in Ireland
sewmanyplaces.com
(#167)
------------------------------------------------------------------   
Dirty Dozen Fiber Artists Featured at King Center
Bold graphic designs, realistic pictorials, and monochromatic abstracts are just some of the striking pieces that will be showcased during the upcoming "A New Look at Fiber Art," exhibit, in Melbourne.  Featuring the work of the Dirty Dozen Fiber Artists, the exhibit will be on display at the Harris Gallery of the Maxwell C. King Center lobby  from January 7th through February 4th,  and will be open to view during all King Center events.
The Dirty Dozen Fiber Artists are Barbara Bilbo, Jill Brown, Peggy Horsfield, Elizabeth King, Andrea Luliak, Ellen Lindner, Bev O'Connell, Dij Pacarro, and Ruth Anne Parker.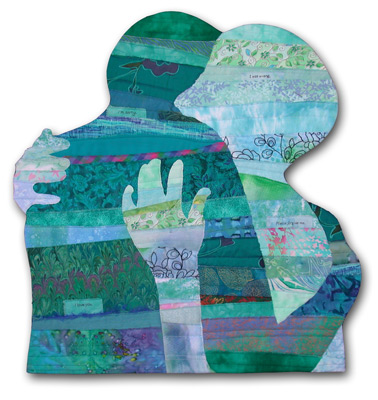 For additional information or higher resolution photos contact:
Dij Pacarro, 321-806-5550, quilterdij@earthlink.net
------------------------------------------------------------------   
<![endif]> <![endif]--><![if !vml]>

<![endif]>
F

l

or

i

d

a

B

r

e

e

z

e

S

h

o

p

H

o

p
January 17—22, 2013
(Thurs-Tues)
6 Days… 6 Shops
Grand Prize
♦     JUKI 27Z Travel Size Machine
♦     Arrow Cabinet: Sewnatra & Suzie Storage unit
♦     DreamWorld Extend Table
♦     BlueFig 3 pc Machine trolley, project & notions bag set
♦     Quilting Thread Collection
<![endif]> <![endif]--><![if !vml]>

<![endif]>
<![endif]> <![endif]--><![if !vml]>

<![endif]>
<![endif]> <![endif]--><![if !vml]>

<![endif]>
<![if !vml]>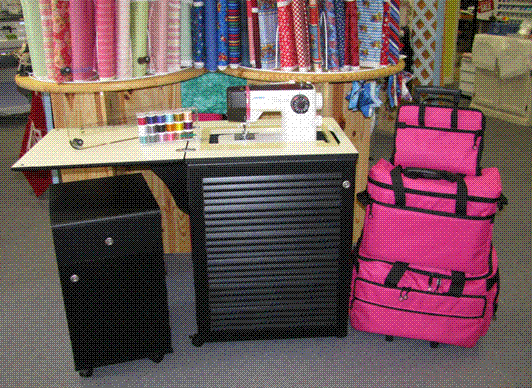 <![endif]>
Visit 5 of the 6 shops to enter Grand Prize Drawing… Valued over $2000.00
Special Thanks to
P & B Quilting Fabrics Blue Fig specialty Bags Juki America, Inc
Arrow Sewing Cabinets
Passport $5
($6 day of Hop)
∗   $100 Gift Certificates
∗    Shop Hop Quilt
(one from each shop)
∗    8" block kit Collect all 6
(redeem 1 block per shop)
∗   Mystery Fabric-25% off
(min 1 yard cut)
∗    Door Prizes!
∗    Hourly Prizes
∗    Refreshments
Cinnamon's Quilt Shoppe
<![endif]> <![endif]--><![if !vml]>

<![endif]>
4220

H

oo

d

R

o

ad
Jacksonville, FL 32257
904-374-0532 www.cinnamonsquilts.com
Magrieta's Quilt Shop
142C King Street
St. Augustine, FL 32084
<![endif]> <![endif]--><![if !vml]>

<![endif]>
90

4

-829-3137
www

.

m

ag

ri

e

ta

sq

u

il

t

sh

o

p

.c

om
Material Girl Quilt Shop
36844 Hart Road
Eustis, FL 32736
407-884-0660 www.materialgirlfl.com
Quilt Shop of Deland
115 Rich Ave
Deland, FL 32720
386-734-8782 www.quiltshopofdeland.com
Accent on Quilting
951 N. Volusia Ave Orange City, FL 32763
<![endif]> <![endif]--><![if !vml]>

<![endif]>
T

h

e

S

e

w

i

n

g

G

a

r

r

e

t
949 Beville Rd Bldg B Daytona Beach, FL 32119
386-767-3545 www.sewinggarret.com
------------------------------------------------------------------   
Smokey River with Chris Hoover from Whirligig Designs
<![if !vml]>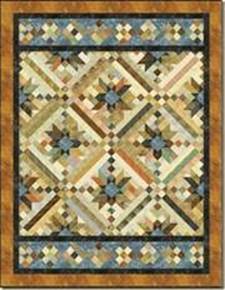 <![endif]>
Chris Hoover from Whirligig Designs will be teaching her "Smokey River" quilt at Heartfelt Quilting & Sewing in Winter Haven shop Saturday, January 19 from 9 a.m. - 3 p.m.
You will learn to use the Easy Angle and Companion Angle rulers to make perfect angles while minimizing use of fabric.
Class is $55 and includes lunch.
Call the Winter Haven shop (863-299-3080) or the Lakeland shop (863-646-2019) to register.
Coming soon - Taos, Block of the Month from Whirligig!
<![if !vml]>
<![endif]>
------------------------------------------------------------------   
QAKH, Quilters Against Kids Hunger and Homelessness, distributed 359 quilts to homeless elementary children in Brevard County just in time to warm their toes as the cold weather arrived.
These dedicated women are continuing to meet under the auspices of Coastal Quilters, the new face of EduQuilters. Anyone interested in a relaxed guild where the focus is adult education and quilting with kids may want to check into CQ. The first meeting is Saturday, January 19, at the Satellite Beach Civic Center on Cassia Drive in Satellite Beach. Details may be found at www.eduquilters.org or by emailing Margie@fl.rr.com
------------------------------------------------------------------   
QUILT FEVER 2013 QUILT SHOW
Friday and Saturday
FEB. 1-2
9:00 am to 5:00 pm
Central Florida Fairgrounds
4603 West Colonial Drive
Orlando, Florida 43803
QUILT FEVER 2013 Show News:
40 vendors – Plenty of shopping and variety from seven states – visit our website at www.floridacabinfever.com to view shops online
A juried show with 325 quilts as well as Viewers Choice awards
Special Exhibits: 2012 Hoffman Challenge Lavender Collection, Alice Means' Children Books Quilts, Teddy Bear Quilt Challenge for charity, Vendors' Exhibit,
and 7 Happy Flowers
Show Highlights: Quilters Walk – 50 tickets/$5 (sign your name one time) and a surprise for some lucky visitors. 50 different baskets to entice you.
Miniature Quilt Silent Auction – Winners pick each day.
Boutique – New and varied items for sale.
Quilt Sales – Purchase all styles of quilts
Quilt Appraisals – Teddy Pruett- AQS Certified Appraiser since 1994
Quilting Demos by members and vendors
Food & Beverages onsite
FREE PARKING
Admission: $8.00 With AD, $7.00
Small groups of 10, or buses, $7.00 Contact: bustrips@floridacabinfever.com
-----------------------------------------------------------------   
Sunbonnet Sue Quilters & Press Journal, ABC Printing
Presents the 2013 QUILT SHOW
<![if !supportLists]> · <![endif]>FEBRUARY 8 & 9TH
<![if !supportLists]> · <![endif]>10 AM TO 5pm and 10am to 4pm
<![if !supportLists]> · <![endif]>Fee $8.00 Children under 10 Free
<![if !supportLists]> · <![endif]>At Indian River County Fairgrounds
<![if !supportLists]> · <![endif]>7955 58th Street, Vero Beach, Fl
<![if !supportLists]> · <![endif]>Free parking, Handicapped access
<![if !supportLists]> · <![endif]>Over 200 quilts on display
<![if !supportLists]> · <![endif]>Vendors with sewing , quilting supplies available
<![if !supportLists]> · <![endif]>Have your quilts appraised (appt)
<![if !supportLists]> · <![endif]>See fashion show. View the demo's on quilting
<![if !supportLists]> · <![endif]>Get your tickets for raffle quilt
<![if !supportLists]> · <![endif]>Food available by SouthernYankeeBBQ4U
<![if !supportLists]> · <![endif]>See web site: www.sbonnets1979.org
<![if !supportLists]> · <![endif]>Proceeds go to Veterans of Indian River County
<![if !supportLists]> · <![endif]>Contact: patlester9@gmail.com or call 772.562.9294
<![if !supportLists]> · <![endif]>Enjoy the art of quilting. BRING YOUR FRIENDS
<![if !supportLists]> · <![endif]>------------------------------------------------------------------   
St. Andrew Bay Quilters' Guild presents Quilt Show 2013, "AMERICAN BEAUTIES".
February 15 and 16, 2013 from 9:00 – 4:00
New Location! Our Lady of the Rosary Catholic Church, 5622 Julie Dr, Panama City, FL
For more info visit our website at http://www.sabqg.org