Florida Quilt Network - Newsletter #174
Mar 5, 2013
Quilting Friends,
Well, here we are, only one more month of Quilt Show Season in Florida. I hope you've been able to get out and see at least one show this season. Me? I promised myself I would get to at least one show each month. So far so good, and I'm looking forward to TWO shows this month: Mount Dora and Trenton. Woohoo! Maybe I'll see you there!
Quilt Show & Internet Business For Sale
Due to 'life getting in the way of fun' we are selling our Quilt Show & Internet Business. We vend at quilt shows within Florida from Jan-April each year and have a professional designed web store. We have a stellar reputation and have secured booth rentals in the best shows.
We have built up this business over the last four years and have established a successful niche and system that is very lucrative. We get to go on fabric buying trips and travel throughout the state going to Quilt Shows. This is a very fun business if you love quilting!
This business is best suited for 2 or 3 partners or for a husband and wife team. We will work with you and train for as long as you feel is necessary as we want the new owners to be successful. This is a great 'retirement' business since it is so seasonal, however it can easily be expanded if you wish to travel out of state during the summer.
For more information, contact Joyce at 239-540-9038.
COMPUTERIZED LONG-ARM SYSTEM FOR SALE:
I have a long arm computerized system for sale. This was my friend's set-up and she passed away and she asked me to sell her things for her. Here's what she has:

1. A Juki 98Q that has been stretched to 18" throat depth (by Rick at WOW quilts);
2. A 10 ft. Stretch Hinterberg frame - 3 pole system with a dead bar and if you don't want to use the dead bar, bowers lifts;
3. A computerized system that started out as a PC Quilter but has been upgraded to a Machine Quilting Robot (called MQR)
4. Pro-Q Designer software that is a layout and design software that also runs the MQR.
There are many extras - Handi leaders, a handle for the Juki to move back and forth across the frame, the Pro-Q designer workbook and also the "cookbook" (what they call a "how do I do this" binder and is a $200+ value), at least 12 extra bobbin cases and at least 40+ extra bobbins.
I have a longer detailed description with more pictures which I'll send to you if you're interested. The cost would be $7800.00 or best offer & shipping which is a steal for a computerized system. I would prefer to sell it locally so you can load it onto a U-Haul and not have to take it totally apart but I'll ship it if that's your wish. I would estimate shipping would be at least $250.00.
Ruth Hunter
Longwood, FL
(PS: please look for even more sewing machines available for purchase at the bottom of this newsletter.
To get a complete, organized, hotlinked listing of all the Florida upcoming shows, retreats, workshops, shop hops, exhibits, etc, please visit the Calendar.
Happy Quilting, Mary-Jeanine
PS: I love to hear from you, so drop me a line sometime!
------------------------------------------------------------------
CALENDAR OF EVENTS: (Newsletter number follows)
2013
Now - Apr 3 Quilt Exhibit in Clearwater www.surfacedesignguild.com/call-to-artists
(#168)
Now – Apr 13 Quilt Exhibit in Winter Park www.crealde.org (#173)
Mar 7-8 Quilt Show in Mt. Dora www.LakeQuiltGuild.com (#167)
Mar 8 Evening with Eleanor Burns in Melbourne www.seasidepiecemakers.com (#168)
Mar 8-9 Quilt Show in Palm Beach Www.palmbeachquilters.com (#154)
Mar 8-9 Quilt Show in Sarasota more info (#173)
Mar 14-16 Quilt Show in Ft. Lauderdale http://www.browardquiltexpo.com/ (#169)
Mar 14-16 Fiber Workshops in New Smyrna Beach www.focusonfiber.wordpress.com/workshops (#173)
Mar 15-16 Quilt Show in Crystal River www.creativequiltersofcitruscounty.com
(#171)
Mar 16 National Quilting Day Event in Palm Harbor www.quilterscrossing.net (#173)
Mar 16 Quilt Sale in Bradenton christine.brown@manateeclerk.com (#173)
Mar 16 Quilt Show in Trenton www.suwanneeshops.com (#174)
Mar 16 Quilters Tea in New Smyrna Beach PelicanPiecemakersFL@yahoo.com (#174)
Mar 22 & 23 Quilt Workshops in Clearwater Marlene@123webmagic.com (#173)
Mar 21-24 Quilt Retreat in Lake Yale http://www.BeSewCreative.com (#165)
Mar 25 Sharon Schamber Trunk Show in Hudson rhondakoning@gmail.com (#174)
Mar 29-30 Sharon Schamber Workshops in Palm Harbor www.quilterscrossing.net (#174)
Apr 11th-Aug 25th Quilt Exhibit in Delray Beach lifenart@bellsouth.net (#164)
Apr 15-June 3 Quilt Exhibit in Boca Raton lifenart@bellsouth.net (#164)
Apr 23-28 Bus Trip to Paducah http://www.dots-daytonabeach.com/ (#168)
Apr 30-May 5 Quilt & Thread Painting Retreat in Orlando www.nancyprince.com (#171)
May 17-20 Quilters Retreat in Silver Springs Talacam@aol.com (#169)
June 7-9 Trip to Quilt Festival in Ireland sewmanyplaces.com (#167)
June 24-Jul 3 Bus Trip to Vermont katymadhatter@gmail.com (#174)
Nov 1-2 Quilt Show in Brooksville www.hernandoquiltersguild.com (#174)
2014
2015
Feb 27-28 Quilt Show in Sebring kdoughty53@centurylink.net (#174)
------------------------------------------------------------------
QUILTERS TEA IN NEW SMYRNA BEACH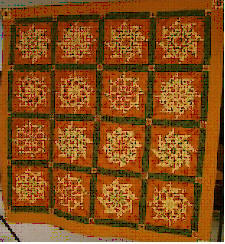 The Pelican Piecemakers Quilt Guild, Inc. of New Smyrna Beach will hold their semi-annual "Quilter's Tea" on Saturday, March 16th, from 10 am until 3 pm. Event will be held at Christ Community Church, 1210 Mission Drive, NSB. There is no admission charge. A snack of tea, cookies and tea sandwiches will be provided, again, at no charge. Quilts will be displayed, both finished and "in progress" for your viewing pleasure. Tea is held to promote the art of quilting and to thank the community for their support. Featured will be quilting demonstrations, "Smyrna Sunrise" raffle drawing, Boutique and Treasure Table. For more information or directions, please e-mail PelicanPiecemakersFL@yahoo.com. We hope to see you there!
Thank you.
Fran Posick, Publicity
Pelican Piecemakers Quilt Guild, Inc.
------------------------------------------------------------------
View the Artistry of Quilting at Trenton's Festival
Trenton's Suwannee Valley Quilt Festival, on Saturday, March 16th, features quilt artists from the Fiber Muses of Lake City and the Fiber Art Bee (FAB) of Gainesville. Their original creations start with traditional quilting and incorporate unconventional approaches to produce art works that will delight visitors.
These groups will be joined by about thirty guilds displaying and selling quilts and conducting needlework demonstrations. Among the quilt groups that are expected to participate are Anthony Quilt & Go Quilters and Country Road Quilters (of Ocala), Inglis Sew & Sews (Inglis), Joyful Hearts (Branford), Kalico Kwilters Guild (Archer), Lady of the Lake (Lake City and Live Oak), Springhouse Quilters Guild (Trenton, Chiefland and Bell), Alachua Day Guild, Stitching Gators and Tree City Quilt Guild (of Gainesville).
Five blocks of Trenton's Main Street will be closed to traffic so that festival-goers may stroll among indoor and outdoor displays. The area includes many of the town's historic buildings, such as The Old Railroad Depot, situated at the east end of the Nature Coast Trail, and City Hall, located near the intersection of State Road 26 and US Highway 129.
Needlework demonstrations will include hand piecing (Cindy Jo Ayers), paper piecing (Clair Batchelder and Karen Beck), cross stitch (Sally Criswell) and children's dresses (Caroline Leonard) as well as quilting skills. Other demonstrators include Janet Moses (window painting) and The Old Sewing Machine Man (treadle sewing machines).
Crafters, artists, antique dealers, musicians and food vendors will join the quilters. Expected participates include Gainesville's Artisans' Guild (artworks), Suwannee Cracker Art (drawings), Lenore Nichols (pottery), Marc's Woodcraft's (wood hangings), Cathy's Crafts (glass, jewelry) and Avatar Antiques (folk art, early sewing items). Restored antique cars and tractors will line Main Street. Zippy Pets and sand art will entertain children. Food will be supplied by local service organizations.
The festival sponsors include the City of Trenton, the Gilchrist County Commission, the Gilchrist County Chamber of Commerce, the Suwannee Valley Quilt Shoppe, Capital City Bank, and the Trenton Floral & Gift Shop. Festival benefactors include Kim Hart (Kim's Long Arm Machine Quilting), Caroline Leonard (Abby Leonard Designs) and Jessica Schofield.
The festival will run from 9am to 3pm. For more information, go to http://trentonquiltfestival.com or call the Quilt Shoppe at (352) 463-3842 or Stephanie on her cell phone at 352-316-5900.
------------------------------------------------------------------
SHARON SCHAMBERE TRUNK SHOW IN HUDSON
The West Pasco Quilters Guild Retreat Committee will be hosting award winning quilter Sharon Schamber for a trunk show on Monday evening March 25, 2013 at 7pm in Hudson (Florida's beautiful west coast). Tickets for the trunk show are $10 - please call Rhonda Koning at 727-861-7225 for info - or email rhondakoning@gmail.com
------------------------------------------------------------------
Quilters Crossing – Palm Harbor
presents
Sharon Schamber
Teaching Piec-lique` - Curves the new way
<![if !vml]>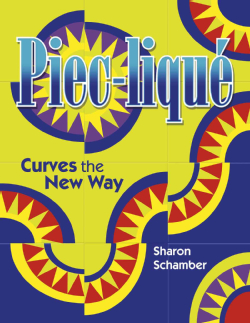 <![endif]>
6 hour classes at the
Hilton Garden Inn, Oldsmar
Friday, March 29th, 2013 &
Saturday, March 30th, 2013
Reserve now ~ Space is limited
Contact: Barbara Kellard
bjkellard@gmail.com or 727-531-1872
www.quilterscrossing.net
------------------------------------------------------------------
SUMMER GETAWAY VERMONT

Mon 6/24-Wed 7/3/13
Cost: $1,324 Payable, two (2) payments of $662.00 each, Due 3/23 & 5/25/13
All funds non-refundable; you may sell your space thru Katy, based on available
waiting list. Full refund if necessary to cancel entire entire trip prior to 6/1/13.
Includes: Bus/Driver Tip & Room/Your Dbl Room non-smoking/Tour, Concord Shaker Village/
Tour, Shelburne Museum/Visit, Center Harbour, NH, Keepsake Quilting/Two Days Adm,
Vermont Quilt Festival, & More!
History, beautiful scenery, gorgeous quilts, fun travel companions, what's not to like!
Guys & gals welcome to join established, comfortable travel group. We stop for food, shopping, antiques, historical sites, quilts, etc, at will!

Contact: Katy Church, Travel Dir, Palm Beach Quilters
Ph: 561/965-3182. E-mail: katymadhatter@gmail.com
------------------------------------------------------------------
Brooksville, Florida- November 1st & 2nd, 2013
Hernando Quilters' Guild Presents: Threads For Freedom Quilt Show. Friday & Saturday, November 1 & 2, 2013 from 9:00am to 4:00pm at the Quarry Golf Course (Brooksville Enrichment Center) 800 John Gary Grubbs Blvd., Brooksville, Florida 34601 off Route 41/Broad Street in Brooksville (352-544-5900). Featuring: Over 100 Quilts, Vendors, Boutique Table, Raffle Baskets, Opportunity Quilt, Silent Auction, Refreshments and Free Parking. For more information contact: Karen Pilon at 352-556-4720 or after April 30th 734-454-4934 e-mail: Tompilon@provide.net, or visit our website: www.hernandoquiltersguild.com
------------------------------------------------------------------
From the Highlands County Quilt Guild of Sebring, FL:
We have news regarding our next quilt show...it will be held Friday & Saturday, February 27 & 28th of 2015 and will be held at the
'Highlands Today Convention Center' on the Highlands County Fairgrounds where it was held Feb. of 2013. More details to come and
Vendors may inquire with my email address: kdoughty53@centurylink.net
------------------------------------------------------------------
For sale is a Bernina 200e that has been upgraded to a 730e. You can use the CD-Rom, USB or card slot for reading embroidery files, is powered by Windows so adjusting your design size is a snap. There is an automatic thread cutter, needle up/down, free arm slide-on table, separate bobbin winder, 9 mm stitch width, multi-function buttons, favorites button, huge color touch screen and so much more.
The machine has 259.22 hours; 2.13 Sewing & 257.08 embroidery.
• 4 Hoop Sizes Included: 1" x 2"; small - 4" x 4"; medium: 5" x 7"; and large: 6" x 10"
Please contact me if interested in any of the machines for pricing, more detailed descriptions and additional pictures.
Thank you for your interest.