Florida Quilt Network - Newsletter #176
May 5, 2013
Quilting Friends,
This newsletter is a bit of everything: shows, lecture, workshops, grand re-opening, quilt business for sale and an update on a Modern Quilt Guild…enjoy!
Have you seen this artist's quilts? http://www.debhydefiberart.com/debhydefiberart.com/Fiber_Art_Quilts.html they are unlike anything I've ever seen and thought you'd enjoy a peek.
Looking for a new sewing machine? I have 3 machines for sale:
· Bernina 360 with all hoops and case for carrying never used
· Viking 6 thread serger new
· Viking Diamond sewing/embroidery machine all hoops and case for carrying. New never used no downloads on machine books and programs included
If interested please call or send an email to themaksems@msn.com to talk about the machines and prices.
Thanks, Mary Kay Maksem
To get a complete, organized, hotlinked listing of all the Florida upcoming shows, retreats, workshops, shop hops, exhibits, etc, please visit the Calendar.
Happy Quilting, Mary-Jeanine
PS: I love to hear from you, so drop me a line sometime!
-------------------------------------------------------------
CALENDAR OF EVENTS: (Newsletter number follows)
2013
Apr 11-Aug 25th Quilt Exhibit in Delray Beach lifenart@bellsouth.net (#164)
Apr 16-June 3 Quilt Exhibit in Boca Raton lifenart@bellsouth.net (#175)
May 17-20 Quilters Retreat in Silver Springs Talacam@aol.com (#169)
May 30-June1 Grand Re-Opening in Lake City http://fabricartshop.com (#176)
June 1 Florida Quilt Study Group sewmuch63@hotmail.com (#175)
June 7-9 Trip to Quilt Festival in Ireland sewmanyplaces.com (#167)
June 24-Jul 3 Bus Trip to Vermont katymadhatter@gmail.com (#174)
June 28 Debbi Crane Lecture in Coral Springs kirkenoll@bellsouth.net (#176)
June 29 Debbie Crane Workshop in Coral Springs kirkenoll@bellsouth.net (#176)
Sept 26-28 QuiltFest in Jacksonville www.quiltfestjax.com (#175)
Sept 28-29 Quilt Show in Deland www.quiltshopofdeland.com (#176)
Nov 1-2 Quilt Show in Brooksville www.hernandoquiltersguild.com (#174)
2014
Jan 9-11 World Quilt Show in West Palm Beach quiltfest.com
Jan 24-25 Quilt Show in Ft. Myers www.swfqg.com (#176)
2015
Feb 27-28 Quilt Show in Sebring kdoughty53@centurylink.net (#175)
-------------------------------------------------------------
June 2013 Special Event Program
Friday June 28th, 2013 7:15pm
Debbi Crane
Lecture: True Confessions of a Rebellious Quilter
Mixed mania : recipes for delicious mixed-media
creations Authors: Debbi Crane & Cheryl Prater.
<![if !vml]>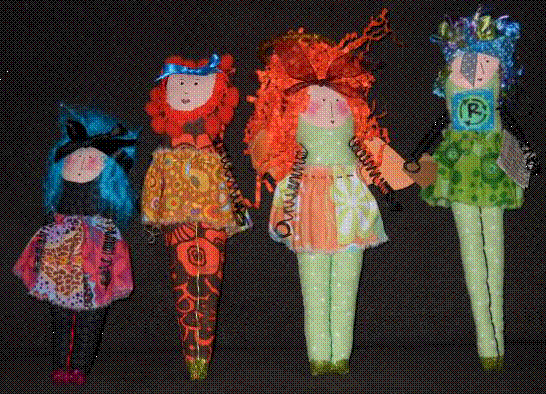 <![endif]>
Debbi Crane Embellished Doll Workshop
Saturday June 29th, 2013 - 10am - 4pm at Cypress Hall at Cypress Hammock Park
These dolls are sooo cute/fun and we will have a blast embellishing already made forms.
Be happy creative and/or make some really wicked voodoo dolls ... hehehe :-)
Grand/daughters will love them. You get to make 2 of each type provided by her kits and supplies.
Kit fee of $20 paid to instructor at class which includes 2 of each doll and lots of embellishments.
Only a few spaces remaining – don't wait to reserve your spot.
Everyone Welcome!
Non-Members $5 Special Event Lecture Fee ~ Meeting starts at 7:15pm
Cypress Hall at Cypress Hammock Park, 1300 Coral Springs Drive, Coral Springs, FL.
Workshop Fee ~ Members $40 ~ Non-Members $45 ~ Plus Kit
Call or email Charlotte Noll kirkenoll@bellsouth.net 954-562-8604
-------------------------------------------------------------
Online Quilting Business For Sale
8 years established online web site
Several thousand subscribers on newsletter list
Inventory & business name included
Serious inquiries only
Thanks,
Barbara
Flamingo Island Designs
barbara@flamingoislanddesigns.com
-------------------------------------------------------------

FABRIC ART SHOP in Lake City, FL 32055 is soon going to move into its brand new, huge, and state of the art energy conserving purple building. The Grand Re-Opening is scheduled for May 30, 31 & June 1. Check out our FACEBOOK page for more information as we get closer to those dates. And on FB, you can also see the progress of the building construction in the special building album. During our festivities, you can look forward to lots of demos, raffles & door prizes. Take test drives on our JANOME and INNOVA machines to get a coupon toward accessory purchases when you purchase a machine. And you will learn more about our plans for extensive machine quilting and associated software training. We are looking forward to seeing everyone that can get here so we can share all the excitement with you.
Happy Creating!

Barbie Swanson

FABRIC ART SHOP
http://fabricartshop.com http://quiltkitsandmoreatfas.com
authorized JANOME & INNOVA dealer. EASY GLIDE® tools and EDIEBARB Designs born here!
4000 bolts of fabrics, & specialty products for fiberart. Lots of sewing, quilting and art classes & retreats.
FAS Southern School of Quilting and Longarm Techniques.
4136 West US Highway 90
Lake City, FL 32055

Exit 427 off of I-75, west 1/2 mile on US 90, on left in Swanson Plaza #4134 & 4136.

386-755-0179 FAX: 386-755-8530

**** Visit us at Yahoo! Group: innovalongarm & our website: www.innovalongarm.com ****
-------------------------------------------------------------
SARASOTA QUILT GUILD
The Sarasota Modern Quilt Guild has grown to over 40 members. Our new Website is www.SarasotaModernQuiltGuild.com. We now have a permanent meeting home at the Fruitville Library, 100 Coburn Road, Sarasota and we meet on the 3rd Saturday at 1 p.m. For more information and to join our email list, go to groups.yahoo.com/group/sarasotamodq/ . Or email: SarasotaModQ@hotmail.com
-------------------------------------------------------------
Sept. 28-29, Sat & Sun.
Mark your calendar and save the date. Quilts from the top fabric companies-seen only in the magazines and now you get to see them up close!
-------------------------------------------------------------
Fort Myers Florida - The Southwest Florida Quilters Guild proudly present their 9th Biennial Quilt show entitled "Florida's Flower Garden – A Show Case Of Quilts".
The show will be held at the Grace Community Center, located on Hancock Bridge Parkway near Orange Grove Blvd in North Fort Myers. It will feature over 200 quilts to be judged by NQA Certified Judge Karen Roberts. There will be boutique with items for sale, a live miniature quilt auction, demonstrations and a vendor's merchant mall.
The public is invited to join the hundreds of quilters expected to attend the show Friday January 24 from 9:00 AM to 5:00 PM and Saturday January 25, 2014, from 9:00 AM to 4:00 PM. The cost is $7.00 per day or $10.00 for both days.
For further information, Please visit the SWFQG website www.swfqg.com