Florida Quilt Network - Newsletter #190
www.FloridaQuiltNetwork.com
July 9, 2014
Quilting Friends,
We're back from a really wonderful trip to the UK. The Hubs and I packed as many sights and events as we could into two very short weeks. The highlight of course was our friend's Real Scottish Wedding. I had no idea it would go for 10 hours, 2 meals and lots of dancing. Whew! I'm still tired; what a blast! We didn't get to any quilt shops, but we did make it to the Kaffe Fassett exhibit at the American Museum in Bath, England. It was a 50 year retrospective. Lots of needlepoint, knitting and pompoms, along with quilts. And the Kaffe fabric sold in the museum shop was only (!) $27 a meter. (Hence the lack of shop visits.)

Have you heard of QuiltFest in Jacksonville? It is Florida's largest locally produced quilt show, and it is a thing to behold. If you've never been, do yourself a favor and mark your calendar now for September 25-27. While we're on the topic, their publicity chair, Gay Montgomery, would like to send every Florida guild a packet of information about the show, hotel info, etc. If your guild info is not updated on my Guild Page, then she cannot send you a free packet. Please check the page now and send me an updated mailing address (NOT the meeting venue) and an email contact. This page is used by various entities wanting to share info with your guild, so it's good to keep it as updated as possible. Thanks.

To get a complete, organized, hotlinked listing of all the Florida upcoming shows, retreats, workshops, shop hops, exhibits, etc, please visit the Calendar.
Happy Quilting, Mary-Jeanine
PS: I love to hear from you, so drop me a line sometime!
-------------------------------------------------------------
CALENDAR OF EVENTS: (Newsletter number follows)
2014
Now-Aug 23 Quilt Exhibit in Melbourne http://textiles.fit.edu (#179 & #184)
July 17-20 Quilt Retreat in Deland www.quiltshopofdeland.com (#188)
July 19 Charity Quilting Event in Satellite Beach milnerob@yahoo.com (#190)
July 19 Basketweaving Class in Sanford publichistorycenter@ucf.edu (#190)
July 19-Aug 16 Shop Hop in Central Florida http://floridashophops.com/hops (#189)
July 26-Aug 1 Mansion Tour & Quilt Showcase in Deland www.stetsonmansion.com (#189)
July 26 Lecture & Exhibit in Melbourne http://textiles.fit.edu (#190)
Aug 2 Hand-Quilting Class in Sanford publichistorycenter@ucf.edu (#190)
Aug 9 Leigh McDonald Workshop in Lake Worth www.hibiscusquiltguild.org (#181)
Aug 15-16 Quilt Shop Bus Tour in Tampa area Call Closest Store (#190)
Aug 16 Charity Quilting Event in Satellite Beach milnerob@yahoo.com (#190)
Sept 19-20 Workshop in Lakeland sewingthat@yahoo.com (#190)
Sept 25-27 Quilt Show in Jacksonville http://quiltfestjax.com/ (#183)
Sept 26-28 Quilt Retreat in St. Augustine Beach Talacam@aol.com (#190)
Oct 10-11 Quilt Show in Anthony victoria2220@embarqmail.com. (#186)
Oct 11 Quilt Show in Palm Beach nitagold@gmail.com (#189)
Oct 17-18 Quilters Walk & Marketplace in Lake Worth www.hibiscusquiltguild.org (#183)
Oct 31- Nov 2 Quilt Retreat in Cocoa Beach www.SewCentral.net (#188)
Nov 7-8 Quilt Show in Ocala fjcrqshow@aol.com (#190)
Nov 14-15 Quilt Tea in Davenport http://www.quiltsandtea.com (#178)
Nov 15 Pat Yamin Workshop in Lake Worth www.hibiscusquiltguild.org (#181)
2015
Jan 23-24 Quilt Show in Orlando quiltfever2015@floridacabinfever.com (#186)
Feb 6-7 Betty New Workshops in Lake Worth www.hibiscusquiltguild.org (#181)
Feb 13-14 Quilt Show in Vero Beach www.sbonnets1979.org (#177)
Feb 13-14 Quilt Show in Titusville www.SpaceCoastQuilters.com (#190)
Feb 19-22 Quilt Retreat in St. Pete www.quiltbeeretreats.com
Feb 20-21 Quilt Show in Punta Gorda www.peaceriverquiltersguild.org (#188)
Feb 27-28 Quilt Show in Sebring kdoughty53@centurylink.net (#175)
Feb 27-28 Quilt Show in Seminole KMLEONE@SNET.NET (#184)
Mar 6-7 Quilt Show in Mt. Dora http://www.lakequiltguild.com/ (#190)
Mar 13-14 Quilt Show in Tampa www.quiltersworkshop.org (#187S)
Mar 28 Quilt Festival in Geneva www.countrycottagesewing.com (#188)
May 2 Pat Yamin Workshop in Lake Worth www.hibiscusquiltguild.org (#181)
Aug 8 Kathy Ward Workshop in Lake Worth www.hibiscusquiltguild.org (#181)
-------------------------------------------------------------
CHARITY QUILTING IN SATELLITE BEACH
QAKH (Quilters Against Kids Homelessness) resumes July 19 and continues on August 16 at The Scotty Culp Auditorium on Cassia Blvd. in Satellite Beach. This is a community event at which we sew, sew, sew pre-cut kits of simple quilts and produce about 300 quilts, assembly line style, for Brevard County's homeless elementary students. The sixty inch long quilts are turned, not bound, and are machine quilted on site. Everyone is welcome to join in the merriment. There are jobs, such as ironing, for non-quilters. We work all day from 9 a.m. so folks can come when they can and stay as long as they wish. Bring your sewing machine and your lunch. We provide all needed supplies, thanks to the sponsorships of The National Quilting Association, The Margaret Binz Foundation, The Margaret Heins Foundation, Gannett Foundation (Florida Today), Target, and Home Depot. Questions? Contact QAKH Coordinator Sheryl Milner (milnerob@yahoo.com)
-------------------------------------------------------------
QUILT EXHIBIT & FREE TALK IN MELBOURNE

Eleanor McCain Will Offer Free Talk at Funk Center on July 26
MELBOURNE, FLA.—The Ruth Funk Center for Textile Arts at Florida Institute of Technology will present a free gallery talk by featured artist Eleanor McCain at 1:30 p.m. on Saturday, July 26 in the center's galleries.
McCain will lead guests on a tour of her current exhibition at the Ruth Funk Center, "Oil Stains: A Series by Eleanor McCain." Oil Stains features fourteen quilts representing the artist's reaction to the 2010 BP oil spill and its effect on Florida's Gulf Coast.  The lyrically abstract quilts are stained, producing a powerful visual statement. 
"To term it simply a 'spill' is to imagine that it can be wiped clean, that all our sea creatures, estuaries and the Gulf itself, have recovered or can recover," McCain said. "This is not so. It is a stain, indelible, unnatural, permanent."  
McCain is a practicing doctor of internal medicine in Fort Walton Beach as well as a highly regarded artist. An exhibitor in Quilt National five times, her work can be seen in many public and private collections including the Mint Museum in Charlotte, N.C. She lectures frequently on the art quilt and has been featured in numerous publications. 
The gallery talk is presented in conjunction with the center's current quilt exhibits, both McCain's and "Florida in Fabric II," which are on view through Aug. 23.           
Regular hours for the Ruth Funk Center are 10 a.m. to 4 p.m. Tuesday through Friday and noon to 4 p.m. Saturday. The center is located on the Florida Tech campus at 150 W. University Blvd. in Melbourne. Admission is free. For more information, visit http://textiles.fit.edu or call (321) 674-8313. 

###
Donna J Sewell
Manager, Visitor Services
RUTH FUNK CENTER FOR TEXTILE ARTS
Florida Institute of Technology
150 W. University Blvd.
Melbourne, FL 32901
ph (321) 674-6129 fax (321) 674-8314
Check out our new website!!!!! http://textiles.fit.edu
Become a fan on Facebook!
https://www.facebook.com/RuthFunkCenter
Follow us on Twitter!
-------------------------------------------------------------
HERITAGE CRAFT CLASSES IN SANFORD
Summer Community Workshop Series: Heritage Crafts

An Introduction to Basket Weaving and its Human History
Saturday, July 19, 2014
10:00am-2pm
Registration Fee: $25.00
Basket weaving has deep roots in human civilization. Join us for an introductory workshop and learn the basics of weaving using natural materials. You'll leave with a basket and a history lesson as well.
Turn of the Century Hand Quilting
Saturday, August 2, 2014
10:00am-2pm
Registration Fee: $25.00
Take part in a historical journey and learn how the craft of quilting has evolved. Put your hands to use as you quilt a small project using techniques from the Turn of the Century.
301 W. 7th Street
Sanford, FL 32771
Pre-registration is required.
To register, please call 407-936-1679 or
email publichistorycenter@ucf.edu
-------------------------------------------------------------
TAMPA AREA BUS TOUR
First Annual "Sisterhood of the Traveling Quilts" Bus Tour
August 15th and 16th
2 Days of quilt pampering where you will:
Learn new skills
Meet new friends
Find great deals
Visit 7 wonderful quilt shops and, of course, a PARTY on Friday night!
$165.00 Per Person ALL INCLUSIVE
Price includes overnight stay at quality hotel.
Each store will have demonstrations, souvenirs, and specials. On the bus we'll be playing games, watching movies, and having fun team challenges. Join fellow quilters for a special Central Florida Tour of Favorite Quilt Stores.
Call your closest store to purchase your ticket.
Boutique 4 Quilters 2945 W New Haven Avenue West Melbourne, FL 32904 (321) 768-2060
Cotton Patch Quilt Shop 8480 Cooper Creek Blvd University Park, FL 34201 (941) 359-3300
Crafty Threads 12230 Race Track Road Tampa, FL 33626 (813) 855-3066
Heartfelt Quilting & Sewing 365 5th Street SW Winter Haven, FL 33880 (863) 299-3080
Quilt Lovers' Hangout 13494 N Cleveland Ave North Ft Myers, FL 33903 (239) 995-0045
Sweet Darling Quilts 26240 Wesley Chapel Blvd Lutz, FL 33559 (813) 994-2994
Tomorrow's Treasures Quilt Shop 6122 SW State Road 200 Ocala, FL 34476 (352) 690-1915
Make Your Reservations NOW!
-------------------------------------------------------------
WORKSHOP IN LAKELAND
Ladies of the Lakes Quilters in Lakeland will be hosting a 2 day workshop with Jan Vaine on Sept. 19 & 20. The workshop will be "Fancy Flowers" and is $150.00
Contact Jacqui Anderson sewingthat@yahoo.com
-------------------------------------------------------------
QUILT RETREAT IN ST. AUGUSTINE
September 26, 27 28 & 29th, 2014
Who can imagine a more pleasant scenario than quilting for 4 days in an hotel situated right on the beach. Waking early, and walking on the sand while watching the sunrise. All the delicious meals prepared for you, and no dishes to wash. 4 whole days either to do our project (my take on the Disappearing Pinwheel) or work on your own, while socializing with others who share your passion.
For information email Glenda Irvine at Talacam@aol.com or call 352-625-7760
-------------------------------------------------------------
QUILT SHOW IN OCALA

Country Road of Ocala Quilters presents Down Another Country Road of Quilts
November 7 and 8, 2014
9 am to 4 pm
College of Central Florida
3001 SW College Road (SR 200)
Ocala, Fl 34474
Admission is $7.00
It will be a judged quilt show with vendors, art quilts, miniature quilts, silent auction, demos, challenge quilts, Home of the Brave quilts, Brenda Grampsas – AQS Certified Quilt Appraiser and an opportunity quilt ensemble.
Contact is Freda Jones at fjcrqshow@aol.com
-------------------------------------------------------------
QUILT SHOW IN TITUSVILLE

February 13 & 14, 2015
9:00 AM - 5:00 PM
Florida Eastern State College
(Brevard Community College)
Titusville Campus Gymnatorium
1311 N. US Hwy 1.
Titusville, Florida, 32796
www.SpaceCoastQuilters.com
Admission $7.00
Contact: Ann Hurst 321- 693- 0872


Located on North US 1, South of SR 46 and North of CR 406.

From Interstate 95 -
(Coming from the South):
Take Exit 220 (Garden Street / CR 406) Eastbound to US 1.
Head North on US 1.

(Coming from the North):
Take Exit 223 (SR 46) to US 1 and
Head South on US 1.

FESC(BCC) is situated on the East side of the
road, behind the American Legion Post 1;
just North of Jess Parrish Hospital.

Show Highlights:

GUEST SPEAKERS
1:30 Laurel Merrill - Friday
1:30 Margie Engel - Saturday

1:30 Judy Hansen - Fri & Sat at her Booth Quilts of Deland

Boutique: Color My World
Chinese Auction: Baskets
Consignment Shop
Demonstrations
Donation Quilt
Door Prizes
Food Concession
Memorial of Members
Pat Reid Showcase
Quilts Judged
Quilt Appraiser
Quilts of Valor
Vendors

Bus and RV Parking Available www.SpaceCoastQuilters.com

-------------------------------------------------------------
The 2015 Lake Count Quilt Guild FANtastic Quilt Show will be held on Friday, March 6 and Saturday, March 7 from 9:00 to 4:00 each day. Join us to view almost 200 unique quilts on display. Shop at our many trend setting vendors and enjoy our expanded boutique—almost double the space of previous years.
We will have demonstrations of new techniques throughout the day and fashion shows each day around noon. Bring your quilts to have them appraised and your scissors to have them sharpened. Again we will have a silent auction of fine art, a mini-auction of hand made creations, and a booth of quilts for sale.
The raffle quilt for 2015 is the creation of Ruta Hardenbrook, award winning long arm quilter, Best of Show winner at our show in 2013, and Viewers' Choice winner in Jacksonville in 2013.
Our show will be held again at Lake Receptions, 4425 Highway 19A, Mount Dora, FL 32757. Admission is $7.00 each day; parking is free; buses are welcome. Admission for groups of 25 or more is $6.00. Please direct questions to this address: quiltshowchair@lakequiltingguild.com. You may also contact Jackie Owens, quilt show chairwoman at 954-614-1146.
-------------------------------------------------------------
QuiltingHub.com - An Increasingly Popular Tool For Quilters

Since it's beginnings, QuiltingHub.com has been very innovative in providing quilters with tools to find quilting events and shops. It surpassed it's competitors in web traffic in August 2013 and continues to grow. It has a #1 rating by QuiltingEvents.com and has appeared in places like the Travel Daily News which called it "the most significant innovation for quilters since the quilting machine" for finding quilt shops, sales, classes, & shop hops when you travel. The maps are simply amazing.
If your guild or shop does not yet have a page and your events on QuiltingHub, I recommend you do it soon. Guilds are free, and shops are only four dollars a month. Both with unlimited numbers of events.
QuiltingHub is the brainchild of Florida native Paul Johnson. Paul loves art quilts, well-laid-out fabric in shops, solving problems, and helping people. With a Master's Degree in Computer Science, he ran his own financial services company for seven years. He also enjoys teaching, learning new things, and cats. In his spare time, he helps people with Alzheimer's disease. He is a really nice caring man who is ready to help you, your guild, or shop grow.
I asked Paul some key questions I wanted to know about QuiltingHub and I wanted to share them with you:
FQN: Are you a quilter?
Paul: No. I am a problem solver, but I enjoy the fabric arts, the colors and helping people.
FQN: If you are not a quilter, how on earth did you decide to do a quilting website?
Paul: In 2009, I walked into a quilt shop while window shopping and apparently men do not usually walk into quilt shops. I was quickly surrounded by the shop owner, an instructor and a few patrons. The discussion moved to how difficult it was to find accurate quilt shops and events while traveling. Being a problem solver, I wanted to do the impossible -- create a worldwide place for quilters to accurately list shops and events. While it took years and hundreds of thousands of dollars more than I expected, it became in reality in 2013. By August, we had surpassed all other search sites in traffic volume. I am very pleased by the support from the shops, guilds and the quilters alike for the project. I enjoy continuing to solve their needs and more.
FQN: Others have tried for a comprehensive site containing all the events, all the quilt shops, or all the guilds before. Most get out of date and inaccurate. How is QuiltingHub different?
Paul: They key is who is maintaining the information. We are maintained by quilters, shops and guilds. All other sources are maintained by one person, which always becomes unmanageable and out of date (Except for FQN, of course). If a shop or event is missing, the quilters, guilds, and shops add or suggest the missing item. Quilters can also request updates to misinformation which goes to the person who listed the item to correct. The odds of finding bad information is virtually eliminated. This is what the quilters said they wanted. This is what we delivered.
FQN: What do you attribute your almost overnight rise to number one?
Paul: Accuracy and ease of use. We provide accurate trip planning tools like quilt shops along the way and events along the way. You can find shops and events along a trip path from point A to point B, which has never been done before. It is extremely easy to find, add, suggest or update information. This put us in as the most used site in August 2013, then declared as #1 by QuiltingEvents.com later that year, and now appearing in publications as the place for quilt shops, guilds, and events to be found. I would say, it is because "we delivered what quilters wanted."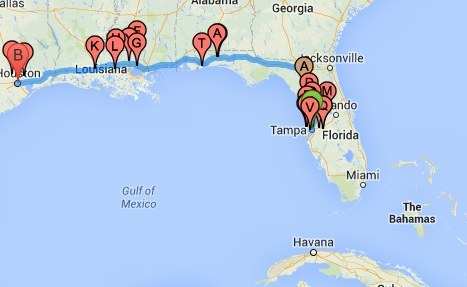 FQN: A lot of quilt shop owners and guilds often need additional help when it comes to anything on the web. Do you offer customer service?
Paul: Yes, call or email any time. As long as I am not asleep, I will help anyone from any knowledge level.
FQN: Often quilt shop owners are leery of putting their credit card information on the internet. Is QuiltingHub safe?
Paul: I am a former financial services person, so my standards for protecting privacy are higher than most. I selected a division of PayPal to store and manage the monthly payments for the listed pages. They use very high privacy standards. Neither myself, nor any of the people working with QuiltingHub has access to this information. It is entered on a secured connection as well. You can have confidence your credit card information is secure.
FQN: What would you recommend to shop owner or a guilds?
Paul: We are the undisputed number one source for quilting events in the industry. We have over 3,400 events (which is more than anyone else) and publications are touting us as the place to find events, guilds, and shops. If you do not have your events (meetings, shows, classes, sales, shop hops) on QuiltingHub, you are missing patrons who are going elsewhere.
FQN: What are your plans for the future of QuiltingHub?
Paul: We will to continue to connect quilters with the quilting industry. We will expand into every aspect of the quilting profession. My goal is to have every quilting event, quilting professional, shop, guild, club, association, brand, and museum on QuiltingHub worldwide. As QuiltingHub continues to become the standard, it will save time for those looking for this information or posting it. Take events for example, if you are an event poster today; you may have to post your event on 30+ websites and publications. If you have to make a change, it becomes a lot of work. In the future, you will only have the event posted on QuiltingHub and have your website point to your calendar on QuiltingHub. Enter it once, and you are done. This will save everyone time, money, and effort. We need a central place for this information, and that place is QuiltingHub (hence the name Hub in QuiltingHub).