Florida Quilt Network - Newsletter #203
www.FloridaQuiltNetwork.com
August 3, 2015
Quilting Friends,
We're working our way from Yellowstone to Grand Tetons this week, but found a little wi-fi to make this newsletter happen. Just a few more weeks and I'll be back in Florida. Cool it down for me a little, will ya?
I have a nice little story before I go: I've been having Android phone problems and knew I needed a new phone before the old one completely bit the dust. I like to order them refurbished on Ebay so my carrier won't charge me for changing phones. The first order never got sent, the second order came but the phone wouldn't charge, so I was hoping the 3rd order would be the charm. I had it sent to West Yellowstone, MT, but since it was so far from civilization, I figured it would take longer than the USPS said. We would have to double back to get it if it was delivered late, but so be it. I was pleasantly surprised when I got back to town that Saturday afternoon that not only was it delivered to the PO box, but the campground was holding it for me. Yay! And then I had great wi-fi to get it all set up with all my favorite apps. There were just so many things that were supposed to go wrong with that process, but they all worked like they were supposed to and I was so very happy. I know, I'm in Yellowstone and I'm supposed to be happy anyway (and I am!), but that little event just made my week.
So here's a little picture of happy me in the campground: installing apps and sewing at the same time….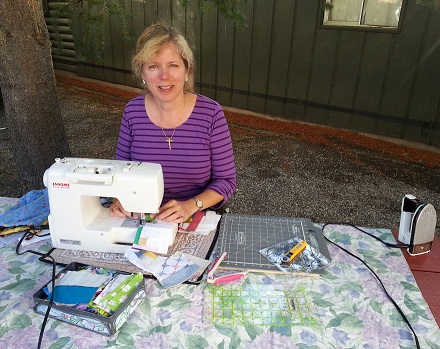 To get a complete, organized, hotlinked listing of all the Florida upcoming shows, retreats, workshops, shop hops, exhibits, etc, please visit the Calendar.
Happy Quilting, Mary-Jeanine
PS: I love to hear from you, so drop me a line sometime!
-------------------------------------------------------------
CALENDAR OF EVENTS: (Newsletter number follows)
2015
now-Aug 18 Quilt Exhibit in Dunedin Additional information (#202)
now-Aug 22 Quilt Exhibit in Melbourne Additional information (#198)
now-Sept 8 Row-by-Row Experience www.rowbyrowexperience.com (#200)
now-Aug 15 Florida Shop Hop www.floridashophops.com (#200)
Aug 8 Kathy Ward Workshop in Lake Worth www.hibiscusquiltguild.org (#191)
Aug 14-15 Quilt Bus Trip on West Coast Website here (#203)
Aug 15 Community Quilting in Satellite Beach margie@cfl.rr.com (#201)
Aug 19th , Deborah Karasik Workshop in Boca Raton www.gcqg.org/news (#200)
Aug 22-29 Cruise from Ft. Lauderdale www.DanceAcrossTheSeas.com (#199)
Sept 11-Dec 30 Quilt Exhibit in Winter Park www.crealde.org/upcoming_exhibits.html (#203)
Sept 17-19 Quilt Retreat with MJ Ibarguen in Cedar Key 352-543-9779 (#197)
Sept 24-26 Quilt Show in Jacksonville www.QuiltFestJax.com (#203)
Oct 21 & 22 Diane Hire Workshop in Boca Raton www.gcqg.org/news (#200)
Oct 23-24 Quilt Show in Crystal River www.creativequiltersofcitruscounty.com (#200)
Oct 23-25 Quilt Retreat in Leesburg area cczernuch@embarqmail.com (#203)
Oct 24-31 Guided Tour to Houston Quilt Show dkorat@aol.com (#202)
Oct 29-30 Jen Kingwell Trunk Show & Workshops in Stuart info here (#203)
Nov 6-7 Quilt Show in Brandon www.brandonquiltguild.org (#193)
2016
Jan 8-9 Quilt Show in Ft. Myers www.swfqg.com (#200)
Jan 15-16 Quilt Marketplace in The Villages www.qgotv.org (#202)
Feb 4-6 Quilt Show in Port Saint Lucie pslquiltinginparadise.blogspot.com (#198)
Feb 12-13 Quilt Show in Palmetto Karonsquilting@hotmail.com (#193)
Feb 12-13 Quilt Show in DeFuniak Springs Lesah51@yahoo.com (#202)
Feb 19-20 Quilt Show in Punta Gorda dpqg.tripod.com/quilt-show.html (#202)
Feb 19-21 Quilt Show in West Pasco www.westpascoquilters.org/quiltshows.htm (#202)
Feb 24-27 AQS Show in Daytona Beach www.americanquilter.com (#197)
Feb 26-27 Quilt Show in Naples www.NaplesQuiltersGuild.com (#199)
Feb 26-27 Quilt Show & Tea in Brooksville quiltshow14@gmail.com (#203)
Mar 4-5 Quilt Show in Melbourne Event Info (#196)
Mar 4-5 Quilt Show in Mt. Dora lakequiltguild.com (#200)
Mar 11-12 Quilt Show in Largo www.SuncoastQuiltingCircle.org (#199)
Mar 18-19 Quilt Show in West Palm Beach donnajesse8348@gmail.com (#198)
Mar 19-20 Quilt Show in Venice www.VAQG.org (#201)
-------------------------------------------------------------
QUILTING BUS TRIP
Sisterhood of the Traveling Quilts Bus Trip Aug 14 & 15
Food, fabric and fun!
Join us this August on the Sisterhood of the Traveling Quilt Bus Hop!

Your day will start at Cotton Patch with a light breakfast and early morning shopping. Then you will board a luxury coach that will take you to Heartfelt Quilting in Winterhaven for shopping. Back on the bus with a box lunch for the trip to Crafty Threads in Tampa for more shopping! Then it's on to Lutz for shopping and a Friday night party at Sweet Darling Quilts! You will spend the night at a Hampton Inn in Ocala.

After breakfast Saturday morning, you will head to Tomorrow's Treasures in Ocala, Boutique 4 Quilters in West Melbourne and then Quilt Lovers Hangout in North Fort Myers. The tour ends back home at Cotton Patch on Saturday night!
Website here.
Visit 7 shops in 2 days. Call Sweet Darling Quilts at 813-994-2994 to sign up.
-------------------------------------------------------------
QUILT EXHIBIT IN WINTER PARK

Crealde School of Art: September 11 – December 30
The Sum of Many Parts: Quiltmakers in Contemporary America – Jenkins Gallery and Heritage Center.
Crealdé will be one of the first domestic hosts for this internationally traveled exhibition by leading quilt artists from across the United States. Artists include traditional Native American quilter Bonnie LeBeau, from South Dakota; Dottie Moore of North Carolina; Erick Wolfmeyer of Iowa; and Louisiana Bendolph from Alabama, following the 19th-century tradition of Gee's Bend quilts. The exhibition is a program of Exhibits USA and the National Endowment for the Arts. This two-venue exhibition will also feature a display of locally created quilts, curated by folklorist and author Dr. Kristin Congdon. The reception is 7-8:30 p.m. Friday, Sept. 11, at the Jenkins Gallery on the main campus, followed by a continued reception with live music 8:30-10 p.m. at the Hannibal Square Heritage Center.
And this is the link: http://www.crealde.org/upcoming_exhibits.html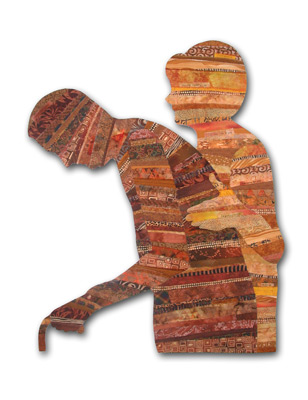 Caring by Ellen Lindner
-------------------------------------------------------------
QUILT SHOW IN JACKSONVILLE
QuiltFest, Inc. of Jacksonville, F.
September 24, 25 and 26
Thursday -Saturday
9am to 5pm
Prime Osborn Convention Center
1000 Water St.
Jacksonville, Fla. 33204
Contact: Gay Montgomery
904- 742-1372
Website http://www.quiltfestjax.com/
-------------------------------------------------------------
QUILT RETREAT NEAR LEESBURG
Dreamy Quilters Fall Quilt Retreat at Lake Yale Baptist Conf. Center
Our dates are October 23-25, 2015! The price is $185.00 per person double occupancy. Arrive Friday 1pm and sew till your hearts desire until Sunday at 3pm!! This will be a fun filled UFO weekend! That means you can sew anything, everything, even get those Christmas presents ready!! For more information contact Connie Czernuch at cczernuch@embarqmail.com or Mikel Anne Miller at quilt2becool@yahoo.com
-------------------------------------------------------------
TRUNK SHOW AND WORKSHOPS IN STUART
We are going to be hosting a Trunk Show and 2 Day workshop with Jen Kingwell (Pattern Designer from Australia; Moda Designer) on October 29 & 30. Here is link with greater detail.
http://redthreadstudio.com/products/jen-kingwell-trunk-show-and-2-day-workshop
Jennifer Lee
www.RedThreadStudio.com
https://www.facebook.com/RedThreadStudioOnline
-------------------------------------------------------------
QUILT SHOW AND TEA IN BROOKSVILLE
February 2016 Quilt Show and Lady Dresden Tea. It will be held on Friday and Saturday, February 26 and 27 (DATE CHANGED FROM 19/20), 2016 from 9 AM to 4 PM. The event is in our Community Center in High Point Community, Brooksville, FL 34613. The address of the Center is 12249 Club House Road.
The email for the newsletter for more info is quiltshow14@gmail.com.
-------------------------------------------------------------
Community Service built into the fiber of Quilters of Alachua County Day Guild
Gainesville, FL – When Quilters of Alachua County Day Guild's (QACDG) Community Service Bee leader Genie White came to the position in 2011, she declared that the entire guild was part of the bee. Each year since, the bee's donations have grown. In 2014,
Quilters of Alachua County Day Guild donated 233 quilts to area non-profits, and the guild is on track to significantly exceed that number in 2015.
Between 2006, when the guild began to keep these records, and 2014, QACDG donated more than 1,000 quilts, nearly 600 tote bags, nearly 300 medical dolls and more than 150 pillowcases. Among the recipients are Peaceful Paths, the University of Florida Department of Psychology / McKnight Brain Institute, Shands Pediatric Unit, Guardian Ad Litem, Healthy Families, Alachua County Senior Recreation Center (part of UF Health / ElderCare of Alachua County), Arbor House, St. Francis House and other area 501(c)3 organizations.
The QACDG Community Service Bee meets at the Alachua County Senior Recreation Center, 5701 N. W. 34th Boulevard, Gainesville, every third Thursday morning to make quilts, tote bags, medical dolls, pillowcases, teddy bears, and other items needed by local non-profits. Anyone who would like to help in this effort is welcome.
For more information on Quilters of Alachua County Day Guild's Community Service Bee, and how you can contribute, contact Genie White, (352) 375-2427.
-------------------------------------------------------------
After 20 plus years of collecting fabric and textiles, I am selling them all in my booth at the Indian River Antique Mall. I am going through them and adding new things each week. I currently have a collection of ties dating back to the 1940 or pure silk and I can see them disassembled and made into quilts. There is a collection of World Wildlife Federation, Save the Children, some Beatle and Jerry Garcia ties, and everything in between. I will attach some pictures. But, more than that I have sooo much more sewing "things" that your groups would like.

--
Cindy Earp
321-431-8015
Send email for photos: cearpfl@gmail.com