Florida Quilt Network - Newsletter #205
www.FloridaQuiltNetwork.com
October 5, 2015
Quilting Friends,
As usual, there are way more quilting events for us here in Florida than I expected for what used to be a quiet fall season. Lots of retreats, conferences and workshops to keep us learning new techniques. Take advantage of the creativity!

Often, in this space, I list sewing and quilting machines for sale. This time, *I* have a machine and table that needs a new home. Everything works great, its just that I just bought a new machine for FMQ. Here's all the info:

For Sale
Sit Down Free Motion Quilting Machine
$600 cash or check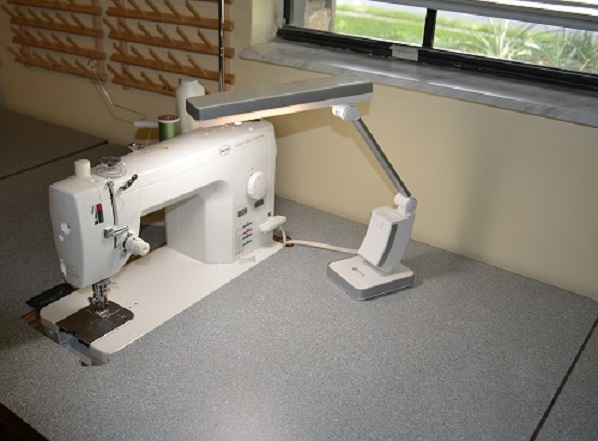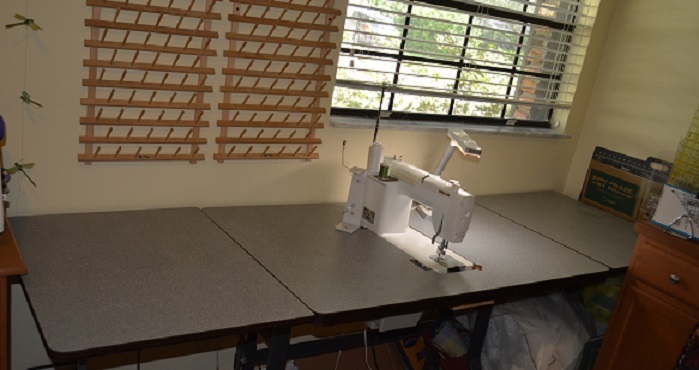 This is a BabyLock Jane (formerly Quilters Choice Professional), set into a heavy-duty table. The setup allows you to free-motion quilt with the quilt up on the table and subsequently not fighting gravity. I have machine quilted many queen and king sized quilts using this machine and table.
The machine has just been serviced by Andy at The Sewing Studio. It was purchased January 2010 and has been serviced regularly. All accessories are included, plus extra empty metal bobbins, about 90 prewound bobbins, and extra needles (sharps size 90). There is a walking foot and regular sewing foot that have never been used, as I've only used this machine for free motion. There is needle up/down, a needle threader and thread cutter (useful when you're in the middle of a quilt!). Also a (never used) knee lift. Since the machine is set into a table at a 90 degree angle, the knee lift is not needed. Bobbin winder is on board, as are two cone holders with a telescoping thread stand.
This is a straight stitch only machine (hence the beautiful stitch), and it goes fast: 1500 stitches per minute. There are 8 pressure feet included, none have been used except for the FMQ foot. The harp (opening to the right of the needle) is 9" wide and 6" high).
The table measures 96" wide x 30" deep. The two extension pieces (each are 24" wide x 30" deep) can be removed if needed. The table height is adjustable.
You will need a truck to take this table home. The machine can travel separately from the table. However I am selling the machine and table together, I'm not interested in breaking this deal up into two pieces.
Call Mary-Jeanine at 407-492-5217 or email mji@cfl.rr.com for more info.
To get a complete, organized, hotlinked listing of all the Florida upcoming shows, retreats, workshops, shop hops, exhibits, etc, please visit the Calendar.
Happy Quilting, Mary-Jeanine
PS: I love to hear from you, so drop me a line sometime!
--------------------------------------------------------------------------------------
CALENDAR OF EVENTS: (Newsletter number follows)
2015
now-Dec 30 Quilt Exhibit in Winter Park www.crealde.org/upcoming_exhibits.html (#203)
Oct 9-10 Barbara Miro Soumar Trunk Show & Workshop in Tampa karen@HappyAppleQuilts.com (#204)
Oct 21 & 22 Diane Hire Workshop in Boca Raton www.gcqg.org/news (#200)
Oct 23-24 Quilt Show in Crystal River www.creativequiltersofcitruscounty.com (#200)
Oct 23-25 Quilt Retreat in Leesburg area cczernuch@embarqmail.com (#203)
Oct 24 Fiber Art Day in Palm Harbor www.creatinggayle.com (#205)
Oct 24-31 Guided Tour to Houston Quilt Show dkorat@aol.com (#202)
Oct 28 Mary-Jeanine Ibarguen Lecture/Workshop in Melbourne www.seasidepiecemakers.com (#204)
Oct 29-30 Jen Kingwell Trunk Show & Workshops in Stuart info here (#203)
Nov 6-7 Quilt Show in Brandon www.brandonquiltguild.org (#193)
Nov 11 Irene Blanck Trunk Show in Tampa poodley4us@gmail.com (#204)
Nov 13-14 LongArm Quilting Showcase in Oldsmar www.FloridaQuiltingCenter.com/Showcases (#205)
Dec 6-8 Art Quilt Retreat in Tampa Bay creatinggayle.com/creating (#205)
2016
Jan 7-9 Mancuso Quilt Show in Orlando www.QuiltFest.com (#205)
Jan 8-9 Quilt Show in Ft. Myers www.swfqg.com (#200)
Jan 15-16 Quilt Marketplace in The Villages www.qgotv.org (#202)
Jan 18-21 FSS Sewing Conference at Lake Yale www.floridasewingsewciety.org (#205)
Jan 22-24 Babes on the Beach Retreat in Merritt Island (#205)
Feb 4-6 Quilt Show in Port Saint Lucie pslquiltinginparadise.blogspot.com (#198)
Feb 5-6 Quilt Show in Ocala Ocalawoods@cfl.rr.com (#205)
Feb 6 Airing of the Quilts in Venice (#205)
Feb 12-13 Quilt Show in Palmetto Karonsquilting@hotmail.com (#193)
Feb 12-13 Quilt Show in DeFuniak Springs Lesah51@yahoo.com (#202)
Feb 19-20 Quilt Show in Punta Gorda dpqg.tripod.com/quilt-show.html (#202)
Feb 19-21 Quilt Show in West Pasco www.westpascoquilters.org/quiltshows.htm (#202)
Feb 21-23 Art Quilt Retreat in Tampa Bay creatinggayle.com/creating (#205)
Feb 24-27 AQS Show in Daytona Beach www.americanquilter.com (#197)
Feb 26-27 Quilt Show in Naples www.NaplesQuiltersGuild.com (#199)
Feb 26-27 Quilt Show & Tea in Brooksville quiltshow14@gmail.com (#203)
Feb 26-27 Quilt Retreat in Niceville homebody.rw@gmail.com (#204)
Mar 1-31 Quilt Exhibit in Key Largo bonniebanks@bellsouth.net (#205)
Mar 4-5 Quilt Show in Melbourne Event Info (#196)
Mar 4-5 Quilt Show in Mt. Dora lakequiltguild.com (#200)
Mar 11-12 Quilt Show in Largo www.SuncoastQuiltingCircle.org (#199)
Mar 11-12 Quilt Show in New Smyrna Beach PelicanPiecemakersQuiltGuild@gmail.com (#204)
Mar 17-19 Sewing & Quilt Expo in Lakeland http://sewingexpo.com/LakelandFL.aspx
Mar 18-19 Quilt Show in West Palm Beach donnajesse8348@gmail.com (#198)
Mar 19-20 Quilt Show in Venice www.VAQG.org (#201)
Mar 19-20 Quilt Show in Estero momc318@gmail.com (#205)
Apr 27-28 Jean Ann Wright Lecture.Workshops in Melbourne www.seasidepiecemakers.com (#204)



--------------------------------------------------------------------------------------
FIBER ART WORKSHOP in PALM HARBOR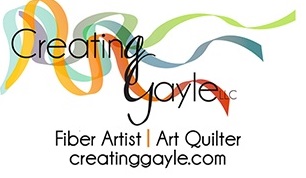 Oct 24 - Fiber Art Day at Happy Apple Quilts, 3335 Tampa Rd, Palm Harbor, FL 34684 (727) 786-0010. Wondering what to do with all those end bits of scraps, fabrics, yarns and beautiful fibers you have from other projects? Art Quilter, Gayle of CreatingGayleLLC, will spark your creativity and teach her "Festive Fiber Fun," a pre-holiday "functional art" workshop from 10am – 2pm. Jan, from the beautiful shop, Raspberries Gifts in Dunedin, FL, will have a Pop-Up Shop in Happy Apple Quilts that day full of artful textiles - fibers, yarns, Angelinas, beads, buttons and more. More information, gallery images and contact info may be found at Gayle's colorful website: creatinggayle.com. The complete flyer of detailed class information can be found here: Instagram.com/creatinggaylellc . Gayle's fun and "no mistakes" classes fill quickly, so contact the shop directly to register.
--------------------------------------------------------------------------------------
LONGARM QUILTING SHOWCASE IN OLDSMAR
Florida Quilting Center presents Longarm Quilting Showcase. 2 days of Quilting Machine Specials, Demos, Classes, Quilting Supplies. November 13-14, 2015 from 10 to 5 each day. Free Admission. Hilton Garden Inn, 4052 Tampa Rd, Oldsmar, FL 34677. Features Innova - The Only Machine Built to Quilt. For more information please see http://www.floridaquiltingcenter.com/Showcases or call 727-786-0010 or email info@floridaquiltingcenter.com

Happy Quilting,
Happy Apple Quilts twin sisters,
Karen and Sharen
Happy Apple Quilts 727-786-0080
and Florida Quilting Center 813-855-2857
--------------------------------------------------------------------------------------
TWO ART QUILT RETREATS – TAMPA BAY (2015 and 2016)
CREATINGU – WINTER IN FLORIDA - ART QUILT RETREATS – TAMPA BAY by CreatingGayleLLC - creatinggayle.com/creatingu
6-8 Dec. 2015 -and- 21-23 Feb 2016
After years of students asking when she was going to offer extended overnight workshops and art retreats, several also letting her know that they'd love to fly in to Tampa Bay during the winter months to have some Festive Fiber Fun and be on retreat, Art Quilter Gayle of CreatingGayleLLC is thrilled to announce that she is hosting two Art Quilt Retreats this Winter in Florida in Tampa Bay under her "CreatingU – Sparking Creativity" division of CreatingGayle LLC.
Set "real life" stresses aside and treat yourself to some Florida warmth in the middle of winter, revel in sunshine, water views and palm trees. Join in the fun as you immerse yourself in a "no mistakes, no stress" art quilting exploration to discover and nurture your artistic voice.
Three sunshine days and two glorious sunsets at the Hilton Doubletree Suites, a gorgeous Tampa Bay waterfront all-suite property, with nothing but time to create.
Bask in the warmth of good people, good food and artful playtime; soak in the creative inspiration and art quilt education provided by fiber artist and art quilt teacher Gayle of CreatingGayle, LLC ... and not a moment of bed-making, cooking or cleaning allowed!
…Yes, colorful winter in Florida dreams do come true!
You can expect:
Inspiring and Playful Exercises to Spark Your Inner Creativity
To explore abstract Landscape Art Quilt techniques
Fabulous Festive Fiber Fun
Waterfront Open Studio Time to Create as Your Heart Desires
Meet and Greet Welcome Dinner, Surface Design Presentation and Private Vendor/Sponsor Market
Welcome Swag Bag
On-Site Quilt and Fiber Art Pop-Up Shops
Luxurious Massages Available On-Site Monday afternoon
Lovely Accommodations, Food & Beverage and Resort Amenities
Free shuttle to/from Tampa International Airport
Lots of laughter, new friendships and creative connections formed
…and so much more (and, of course, chocolate)!
CreatingU Registration Now Open
Each retreat limited to 25 creative students who are ready for some colorful fun.
Come Join in and Spark your Creative Spirit at
CreatingU - Winter in Florida - Art Quilt Retreats - Tampa Bay - See you soon!
For Details and to Register: creatinggayle.com/creatingu
CreatingGayleLLC, CreatingU-Sparking Creativity, All Rights Reserved 2015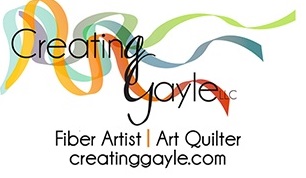 --------------------------------------------------------------------------------------
NATIONAL QUILT SHOW IN ORLANDO
We are excited to announce our return to sunny Florida, January 7-9, 2016! Now in its 7th year, World Quilt Florida will be held at the Orange County Convention Center in Orlando, Florida. Official lodging will be the attached Rosen Plaza Hotel.
The show will once again present the international entries of Mancuso's annual World Quilt Competition along with select U.S. winning quilts. Also on exhibit will be the entries to the Florida State Competition, a colorful display of special exhibits plus a diverse Merchants Mall. World Quilt Florida will also host a line-up of international and national quilt instructors who will present a wide range of workshops and lectures.
Mancuso Show Management hopes to see you this January in Orlando!
Mary Claire Moyer | Event Coordinator, Mancuso Show Management
PO Box 667 | New Hope, PA 18938 | tel: 215.862.5828 | fax: 215.862.9753
--------------------------------------------------------------------------------------
FSS SEWING CONFERENCE AT LAKE YALE
Florida Sewing Sew-Ceity EXPO
LAKE YALE CONFERENCE CENTER, LEESBURG, FL
JANUARY 18-21, 2016
Hands On Classes with:
Janet Pray – Islander Sewing
Jeannie Miller – Accu-Quilt
Patti VanMatre/Sheila Shultz
Classic Micro Suede Wallet, Purse &Tote
Margaret Travis – Eazy Peazy
Doris Brinkman-Table Runner
Barbara Martino – Painted Tees & Shoes
Jan Squires- Making Shoes
Painted Dress Forms and
Tennis Shoes
FOR INFORMATION GO TO WWW.FLORIDASEWINGSEWCIETY.ORG
DOOR PRIZES, FUN CHALLENGES
SPONSORS: BABY LOCK, LORALIE DESIGNS AND FASHION SUPPLIES
--------------------------------------------------------------------------------------
QUILTING RETREAT IN MERRIT ISLAND
Sew Central's Babes on the Beach Quilting Retreat. We are having it on Jan 22-24, 2016. Our instructor this year is Debby Caffrey who is known for her mystery quilts and several famous books such as Open a Can of Worms.
January 22nd begins with lunch at the store followed by a special sale just for retreaters. By dinner we have moved on to the retreat location of Cocoa Beach International Palms were Debbie will give us a talk after a wonderful sit down dinner. On Saturday we will begin our retreat project which is a mystery quilt. Debbie has recently designed this quilt and we will have the whole day (9-5) and half of Sunday to complete it! Lunch is provided both days. Our room is available to us for the whole weekend so participants are welcome to sew until they fall asleep Saturday (or early Sunday if you wish!) and then again until Sunday afternoon. All fabric for top and binding (which you get to pick out at the store!) are included in your cost of $395, as are Fri, Sat, and Sun lunch and Fri dinner. Rooms are at a special rate if you wish to stay overnight and breakfast is included with the room cost. Please call Sew Central at 321-338-2959 for more information or to sign up. Seating is limited and we are well over half way to our limit.
Thanks.
Ellen Patton
Sew Central
Merritt Island, FL
321-338-2959
--------------------------------------------------------------------------------------
QUILT SHOW IN OCALA
Busy Bees Quilt Show … "Quilts: what is old is new again"
Feb 5 & 6, 2016 9am-4pm
Silver Springs Presbyterian Church
674 Silver Road, Ocala
Boutique, Vendors
Email: Ocalawoods@cfl.rr.com
--------------------------------------------------------------------------------------
Airing of the Quilts:
Quilt Exhibition and Sale at the Beach!
Saturday, February 6, 2016
10 a.m. to 3 p.m.
Free & Open to the Public
Maxine Barritt Park,
Beachfront near the Pier
1800 S. Harbor Drive, Venice FL 34285
(South of Sharky's Restaurant)
Wander in and visit at the pavilion at a beautiful new beach-side park.
Modern quilts made by our talented members will be hanging among the palms. Quilts and other items will be for sale as well as on display.
Quilt Turning throughout the day
Food Trucks! Or Dine at Sharky's Restaurant
Bring your beach or walking gear and spend the day!
Quilt Market
--------------------------------------------------------------------------------------
QUILT EXHIBIT IN KEY LARGO
The Miami Art Quilters (several SAQA members) will be showing Florida Architectural Quilts at the Key Largo Library, 101485 Overseas Hwy, Key Largo, FL, phone number, 305-451-4536 throughout the month of March. Closed on Sunday.
If you have questions, email me at bonniebanks@bellsouth.net
--------------------------------------------------------------------------------------
Koreshan Clothesline Quilt Show
Koreshan State Historic Site
3800 Corkscrew Rd.
Estero, FL 33928
Hours: 10-3. Sat. March 19 and Sunday, March 20
Vendors, displays of modern and antique quilts, demonstrations using antique sewing machines, Boutique.
Admission to the Park includes the Quilt Show, Antique Engine Show, Park tours and cooking demonstrations, demonstrations of early 20th century machines.
Contact Joan McMahon at momc318@gmail.com

--------------------------------------------------------------------------------------