Florida Quilt Network - Newsletter #207
www.FloridaQuiltNetwork.com
December 5, 2015
Quilting Friends,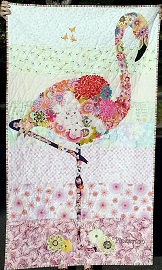 Isn't this the cutest wallhanging? I saw her hanging in FiberWorks quilt shop in Billings, MT and had to have one for myself. I'll be teaching Pinkerton at The Sewing Studio in Maitland if you have to have her too!
Have you visited the LongArm page of the website lately? I need a little help: I'm trying to link up the different counties on the left side of the page. If you are a LongArmer or a LongArm customer, take a look please and let me know if I need to link up more counties that are close to your county.

Another page to look at is my Links page. I've cleaned it up and added a new section of Quilt Retreat Venues. Feel free to look at the page and suggest more quilting related links to beef up the page. If your suggested link is already on the Shops or Guild or LongArm page, please don't ask me to double list on the Links page.

Did you know we have a new Florida Quilt Museum? Yep, its in Trenton, which is about 20 minutes west of Gainesville. Read below for all the facts.

For a complete listing of all the Florida upcoming shows, retreats, workshops, shop hops, exhibits, etc, please visit the Calendar.

Happy Quilting, Mary-Jeanine
PS: I love to hear from you, so drop me a line sometime!
--------------------------------------------------------------------------------------
CALENDAR OF EVENTS: (Newsletter number follows)
2015
now-Dec 30 Quilt Exhibit in Winter Park www.crealde.org/upcoming_exhibits.html (#203)
2016
Jan 7-9 Mancuso Quilt Show in Orlando www.QuiltFest.com (#207)
Jan 8-9 Quilt Show in Ft. Myers www.swfqg.com (#200)
Jan 9-29 Quilt Exhibit in Cedar Key gayle.wolfe1@verizon.net (#207)
Jan 11 Quilt Workshop in Cedar Key gayle.wolfe1@verizon.net (#207)
Jan 12-13 Nancy Prince Lecture and class in Mt. Dora lakequiltguild.com (#207)
Jan 15-16 Quilt Marketplace in The Villages www.qgotv.org (#207)
Jan 18-21 FSS Sewing Conference at Lake Yale www.floridasewingsewciety.org (#205)
Jan 22-24 Babes on the Beach Retreat in Merritt Island (#205)
Jan 29-30 Vikki Pignatelli Classes in Lake City www.fabricartshop.com (#206)
Feb 4-6 Quilt Show in Port Saint Lucie pslquiltinginparadise.blogspot.com (#198)
Feb 5-6 Quilt Show in Ocala Ocalawoods@cfl.rr.com (#205)
Feb 6 Airing of the Quilts in Venice www.SarasotaModernQuiltGuild.com (#206)
Feb 10 Nancy Kern Lecture in Tampa poodley4us@gmail.com (#207)
Feb 12 Fiber & Art Show & Exhibit in Homestead www.oceanwavesquilters.com (#206)
Feb 12-13 Quilt Show in Palmetto Karonsquilting@hotmail.com (#193)
Feb 12-13 Quilt Show in DeFuniak Springs Lesah51@yahoo.com (#202)
Feb 12-13 Quilt Show in Panama City sabqg.org (#207)
Feb 16 Susan Cleveland Lecture and class in Mt. Dora lakequiltguild.com (#207)
Feb 19-20 Quilt Show in Punta Gorda dpqg.tripod.com/quilt-show.html (#202)
Feb 19-21 Quilt Show in West Pasco www.westpascoquilters.org/quiltshows.htm (#202)
Feb 21-23 Art Quilt Retreat in Tampa Bay creatinggayle.com/creating (#205)
Feb 24-27 AQS Show in Daytona Beach www.americanquilter.com (#197)
Feb 26-27 Quilt Show in Naples www.NaplesQuiltersGuild.com (#199)
Feb 26-27 Quilt Show & Tea in Brooksville quiltshow14@gmail.com (#203)
Feb 26-27 Quilt Retreat in Niceville homebody.rw@gmail.com (#204)
Mar 1-31 Quilt Exhibit in Key Largo bonniebanks@bellsouth.net (#207)
Mar 4-5 Quilt Show in Melbourne Event Info (#207)
Mar 4-5 Quilt Show in Mt. Dora lakequiltguild.com (#200)
Mar 11-12 Quilt Show in Largo www.SuncoastQuiltingCircle.org (#199)
Mar 11-12 Quilt Show in New Smyrna Beach PelicanPiecemakersQuiltGuild@gmail.com (#204)
Mar 17-19 Sewing & Quilt Expo in Lakeland http://sewingexpo.com/LakelandFL.aspx
Mar 18-19 Quilt Show in West Palm Beach donnajesse8348@gmail.com (#198)
Mar 19 Quilt Show in Trenton http://www.TrentonQuiltFestival.com (#207)
Mar 19-20 Quilt Show in Venice www.VAQG.org (#201)
Mar 19-20 Quilt Show in Estero momc318@gmail.com (#206)
Apr 1-2 Quilt Show in Lakeland www.ladiesofthelakes.org (#207)
Apr 27-28 Jean Ann Wright Lecture & Workshops in Melbourne www.seasidepiecemakers.com (#206)
July 27-28 Patricia Pepe Lecture & Workshops in Melbourne www.seasidepiecemakers.com (#206)
Sept 15-17 QuiltFest in Jacksonville www.quiltfestjax.com (#206)
Sept 28-29 Karla Alexander Lecture & Workshops in Melbourne www.seasidepiecemakers.com (#206)
Oct 26-27 Linda M. Poole Lecture & Workshops in Melbourne www.seasidepiecemakers.com (#206)
--------------------------------------------------------------------------------------
MANCUSO SHOW IN ORLANDO
World Quilt Florida – Advance Show Tickets Available
World Quilt Florida is coming to Orlando, January 7-9, 2016. Mancuso Show Management is thrilled to bring the event to such an amazing city! The festival will be held in Hall E2, West Concourse of the Orange County Convention Center on Thursday, Friday and Saturday from 10:00 am to 6:00 pm each day. This unique quilt and textile event offers attendees a trip around the world - no passport needed!
Advance show tickets can be purchased at a discount of $1.00 off the $12.00 admission price ($11.00) at the following local businesses:
 Sew Mini Things: 3820 N Hwy 19a, Mt Dora, FL 32757 / www.sewminithings.com/
 Heartfelt Quilting and Sewing in their two locations / www.heartfeltquilting.net/:
o Winter Haven: 365 5th St SW, Winter Haven, FL 33880
o Kissimmee: 401 S John Young Pkwy, Kissimmee, FL 34741
 Sewing Studio Fabric Superstore: 9605 US-17, Maitland, FL 32751/
www.sewing.net/
 Wandering Stitches: 5818 Hoffner Ave #905, Orlando, FL 32822 /
www.wanderingstitches.com/
The World Quilt Competition, Florida Quilt Competition and other special exhibitions allow attendees to view over 500 quilts! For those who love anything quilt related, this display of quilt art should not be missed!
Plus, the aisles of the World Quilt Merchants Mall will be filled with everything a happy shopper could possible imagine and more: sewing machines, long arm machines, machine accessories, needles, pins, fabric markers, books, jewelry, thread, more fabric than you've ever seen in one place, notions, batting, patterns, stencils, finished 'art' clothing and patterns for clothing, shoes, jewelry making supplies, sewing machine carrying bags, scissors, rotary cutters, rotary cutting mats, rulers, magazines, magnification products, yarn and knitting supplies, trims, buttons, beads, stencils and more … much, much more!
World Quilt Florida Competition Entry Deadline Extended
Because of a delay in launching its new website, Mancuso Show Management has extended the entry deadline for the Florida Quilt Competition. The deadline for online and mailed entries is now December 14, 2015.
The entries to this competition are an impressive showcase of some of Florida's most talented quilt and textile artists. The competition entrants will compete for over $3,500 in prizes.
In 2016, World Quilt Florida is relocating to the Orange County Convention Center located in Orlando, January 7-9. This show is a wonderful opportunity for quilters to experience the diversity and creativity of their fellow enthusiasts.
Visit our all new website: www.quiltfest.com.
--------------------------------------------------------------------------------------
QUILT EXHIBIT & WORKSHOP IN CEDAR KEY
Art Quilt Exhibit works by Gayle Wolfe

Cedar Key Arts Center
457 2nd St, Cedar Key, FL
January 9-29, 2016
Opening Reception: January 9, 5-7pm
On the Wind: Quilter's Prayer Flag workshop

Cedar Key Arts Center
457 2nd St, Cedar Key, FL
January 11, 1-5pm
To register contact gayle.wolfe1@verizon.net or CKAC (352) 543-5801
--------------------------------------------------------------------------------------
LAKE COUNTY QUILT GUILD LECTURE & CLASSES
Our January guest is Nancy Prince. Her quilt "On This Winter Day" keeps winning prizes. Nancy will talk to the entire Guild on Tuesday morning Jan. 12 and then will teach "Country Threads" in the afternoon. The following day, Jan. 13, she will teach "Creating Depth and Realism". Each class is limited to 20 students. The ½ day class for non-Lake County Quilters Guild members is $40. and the full day class is $60 or $90 if they take both classes. Kits will be available from Nancy the day of the classes for $13 and $19, respectively.
Don't miss this opportunity to spend quality time with an award-winning quilter and teacher! They would also be able to attend Nancy's Tuesday morning lecture and trunk show at no additional cost. Her classes should be wonderful. If you have never ventured into thread painting, this is a great opportunity to learn with a prize-winning quilter.
Nancy says that a fancy machine isn't necessary to thread paint, just a machine that has a straight stitch and a zigzag stitch.
Thread painting is easy to learn and adds excitement and pizzazz to many of your quilting and sewing projects. From Nancy's website http://www.nancyprince.com/ you will find many thread painting examples, including the pictures of her class projects.
February brings Susan K. Cleveland to the Lake County Quilters Guild! On Feb. 16th Susan will present her trunk show to the entire Guild in the morning. That afternoon Susan will present a second lecture/demo called "Precision and Panache" which will include more tips not included in her trunk show and morning lecture. The cost for the afternoon lecture is $15 for non-Lake County Guild members. Susan describes herself as a quilt designer/author/teacher inventor and admirer of all things quilterly! Her quilts are loosely based on traditional designs with many unexpected surprises and details, showcasing precision piecing, thread embellishments and bold color. Piping is used in her quilts to accent curves and special binding techniques.
I think we will enjoy her upbeat attitude, well-written instructions and one–on-one attention to every student. Her quilts incorporate many unexpected elements such as specialty threads, prairie points, piping and great binding techniques. She invented both the Groovin' Piping Trimming tool and the Prairie Point pressing tool.
She will offer tips for precision cutting and piecing, machine appliqué, piping in straight and curved border seams, skinny pieced borders, quilting in the ditch and elegant Prairie Points, plain, stitched, lined and embellished. Handouts will be available.
Lake County Quilters Guild meets at Lake Receptions, 4425 N. Highway 19A, Mt. Dora , Fl. 32757.
For more information or to register please contact Brenda Knox , 352 602 7086 or at bhknox@aol.com.
Brenda Knox
1st VP Lake County Quilters Guild
lakequiltguild.com
--------------------------------------------------------------------------------------
2016 QUILTER'S MARKETPLACE COMES TO THE VILLAGES
Fifty craft and fabric vendors will participate in this two day event
The Villages, FL, November 25, 2015– The Quilting Guild of the Villages presents the 2016 Quilter's Marketplace on January 15-16, 2016, at La Hacienda Recreation Center, 1200 Avenida Central, The Villages, FL 32159. The event will run from 9 am to 3 pm both days and admission is $10 at the door.
The event is open to the public, plenty of free parking, bus groups are welcome and concessions will be available with food and drink.
Pre-sales and group pricing information are available from Pat Joho at QGOTVmarketplace@gmail.com and tickets are available for one or two days. The pre-sale deadline is January 5, 2016. Tickets for Quilter's Marketplace are available through boxoffice@thevillages.com.
This year's Marketplace will include a variety of craft and fabric vendors from all over the state of Florida and nine additional states in the eastern US. Vendors will include an array of project idea from fabric dying to new quilting techniques. Gift baskets created by the Guild's chapters will be available for raffle. The baskets are valued from $100-$200 with proceeds going to Fruitland Park and The Villages
"This is an opportunity for crafters to view the latest fabric, notions and craft merchandise", stated Guild Program Chair, Pat Joho. "This year's Marketplace is bigger than ever and we encourage participants to take advantage of this resource right in The Villages."
The Quilting Guild of The Villages is a 501 (c) (4) nonprofit organization. Membership is open to all residents of The Villages (homeowners and renters with a valid ID.) The Quilting Guild of The Villages was established in 1993 and provides resources to create a fun, productive and educational quilting environment for its members. With more than 1,000 members and 18 chapters, the Guild activities include nationally known guest lecturers, trunk shows, community donation projects, classroom instruction, workshops and retreats.
Contact: Pat Joho, Program Chair
The Quilting Guild of The Villages
QGOTVmarketplace@gmail.com
--------------------------------------------------------------------------------------
NANCY KERN LECTURE
The Feather Princesses Present:
Nancy Kern, Master Applique Teacher and Lecturer
"The Pitfalls of Perfection"
Wednesday, February 10, 2016
11 a.m.
The Studio
13345 Casey Road
Tampa, Florida 33618
In "The Pitfalls of Perfection," Nancy will present her masterpiece and prize winning quilt, the culmination of a lifetime of stitching, "Mary Simon Rediscovered." She will walk us through some of the steps of problem solving, design, color work, and creating a border design for her interpretation of the historic Mary Simon quilt housed at the DAR Museum in Washington, D.C.
Please contact Janet Wachter, poodley4us@gmail.com, if you have questions.
featherprincesses.org
--------------------------------------------------------------------------------------
QUILT SHOW IN PANAMA CITY
St Andrew Bay Quilters' Guild
Panama City, Florida
2016 Quilt Show
"Quilts from the Heart"
February 12 and 13, 2016
9:AM - 4:00 PM
Florida State University
Holley Academic Center
4750 Collegiate Dr
Panama City, Fl
sabqg.org
--------------------------------------------------------------------------------------
The Miami Art Quilters will be showing Florida Architectural Quilts at the Key Largo Library, 101485 Overseas Hwy, Key Largo, FL, phone number, 305-451-4536 throughout the month of March. Closed on Sunday.

If you have questions, email me at bonniebanks@bellsouth.net. Call me at 305-253-6994.
--------------------------------------------------------------------------------------
QUILT SHOW IN MELBOURNE
Seaside Piecemakers presents:
"Quilting A Memory" Quilt Show
March 4 & 5, 2016
Friday and Saturday
10AM to 5PM
Melbourne Auditorium
625 Hibiscus Ave., Melbourne, Fl.
Tickets $8 at door
$7 in advance
You will Experience:
300 Judged Quilts
Art Quilts and Dolls
Boutique
Book Nook
Small Quilt Auction
Auction Baskets
Quilt Appraisals
Merchant Mall
Demos and Lectures
Opportunity Quilt Raffle
Lunch will be available to purchase
Proceeds to CandleLighters of Brevard
For Additional Information:
http://www.seasidepiecemakers.com/
www.facebook.com/quiltshow2016
Advanced sales/groups -Marjorie Mulla mullaFam5@gmail.com
Raffle Tickets -Sheryl Milner- milnerob@yahoo.com
--------------------------------------------------------------------------------------
QUILT SHOW IN TRENTON
Trenton's Suwannee Valley Quilt Festival
Trenton's ninth annual Suwannee Valley Quilt Festival, Florida's largest outdoor quilt show and sale, will be held Saturday, March 19, 2016, from 9 a.m. to 4 p.m. in the picturesque town of Trenton, Florida. Located in north central Florida just 20 miles west of Gainesville, Trenton will be festooned with quilts flying from shops, businesses and government buildings up and down Main Street and beyond. Trenton is also home to the Florida Quilt Trail and the new Florida Quilt Museum.
Hundreds of quilts from dozens of participating Florida Quilt Groups will be displayed inside and outside Trenton's historic buildings. The New Quilt Museum, located on Main Street just south of the historic Railroad Depot will be host to antique quilt collector, marine biologist, and living history expert Tiffany Black who will be sharing some of her quilt collection, spanning the 1840s through the 1880s. Also on display will be a special Christmas collection and an array of Victorian Crazy Quilts, Victorian samplers, buttons and other needlework creations, such as tatting, for visitors to admire. Trenton's branch of the Florida Quilt Trail now has over 16 blocks painted on and fastened to the historic buildings of downtown Trenton, including 4 blocks honoring "Those Who Serve" (Our Veterans and First Responders), for visitors to see and enjoy.
In addition to Quilts, there will be over sixty Old Time Crafters, Antique Dealers, a wide variety of Quilt and Craft Demonstrations, Good Food, Cold Drinks and Wonderful Music plus Antique Cars and Tractors from Days Gone By.
For more information about the festival, visit us on Facebook, go to the Festival website www.TrentonQuiltFestival.com, or contact:
Stephanie Metts, Owner, Suwannee Valley Quilt Shoppe, 352-463-3842
Pat Watson, Chairman, Trenton's Suwannee Valley Quilt Festival, 352-494-9913
Debi LaGron, Executive Director, Gilchrist County Chamber of Commerce, 352-463-3467
We look forward to seeing you there and sharing the good times!
--------------------------------------------------------------------------------------
Ladies of the Lake in Lakeland present their biennial Quilt Show
on April 1 & April 2, 2016
200+ Quilts on display
Vendors
Boutique
Quilt Appraisals
Treasure Baskets
Food Concession
Opportunity Quilt
Charity Quilts Display
Admission is $7.00
website: www.ladiesofthelakes.org
--------------------------------------------------------------------------------------
The Florida Quilt Museum is located in Trenton's oldest commercial building, a 1910 dry goods store that once sold horse collars and coffins. The Quilt Museum is also headquarters for the Florida Quilt Trail, which originates in Trenton, Florida. Five of the Florida Quilt Trail blocks are visible on the South wall of the Building.
The Florida Quilt Museum displays antique quilts as well as other needlework creations, such as tatting, for visitors delighted by their beauty and awed by the skill of their makers. The museum has experienced steady growth in visitors since opening during the 2015 Quilt Festival in March. Many visitors comment how much they like the museum because of the ambiance of the building and the great variety of displays. While the museum plans to have some long-term exhibits, it also plans to change some of the displays every few months so return visitors always have something new to see.
This Holiday Season features a new Exhibit of Christmas Quilts and a special Winter Wonderland display. A fabulous Pre Civil War collection is also on display along with a Vintage collection of Victorian Crazy Quilts, Antique Buttons, Needlework and Laces.
The Pre-Civil War collection features a dozen beautiful handmade quilts displayed on turn of the century beds and on 1910 brick walls,
The Victorian Display features Quilts, Table Coverings and Wall hangings from the late 1800's,
The Christmas Holiday Display creates a Winter Wonderland of beautiful quilts complimented by a 12' Christmas tree, and
The Country Garden display features Yoyo quilts & vests plus several grandmother's flower garden patterns.
The primary focus of The Florida Quilt Museum is to promote the art of quilting by preserving and displaying Florida's quilting heritage, highlighting its pioneers and chronicling its evolution. Exhibits include exceptional vintage, antique, crazy, feed-sack, appliqué, modern and art quilts. Displays will showcase quilt groups throughout Florida and beyond. Antique needlework, laces, stitchery tools and historic button collections are also displayed.
The Florida Quilt Museum and The Florida Quilt Trail are sponsored by Trenton's Suwannee Valley Quilt Festival, Inc., which is a 501(c)(3) organization that is working with the City of Trenton, the Gilchrist County Commission and the Gilchrist County Chamber of Commerce to benefit the community of Trenton and community groups within Gilchrist County and throughout the State of Florida.
The Museum is Open Wed thru Sat from 11:00am to 3:00pm
409 N Main St., Trenton, FL
For Information call 352-463-3842
--------------------------------------------------------------------------------------
Crafty Threads has moved! Our new address is 13976 W. Hillsborough Ave., just 2 miles south of our old location. Come visit the new studio!
Barb Linares
Crafty Threads
813-855-3066
www.CraftyThreads.com