Florida Quilt Network - Newsletter #218
www.FloridaQuiltNetwork.com
December 6, 2016
Quilting Friends,

I never get in the mood for Christmas sewing until about December 1st. I try to psych myself earlier but it never really works. So I spend my December feverishly sewing up a storm. We'll be in Siesta Key for a family reunion after Christmas, and I always like to bring everyone a little something. This year? They're getting Aromatherapy Rice Bags. So I have a little factory going in my sewing room this week. Complete with a big bucket of long grain rice. Fun!!

I've added a bunch of items to my Etsy Store, so take a look if you're wishing someone else would do the sewing for a change. And take advantage of my Friends & Family 20% Discount Code:: MJIXMAS2016

If you're a fairly new reader of this newsletter, you may not know that the Calendar page on the website is a quick way to view upcoming events all over the state. Give it a look-see.
Happy Quilting, Mary-Jeanine
PS: I love to hear from you, so drop me a line sometime!
---------------------------------------------------------------------------------------
CALENDAR OF EVENTS: (Newsletter number follows)
2017
Jan 13 Modern Quilt Workshop in Port St. Lucie jjolley5@comcast.net (#218)
Jan 18-19 Quilt Workshops in Boca Raton www.gcqg.org (#218)
Jan 19-22 Sue Spargo Workshops in Stuart www.RedThreadStudio.com (#213)
Jan 19-21 Mancuso Quilt Show in Orlando info here (#218)
Jan 21 Florida Quilt Study Group in Trenton mailto:kmetelicacray@gmail.com (#215)
Jan 27-28 Quilt Show in The Villages www.qgotv.org/ (#214)
Jan 27-28 Quilt Show in Sebring hcqg2017quiltshow@gmail.com (#214)
Jan 27-28 Quilt Show in Clearwater www.QuiltersCrossing.net (#215)
Jan 28 Quilts in Dade City East Pasco Quilters, Inc. (#218)
Feb 1-28 Art Quilt Exhibit in Key Largo www.miamiartquilters.com (#215)
Feb 4 'Airing of the Quilts' in Venice www.sarasotamodernquiltguild.com
(#216)
Feb 4-5 Quilt Show in Dady City pioneerfloridamuseum.org (#218)
Feb 4 & 6 Mark Sherman Class & Lecture in Orlando floridacabinfever.com (#217)
Feb 10-11 Quilt Show in Vero Beach patlester9@gmail.com (#211)
Feb 10-11 Quilt Show in Panama City www.sabqg.org (#215)
Feb 17-18 Quilt Show in Seminole www.midpinellasquiltshow.com (#211)
Feb 17-18 Quilt Show in Punta Gorda 2017QuiltShowPublicity@gmail.com (#211)
Feb 24-25 Quilt Show in Naples info here
Feb 24-25 Quilt Show in Mt. Dora lakequiltguild.com/quilt-show (#212)
Feb 24-25 Applique Quilt Show in Tampa www.featherprincesses.org (#215)
Feb 25 Art Quilt Workshop in Tampa www.creatinggayle.com (#217)
Mar 1-4 AQS Quilt Show in Daytona Beach info here
Mar 3-4 Quilt Show in Sarasota www.friendshipknotquiltersguild.com/quilt_show.html (#213)
Mar 9-11 Quilt Expo in Ft. Lauderdale www.browardquiltexpo.com (#218)
Mar 11 Purse Workshop in Lake Worth www.hibiscusquiltguild.org (#213)
Mar 11 Quilt Tea in New Smyrna Beach lizart999@aol.com (#214)
Mar 16-19 Original Sewing & Quilt Expo in Lakeland http://sewingexpo.com/LakelandFL.aspx (#215)
Mar 18 Outdoor Quilt Show in Trenton www.suwanneeshops.com (#218)
Mar 18-19 Quilt Show in Estero momc318@gmail.com (#218)
Mar 24&25 Quilt Show in Tampa www.quiltersworkshoptampa.org
(#214)
Mar 27-Apr 8 Focus on Fiber Retreat in New Smyrna Beach focusonfiberfloridastyle.com (#216)
Apr 1-3 Debra Gable Workshop & Lecture in Orlando floridacabinfever.com (#217)
April 7-8 Florida Quilt Study Group in Trenton kmetelicacray@gmail.com (#215)
Apr 14-15 Quilt Show in Palatka stjmongoose@gmail.com (#216)
Apr 24-30 Bus Trip to Paducah purcella23@aol.com (#210)
May 6-7 Quilt Show in Gainesville treecityquiltersguild.blogspot.com (#217)

May 13 Quilt Workshop in Lake Worth www.hibiscusquiltguild.org (#213)
June 5 Janice Vaine Lecture in Orlando floridacabinfever.com (#217)
Aug 12 Quilt Workshop in Lake Worth www.hibiscusquiltguild.org (#213)
Nov 11 Tablerunner Workshop in Lake Worth www.hibiscusquiltguild.org (#213)
---------------------------------------------------------------------------------------

DECEMBER AT SUWANNEE VALLEY SHOPS IN TRENTON

The Holidays are always special at Suwannee Valley Shoppes! The Suwannee Valley Quilt Shoppe is offering all our friends a seasonal gift of 20% off all holiday fabrics! We have a room-full to choose from, featuring many fun and elegant panels to inspire your creative soul.
The Florida Quilt Museum's Seasonal Room features a Winter Wonderland of quilts, decorated for a fine gathering. Our History Room continues to feature quilts from the collection of Teddy Pruitt and Kathy Cray. This marks the first museum exhibit curated from someone other than our founder, Stephanie Metts. Teddy and Kathy's quilts together tell the story of the ingenuity of early 20th century quilters in "Waste Not Want Not" and should not be missed!
The Museum's Gift Shop is now open, featuring handmade items for sale and vintage quilts for adoption, with all proceeds going to support the mission of the Florida Quilt Museum to preserve and promote Florida's quilting heritage. Give us a call if you are shopping for something special: a favorite pattern or color and we will try to locate a vintage quilt for you!
The Florida Quilt Trail expanded in Trenton last month with a new "Carpenter's Wheel" adorning Ace Trenton Hardware and Farm Supply on State Road 26. That's the 18th quilt block to be hung in Trenton since the inception of the Florida Quilt Trail in 2013.
Mark your calendars for the 2017 Trenton's Suwannee Valley Quilt Festival, March 18, 2017!
Sonny the Shop Bird wishes everyone a fabulous Holiday Season and a Very Merry Christmas! Sonny hopes to see you in Trenton this December to thank you in person for your continued support and patronage.
Gabrielle Redfern

Communications Director
Florida Quilt Museum home to
The Florida Quilt Trail and
Trenton's Suwannee Valley Quilt Festival
www.suwanneeshops.com
---------------------------------------------------------------------------------------
MODERN QUILT WORKSHOP ANNOUNCEMENT

The Martin County Quilters Guild is hosting a Modern Quilt Workshop on Friday, January 13, 2017. Carole Lyles Shaw will be teaching her no--‐math approach to making a modern quilt using blocks based on Fibonacci math--‐a number series common to many things in nature such as the spirals in seashells. Don't worry about the math – she's done it all for you! You can create a quilt that looks modern, random and improvisational quickly and easily using this method. You will develop confidence for intuitive design and piecing, alternate grid layouts and incorporating negative space.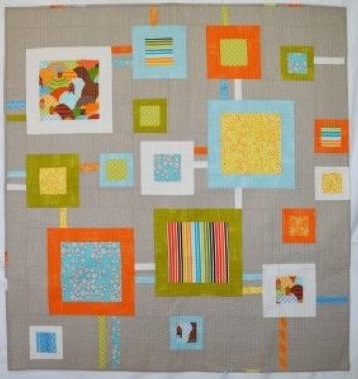 This full day class will be held at the Port St. Lucie Holiday Inn. The cost for non--‐ members is $101 and includes a catered lunch. For more information or to register, please e--‐mail Jo Ann Jolley at jjolley5@comcast.net or call 561--‐746--‐2691.
---------------------------------------------------------------------------------------
WORKSHOPS IN BOCA RATON

Gold Coast Quilters Guild has opened registration for the two January workshops that Lynne Hagmeier from Kansas Troubles will be doing.
She will be teaching her layered patchwork applique technique.
The workshops are held at Boca Raton Community Center.
Wednesday Jan 18, 2017 - 9am - 4pm - Stacked Coins Quilt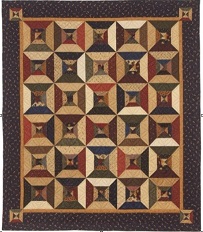 Thursday Jan 19, 2017 - 9am - 4pm - 30-Something Quilt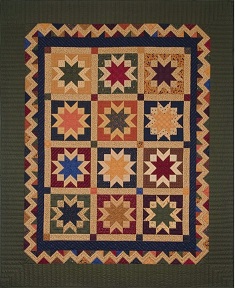 The price of the workshop is $55.00 each plus $10.00 Book (half the retail price).
You can purchase a kit or use your own fabrics - you can use bright colored fabric - you don't have to use Kansas Troubles fabrics!
Linda Adamcik
Co-Chair Programs
Gold Coast Quilters Guild
For more information - refer to Gold Coast Quilters Guild website
https://www.gcqg.org/
---------------------------------------------------------------------------------------
World Quilt Florida Returns to Orlando!
Discover the World of Quilting Arts
After an exciting and adventurous year in Central Florida, Mancuso Show Management announces that World Quilt Florida will return to Orlando, January 19-21, 2017. Mancuso Show Management is thrilled to return World Quilt Florida to such an amazing city! The festival will be held in Hall WE2, West Concourse of the Orange County Convention Center on Thursday, Friday and Saturday from 10:00 am to 6:00 pm each day. This unique quilt and textile event offers attendees a trip around the world - no passport needed!
View how the other side of the globe creates their quilts! The show will exhibit the international entries as well as selected United States ribbon winning entries from the 2016 World Quilt Competition. An outstanding nine countries are represented in this beautiful collection including: Australia, Canada, Germany, Israel, Japan, New Zealand, South Africa, the United Kingdom and the United States.
David Mancuso, President of Mancuso Show Management states, "This is the most comprehensive collection of international quilts displayed in the US."
The quilt show will also include the Florida Quilt Competition, open only to residents of Florida. Like a fine art show, the entries to this competition are an impressive showcase of some of Florida's most talented quilt and textile artists. The competition entrants will be competing for over $3,500 in prizes. It's a wonderful opportunity for quilters to experience the diversity and creativity of their fellow enthusiasts.
The World Quilt Competition - On Tour, the Florida Quilt Competition and other special exhibitions allow attendees to view over 500 quilts! For those who love anything quilt related, this display of quilt art should not be missed!
The aisles of the World Quilt Merchants Mall will be filled with everything a happy shopper could possible imagine and more: sewing machines, long arm machines, machine accessories, needles, pins, fabric markers, books, jewelry, thread, more fabric than you've ever seen in one place, notions, batting, patterns, stencils, finished 'art' clothing and patterns for clothing, shoes, jewelry making supplies, sewing machine carrying bags, scissors, rotary cutters, rotary cutting mats, rulers, magazines, magnification products, yarn and knitting supplies, trims, buttons, beads, stencils and more … much, much more!
In addition, workshops and lectures are available for those quilters looking to learn new techniques and work with some of the most talented and world-renowned quilt instructors. Quilters wanting inspiration with a large dose of entertainment will not want to miss the opportunity to learn from such a fantastic faculty including nationally renowned quilt instructor of the year Mark Lipinski, Netherlands born Marjan Kluepfel, and Florida native Mark Sherman.
Pre-registration and other information is available on the show's website, www.quiltfest.com. View or print the event brochure from the website, or to receive a brochure in the mail please write to: World Quilt Florida, Dept. P, P.O. Box 667, New Hope, PA 18938.
Major Annual Sponsor - Brother: Sewing Studio; Major Vendor Sponsors - BERNINA of America: Wandering Stitches, Elna: Sew-Mini Things, Juki & Baby Lock: The Sewing Studio Fabric Superstore; Sponsors - ABM/Innova, and Handi Quilter; and Special Vendor Sponsor - Granny's Legacy Patterns generously support World Quilt Florida.
When you go …
What

Where

Orange County Convention Center
West Concourse - Hall E2
9800 International Dr.
Orlando, FL 32819

When

January 19-21, 2017
Thursday, Friday & Saturday: 10 am – 6 pm

How Much

Admission $13, includes re-admission
Accompanied children under 16 free.
---------------------------------------------------------------------------------------
QUILTS IN DADE CITY
Annual Kumquat Festival Quilt Challenge in Dade City
January 28, 2017
Info: East Pasco Quilters, Inc.
---------------------------------------------------------------------------------------
Farm Fest and Quilt Show at the Florida Museum and Village Farm in Dade City on
February 4 and 5, 2017
Info: pioneerfloridamuseum.org
---------------------------------------------------------------------------------------
QUILT SHOW IN FT. LAUDERDALE
Broward Quilt Expo
March 9-11th 2017
14th Biennial Show at the War Memorial Auditorium in Ft. Lauderdale
Two nationally acclaimed instructors presenting workshops: Nancy Mahoney and Sherri Lynn Wood (lecture and trunk show 3/8/17).

Broward Quilt Expo www.browardquiltexpo.com
---------------------------------------------------------------------------------------
QUILT SHOW IN ESTERO

National Quilting Day with the Estero, FL Quilt and Antique Engine Show: March 18-19, 2017

What do quilts and antique engines have in common? They are part of the fabric of life at the Koreshan State Historic Site, a Florida State Park in Estero, FL. The Show runs March 18-19, 2017 from 9-5 on Saturday and 9-3 on Sunday and features not only antique engines but antique and modern quilts . Put us on your calendar!
The venue is an 11 building open-air museum, originally a 1900's religious commune founded by Dr. Cyrus Teed and his followers, the Koreshans. The utopian community of 200 followers relocated from New York to Florida in 1894. The Koreshans built and operated a printing facility, boat works, cement works, sawmill, bakery, store and hostelry. Education, science and art also helped shape their community. Women primarily ran the businesses, a rarity in those days.
Today the site is a national and state historic site with a restored working line shaft to power the large machines used by the Koreshans and a restored generator which powered their own electricity. Of course, the women were seamstresses and left a collection of quilts. At the Show, the quilts will be on display along with modern ones, plus there will be demonstrations on antique sewing machines that explain how quilts are made. There will also be quilt vendors. Visitors can tour the grounds with the park admission of $5 per vehicle, experience the communal setting of this unusual religious group, participate in a dutch oven baking program and sample goods made on a 1900's era stove. In addition there will be small antique engines running through the day.
This is a perfect match for those interested in quilts, fiber arts, while others pursue the likes of small antique engines.
Contact the Park at (239) 992-0311 or https://www.floridastateparks.org/park-history/Koreshan or email Joan, the Show coordinator, at momc318@gmail.com.

---------------------------------------------------------------------------------------
FROM QUILT SHOP OF DELND
Hello Quilters! We are starting a very special Fall Block of the Month - Jan. 2017 through August 2017. We do it differently here at the Quilt Shop of DeLand! Each month you can come in or receive by mail, very detailed instructions, and view a demo board and photos sent online too! You will learn lots of special techniques, including perfect piecing, fusible applique, a bit of optional paper piecing and for just one low monthly price of $29.99...you will receive ALL of the supplies for this amazing quilt. Including, fabrics for blocks, sashing, borders, binding and ....the BACKING TOO! Oh yes, and a few adorable embellishments! We only do this about once every few years....so don't miss out. Call to register at 386-734-8782 or go online at www.quiltshopofdeland. Oh yes, and the Fall Quilt is on display too! with the fabrics Your kit will be created from. Thanks from all of us here at the Quilt Shop of DeLand! 115 W. Rich Ave., DeLand, Fl. 32720
---------------------------------------------------------------------------------------