Florida Quilt Network - Newsletter #226
www.FloridaQuiltNetwork.com
August 1, 2017
Quilting Friends,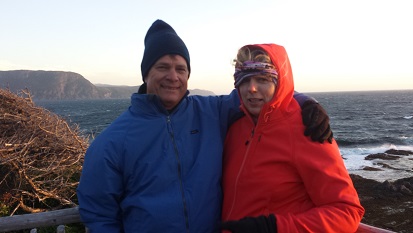 Here we are on a Newfoundland beach at sunset. Really! Four layers of clothing which included long underwear. We were OK with that...we left Florida to find the cold!
So we dropped back into the States last week. I counted it up…we stayed 40 days and 40 nights in Canada this summer. Now we're going to slowly make our way back home, with a stop in the Smokies to witness the 2017 total solar eclipse. I hope you get a chance to experience that, or at least a partial eclipse.

If you're a fairly new reader of this newsletter, you may not know that the Calendar page on the website is a quick way to view upcoming events all over the state. Give it a look-see.
Happy Quilting,
Mary-Jeanine
PS: I'd love to hear from you, so drop me a line sometime.
--------------------------------------------------------------
CALENDAR OF EVENTS: (Newsletter number follows)
2017
Now - Aug 18 Art Quilt Exhibit in Dunedin (#224)
Aug 4-5 Fiber Dyeing Workshop in Tampa info@lectampa.org (#226)
Aug 12 Quilt Workshop in Lake Worth www.hibiscusquiltguild.org (#213)

Aug 17-19 Stitchers Paradise Event in Tampa www.stitcherparadise.com (#224)
Aug 21 Mystery Quilt Registration Opens www.projectlinus.org (#226)
Sept 9 Featherweight Maintenance Class in Orlando Eleanor@EleanorMoland.com (#224)
Sept 11 Vintage Machines & Quilts Lecture in Orlando Eleanor@EleanorMoland.com (#224)
Sept 19-21 Bonnie Hunter Lecture & Workshops in Boca Raton carolstolt@outlook.com (#226)
Sept 21-24 Quilt Show in Jacksonville www.QuiltFestJax.com (#222)
Sept 27-28 Amanda Jean Nyberg Lecture & Workshops www.SeasidePiecemakers.com (#223)
Sept 30 Janet Fogg Workshop in Orlando Eleanor@EleanorMoland.com (#224)
Oct 2 Janet Fogg Lecture in Orlando Eleanor@EleanorMoland.com (#224)
Oct 21 Quilt Auction in Maitland floridacabinfever.com (#219)
Oct 20-22 Quilt Show & Sale in White Springs www.FloridaStateParks.org/StephenFoster (#225)
Oct 27 Featherweight Lover's Workshop in Ocala www.TheOldSewingMachineMan.net (#226)
Nov 3-4 Fiber Retreat in Live Oak fabricartshop.com (#226)
Nov 11 Tablerunner Workshop in Lake Worth www.hibiscusquiltguild.org (#213)
2018
Jan 18-20 Mancuso Quilt Show in Orlando website
Jan 19-20 Quilters Marketplace in The Villages www.QGOTV.org (#224)
Jan 23-24 Quilt Judge Workshop in Venice pam607@gmail.com (#224)
Jan. 24-25 Laura Wasilowski, Lecture & Workshops in Melbourne seasidepiecemakers.com (#225)
Feb 2-3 Quilt Show in Palmetto carollipp@gmail.com (#219)
Feb 16-17 Quilt Show in Punta Gorda website (#223)
Feb 23-24 Quilt Show in Naples www.NaplesQuiltersGuild.com (#226)
Feb 28 – Mar 3 AQS Quilt Show in Daytona Beach
Mar 1-2 Quilt Show in Ocala (#224)
Mar 9-10 Quilt Show in New Smyrna Beach pelicanpiecemakersquiltguild@gmail.com (#226)
March 28-29 Karen Stockwell, Lecture & Workshops in Melbourne seasidepiecemakers.com (#225)
April 25-26 Lee Chappell Monroe, Lecture & Workshops in Melbourne seasidepiecemakers.com (#225)
2019
Feb 8-9 Quilt Show in Vero Beach vbsunbonnetsue@Gmail.com (#224)
--------------------------------------------------------------
FABRIC DYEING & SHIBORI WORKSHOP IN TAMPA
Please join us for an exciting two-day workshop (10am-4pm each day) where students will learn how to create designs on fabric using a 12th century Japanese resist technique, and a few beginning Shibori techniques!
Each student will create several pieces using cotton fabric, hand-painted or stenciled with clay paste resist, and then dyed in an indigo vat. Students will also learn how to mix several different kinds of indigo vats so they may continue the technique at home.
Class fees include many materials including: indigo dye, clay paste resist, stencils, additional resist materials for experimentation, sponges, and gloves.
Students should bring one yard of white or natural cotton fabric (like muslin) that has been thoroughly washed and dried without dryer sheets, a cheap 1/2″ or less flat bristle brush that can be thrown away, and a needle and thread (any color) to make identifying stitches on the fabric.
Jim Dennison is a textile artist and printmaker from Dade City, FL who has been working with eco-printing and natural dyeing since 2009. He has taught at the Pioneer Florida Museum & Village, USF Botanical Gardens, and internationally in Vilnius, Lithuania and Amsterdam, The Netherlands. You may visit his blog at: dipandstain.blogspot.com.
This workshop will take place on Friday and Saturday, August 4 and 5, 2017 from 10am to 4pm each day at the Life Enrichment Center (9704 N. Blvd., Tampa, 33612)
The cost is $95 for LEC members and $115 for non-members (includes both days!)
This class is limited to 10 students and the flyer is attached.
Prepayment required. Please register at (813) 932-0241 or info@lectampa.org
​Thank you and please let us know if you have any questions!
Kelly​
--
Kelly Hickman
Associate Director
Life Enrichment Center
9704 N Boulevard
Tampa, FL 33612
(813) 932-0241
www.lectampa.org
hickman@lectampa.org
--------------------------------------------------------------
PROJECT LINUS 3RD ANNUAL MYSTERY QUILT CHALLENGE
Project Linus has announced the Exploring the World with Ethan Mystery Quilt Challenge Fundraiser. The project will result in a darling kids-themed quilt for any purpose you like (including donation to Project Linus, if you wish).
Registration opens on the www.projectlinus.org website August 21st with the first clue revealed in September. The challenge will last 8 weeks, one clue per week, finishing up with "The Big Reveal." Then, a GREAT contest with FANTASTIC prizes will follow after the first of the year!
The entire $15 registration fee is a tax deductible donation and, if you like, you can specify our Orlando/Central Florida Project Linus chapter (or another chapter near you) as the recipient of the $15.
You can follow the progress of other quilters and comment for interim prizes on the Project Linus Mystery Challenge page on Facebook. For more information, contact chapter coordinator, Michele Mingoia, at plinuscfl@gmail.com
--------------------------------------------------------------
BONNIE HUNTER LECTURE & WORKSHOPS IN BOCA RATON
Gold Coast Quilters Guild, Boca Raton, Fl is hosting Bonnie Hunter for a lecture on September 19, 2017 at the Boca Raton Community Center, 150 Crawford Blvd, Boca Raton, FL 33432 from 7 - 9 p.m. Non-members are welcome to attend her lecture for a $10 donation.
Wednesday, September 20, 2017 Bonnie will be conducting a workshop demonstrating her pattern JAMESTOWN LANDING.
Friday, September 22, she will be teaching ROLL, ROLL, COTTON BOLL.
Cost is $55 per person for each class. Both classes are at the same location. There is a requirement to bring her book STRING FLING to the class (both patterns are in the same book). If you are interested, please contact Carol Stoltenberg at carolstolt@outlook.com .
--------------------------------------------------------------
FEATHERWEIGHT CLASS IN OCALA
Johnny & Debbie Johnston will hold another Featherweight Lover's Class on Oct 27, 2017. It will take place in the Community Room of the Ocala Police Dept. Class times are 10am until 3pm. Class fee still $45. Class is limited to 20 people.
The class flyer is on my website under our SERVICES page and that is www.TheOldSewingMachineMan.net Interested parties need to contact Johnny or Debbie Johnston at 352-867-8035 or jjohnston2654@embarqmail.com
--------------------------------------------------------------
To Prepare:
Saturday, October 21, 10-5
15% discount on Fabric, Pattern & Threads for Retreat and a Pattern Cutting and Bagging Session

November 3-5, 2017
Lake Shore Hosta
Retreat at
Camp Weed,
Live Oak, FL

LAKE SHORE HOSTA——A great Quilt that continues your journey into the awesome world of Judy Niemeyer's designs.
Three days at Camp Weed, 2 nights of double or single occupancy, all meals, and fees are included for a wonderful stay away from home to immerse yourself in the craft.
Day Camper (no room) $200.00
Double Occupancy Camper $300.00
Single Occupancy Camper $375.00

FABRIC ART SHOP
4136 West US Highway 90
Lake City, FL 32055
877-755-0179386-755-0179
http://fabricartshop.com
Stop in or call to make your reservation.
50% down to hold your place.
Balance due by October 2.
Cancellations will be granted with money back until October 15. Thereafter, 50% of your registration fee will be returned .
-----------------------------------------------------------------------------------------------
Stitches in Time 2018
Naples Quilters Guild, Inc.
P.O. Box 3055
Naples, Florida 34106
Our 24th Annual Show!
WHEN: Friday, February 23, 2018 - 9 am to 5 pm
Saturday, February 24, 2018 - 9 am to 4 pm
WHERE: New Hope Ministries
7675 Davis Blvd
Judged Quilt Show, Raffle Quilt, Small Quilt Auction, Special Exhibits, Workshops, Vendors
Admission $7.00
Contact us for group admission rate
--
Veronica Catrombon
Technology Chair
Naples Quilters Guild, Inc.
239-389-1030
NaplesQuiltersGuildInc@gmail.com
www.NaplesQuiltersGuild.com
www.facebook.com/NaplesQuiltersGuild1983/
--------------------------------------------------------------
QUILT SHOW IN NEW SMYRNA BEACH

Quilt Show: "Razzle Dazzle" for March 9-10, 2018 9:30am -3:30pm each day. Admission is $7.
Located at the First Baptist Church 200 Faulkner St New Smyrna Beach, Fl 32168.
There will be a beautiful Raffle Quilt, Door Prizes, Raffle Baskets, & Vendors. Many quilts on display that will be judged.
Liz Slack Publicity
Pelican Piecemakers Quilt Guild NSB
lizart999@aol.com
pelicanpiecemakersquiltguild@gmail.com
--------------------------------------------------------------
The Florida Quilt Museum needs YOUR help!
The Florida Quilt Museum, home to Trenton's Suwannee Valley Quilt festival and the Florida Quilt Trail is currently housed in the historic Wade Building in downtown Trenton, Florida. As many of you know, this building, as well as the Suwannee Valley Quilt Shoppe are "For Sale" as our founders, current property owners and patrons, Stephane and Paul Metts retire in March of 2018. While we do not know what the future holds for the circa 1925 Cocoa Cola Bottling Plant and Ice House, we hope to save the 1910 building we are in now for the quilts.
To accomplish this, we are asking for assistance from the State of Florida and the Department of Historical Resources. We have applied for a grant to help make the Wade Building the forever home for quilts through the Museum, Trail and Festival. This grant will allow the building to be purchased by our non-profit board and will endow and guarantee the quilt-related activities continue in the building for decades to come.
You can help! Please take a few moments to write a letter of support on behalf of the quilts. We are looking for heartfelt testimonials from you, our visitors, and friends, who understand the treasure, stories, history, labor and lessons found in quilting that should be preserved and shared through The Florida Quilt Museum. Your personal words and experiences are vital to securing a high ranking in the grant process to allow us to continue promoting the art of quilting by preserving and displaying Florida's quilting heritage.
Your letter should be addressed to:
Dr. Timothy Parsons, Director
Division of Historical Resources
R.A. Gray Building, 4th Floor
500 South Bronough Street
Tallahassee, Florida 32399-0250
timothy.parsons@dos.myflorida.com
The subject is the Florida Quilt Museum Building Acquisition Project.
Finally, additionally, and frankly, this is a highly political process. Your efforts are amplified when you copy your letter and send it to our State Representatives: Senator Rob Bradley, bradley.rob@flsenate.gov, and Representative Chuck Clemons, Chuck.Clemons@myfloridahouse.gov, and yours as well! Look up your representatives here:
https://www.flsenate.gov/Senators/Find
https://www.myfloridahouse.gov/Sections/Representatives/myrepresentative.aspx
Thank you, in advance, for your support!
Gabrielle Redfern
Communications Director
Florida Quilt Museum home to
The Florida Quilt Trail and
Trenton's Suwannee Valley Quilt Festival
352-316-3656
--------------------------------------------------------------
CALL FOR ENTRIES
Quilt Artists Proudly Present Their Talents
at the 2018 World Quilt Florida VIII
World Quilt Florida returns to the Orange County Convention Center in Orlando, Florida, January 18-20, 2018. Included among the many exhibits at the show will be the entries to the popular Florida Quilt Competition, open only to entrants who are residents of Florida. This impressive quilt art showcase will feature works by Florida's most talented quilt and textile artists. World Quilt Florida is an incredible opportunity for quilters from across the Sunshine State to experience the talent and creativity of their fellow enthusiasts.
Entrants to the Florida Quilt Competition will vie for over $3,500 in awards. In addition, show-goers will have the opportunity to vote for their favorite competition quilt to win the prestigious Viewers Choice Award. For those who love anything quilt related this wonderful display of quilt art cannot be missed!
Be sure to get a glimpse of this year's exquisite quilt competition entries. The show is anticipating its best year yet!
To enter the Florida Quilt Competition, please click here.
Pictured below: From the 2017 Florida Quilt Competition - Mac Macaw by Deb Crine.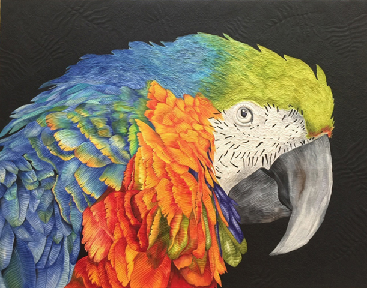 --------------------------------------------------------------
MUSEUM EXHIBIT
The History of Miami Museum is exhibiting a 25 year retrospective on Hurricane Andrew. It is a major exhibit. One of the walls is special to me as it displays my quilt "Andrew: a fellow of infinite jest." This quilt is, obviously, about my experience with the hurricane and will become part of the Museum's permanent collection.
The exhibition will be up through the year and the address of the museum, 101 Flagler Street, Miami.

Thank you,

Bonnie Askowitz
"Women's rights are human rights.