Florida Quilt Network - Newsletter #230
www.FloridaQuiltNetwork.com
Dec 6, 2017
Quilting Friends,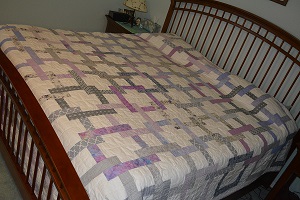 I had the opportunity to fly out to Phoenix last month to visit my sister and deliver this king sized quilt to her daughter as a college graduation gift. It was well received!
Did you know the FQN website has a listing of LongArm Quilters in our state? It's set up by county, so be sure to search for not only your county but surrounding ones as well. If you or someone you know is a LA quilter, feel free to send me information so I can add to this growing list.

If you're a fairly new reader of this newsletter, you may not know that the Calendar page on the website is a quick way to view upcoming events all over the state. Give it a look-see.
Happy Quilting,
Mary-Jeanine

PS: I'd love to hear from you, so drop me a line sometime.

---------------------------------------------------------------------------------------
Sit-Down LongArm For Sale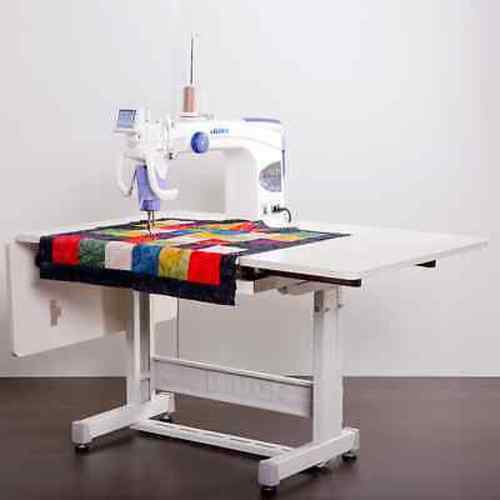 The JUKI TL-2200 QVP S is a sit Down Free Motion Quilting Machine and Table. The only sit down long arm quilter with automatic thread trimmers. Up to 50" wide table on adjustable height metal stand with wood top and leaf for left or right side, 30" overall depth.
Perfect for any sized quilt: the 10" high and 18" wide throat space means the quilt won't have to be bunched up under the machine..
I'm selling this machine for $4000.00. It was set up in my home but I've never used it.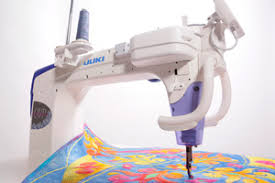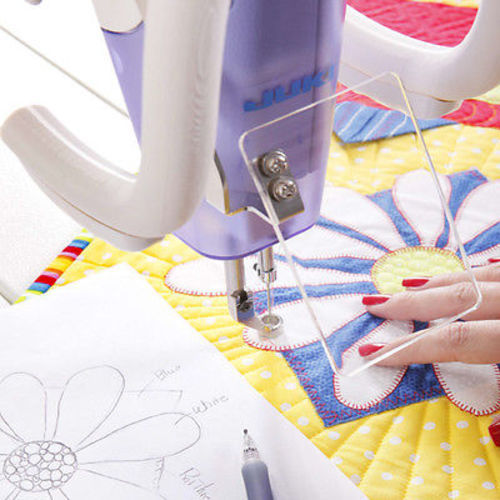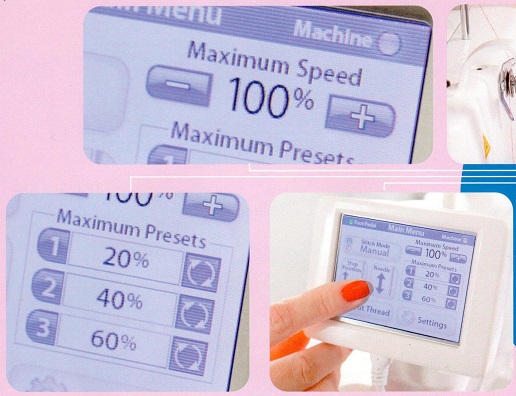 Programmable LCD Touchscreen, Speed Regulation, Automatic needle positioner (up/down). Ergonomically Positioned Auxiliary Hand Wheel, Built-in Bobbin Winder, Great Visibility, Foot Control, Thread Cutter with Auto-set thread lock. 2200 Stitches per Minute maximum sewing speed…get faster results!
Lois Gesell, Winter Springs, FL
larlogesell@aol.com 973-752-8462

---------------------------------------------------------------------------------------
CAALENDAR OF EVENTS: (Newsletter number follows)
2018
Jan 18-20 Mancuso Quilt Show in Orlando website
Jan 19-20 Quilters Marketplace in The Villages www.QGOTV.org (#224)
Jan 23-24 Quilt Judge Workshop in Venice pam607@gmail.com (#224)
Jan. 24-25 Laura Wasilowski, Lecture & Workshops in Melbourne seasidepiecemakers.com (#225)
Jan 26-27 Quilt Show in Lakeland www.ladiesofthelakes.org (#227)
Jan 29 Bonnie Hunter Class & Lecture in Ormond Beach terrilynch88@gmail.com (#229)
Feb 1 Bonnie Hunter Lecture in Ocala www.crqocala.com (#230)
Feb 1-3 Quilt Show in Port St. Lucie http://www.pslcrazyquilters.com/2018-show.html (#227)
Feb 2-3 Quilt Show in Palmetto carollipp@gmail.com (#219)
Feb 3 Nancy Mahoney Class in Orlando 407-702-9144 (#227)
Feb 3 Quilt Show & Sale in Sarasota www.sarasotamodernquiltguild.com (#230)
Feb 16-17 Quilt Show in Punta Gorda website (#223)
Feb 16-17 Quilt Show in DeFuniak Springs Lesah51@yahoo.com (#229)
Feb 16-17 Quilt Show in Panama City www.sabqg.org (#229)
Feb 17-18 A1 Quilt Extravaganza in Amelia Island (#229)
Feb 16-18 Amelia Island Book Festival in Amelia Island www.ameliaislandbookfestival.org (#229)
Feb 23-24 Quilt Show in Naples www.NaplesQuiltersGuild.com (#226)
Feb 23-24 Quilt Show in Melbourne seasidepiecemakers.com/quilt-show-2018 (#227)
Feb 23-24 Quilt Show in Niceville www.flyingneedlesquiltguild.org (#227)
Feb 23-24 Quilt Show in Mt. Dora www.lakequiltguild.com (#227)
Feb 23-24-25 Quilt Show in New Port Richey www.WestPascoQuilters.org (#228)
Feb 28 – Mar 3 AQS Quilt Show in Daytona Beach
Mar 2-3 Quilt Show in Ocala mailto:ocalawoods@cfl.rr.com (#228)
Mar 9-10 Quilt Show in New Smyrna Beach pelicanpiecemakersquiltguild@gmail.com (#226)
Mar 9-10 Quilt Show in Largo Suncoastquiltingcircle.org (#227)
Mar 15-17 Sewing & Quilt Expo in Lakeland info here (#229)
Mar 17 Quilt Show in Trenton www.TrentonQuiltFestival.com (#230)
Mar 17-18 Quilt Show in Estero momc318@gmail.com (#229)
March 28-29 Karen Stockwell, Lecture & Workshops in Melbourne seasidepiecemakers.com (#225)
April 22-26 Quilting Bus Trip to Graceland www.QuiltShopofDeland.com (#228)
April 25-26 Lee Chappell Monroe, Lecture & Workshops in Melbourne seasidepiecemakers.com (#225)
Oct 12-13 Quilt Show in Brandon www.brandonquiltguild.com (#230)
2019
Feb 8-9 Quilt Show in Vero Beach vbsunbonnetsue@Gmail.com (#224)
Feb 15-16 Quilt Show in Seminole www.midpinellasquiltshow.com (#230)
Feb 23-24 Quilt Show in Punta Gorda (#227)
2020
Feb 21-22 A1 Quilt Extravaganza in Amelia Island www.aiquilters.com/quilt-show-2017 (#229)
---------------------------------------------------------------------------------------
Bonnie Hunter is Coming to Ocala!
Lecture Only
February 1, 2018
7:00 pm
St. Mark's United Methodist Church
1839 NE 8th Road
Ocala, FL 34470

Limited Seating
For reservations, mail a check for $5 per person to:
Country Road Quilters
P.O. Box 771282
Ocala, FL 34477

***Important - Please include your email. You will receive confirmation of your payment via email. You will need this confirmation for entrance.***

See our website for information.
www.crqocala.com
---------------------------------------------------------------------------------------

QUILT SHOW & SALE IN SARASOTA
Sarasota Modern Quilt Guild 3rd Annual Airing of the Quilts; Free Outdoor Quilt Show & Sale; Saturday February 3, 2018; 10 am to 3 pm
Maxine Barritt Park; Beachfront near the Pier at 1800 Harbor Dr., Venice, FL (Near Sharky's Restaurant)
Our quilt show will be hung under and around the Big Pavilion in a beautiful beachside park. View our unique display of modern quilts & textile artwork. Quilts and fabric for sale. Visit: www.sarasotamodernquiltguild.com
---------------------------------------------------------------------------------------
Trenton's Twelfth Annual
Suwannee Valley Quilt Festival
March 17, 2018, 9 a.m. - 4 p.m. Press Release

For Immediate Release Contact:
November 27, 2017 Diane Clifton
(352) 463-2087
2018 Trenton Quilt Festival on St. Patrick's Day

Trenton, Florida - Planning for Trenton's Suwannee Valley Quilt Festival for 2018 has started. This year the festival will be on Saturday, March 17th - St. Patrick's Day. Celebrating the traditional Irish holiday will bring even more fun and excitement for visitors.
Promotional materials this year feature shamrocks, the color green, and the Florida Quilt Trail block of Best Drugs, a local Trenton business. "We select a different local quilt trail block each year to spotlight in festival advertising," says Diane Clifton, a volunteer involved in festival publicity. "Best Drugs has been a long-time supporter of the festival, allowing us to place quilts inside their business and holding special sales on festival day." Shamrocks appear on posters, flyers and rack cards. "I saw many images of clover, some with three leaves and others with four. So, I checked to see if it mattered which one we should use, and learned that shamrocks have three leaves," said Diane.
Stephanie Metts, Quilt Coordinator, is planning an exciting line up of quilting participants that includes familiar faces and new sewing arts exhibitors. Fiber Arts and Fiber Muses will again populate Trenton's historic Depot with whimsical, amusing works. The "Anything Goes" quilting class led by Lyn White will be presenting works from their "Hopetown (An Island Adventure}" challenge. The classes' elephant quilts were hits of the 2017 festival.
Stephanie has lined up a new group, "Needle and Eye," to present "green" challenge quilts. Mary Kerr, renowned quilt appraiser, lecturer and author, expects to be on hand at the Florida Quilt Museum to conduct gallery walks of her "A Quilted Memory" exhibit and to sign books. Cecilia Reed of "Pat's Sacks of Titusville" will share her expertise in feed sack quilting. She has a collection of 18,000 two-inch feed sack swathes that originated with her mother's collection.
Pat Watson, the festival's Crafts Coordinator, has already received about a dozen registrations with more in progress. Ann Ferguson, Antiques Coordinator, is seeking vendors and working to develop new festival sponsors.
The Florida Quilt Museum continues its "Way Down Upon the Suwannee River" Challenge with entries due January 31, 2018. These will be displayed at the Museum during the Festival. The ongoing raffle benefiting the museum continues through the Festival. The 53" by 58" pictorial quilt features a fall scene of a buck and doe gazing at the viewer as they stand by a stream, with the view observed through a windowpane design. The Challenge Awards will be announced at the Festival. The raffle winner will be announced after the Festival. Tickets are $1 each.
Each year community sponsors and volunteers provide invaluable resources in support of the festival, but more help is needed. Coordinators and Board members provide important contributions before the day of the festival arrives. If you are interested in joining the corps of festival volunteers, call Pat Watson (352 494-9913).
The twelfth annual Trenton's Suwannee Valley Quilt Festival, Florida's only outdoor quilt show and sale, will be held Saturday, March 17, 2018, from 9 a.m. to 4 p.m. in the picturesque town of Trenton, Florida. Located in north central Florida just 20 miles west of Gainesville, Trenton will be festooned with quilts flying from shops, businesses and government buildings up and down Main Street and beyond.
The annual event is sponsored by the City of Trenton, Gilchrist County's Tourist Development Council, the Suwannee Valley Quilt Shoppe, plus other businesses and individuals from the tri-county area.
For more information about the festival, visit us on Facebook, go to the Festival website www.TrentonQuiltFestival.com , or contact the Suwannee Valley Quilt Shoppe, (352) 463-3842.
---------------------------------------------------------------------------------------
QUILT SHOW IN BRANDON
October 12-13, 2018: Piecemakers Quilt Guild of Brandon, Quilt Show ~~ Harvest of Quilts "Symphony of Colors"; 12th- 9 a.m. – 5 p.m. and 13th- 9 a.m.-4 p.m. at The Regent Center, 6437 Watson Road, Brandon, FL. Mozart's Marketplace, Beethoven's Book Sale, Upbeat Boutique, Rock Opera Opportunity Quilt, Rhapsody Raffle, Petite Ensemble Small Quilt Auction. Details on website: www.brandonquiltguild.com
---------------------------------------------------------------------------------------
QUILT SHOW IN SEMINOLE, FL
Here is the website www.midpinellasquiltshow.com The Show title is "A Quilters Journey".
Come Celebrate the Quilt, Explore the Art. The Show will be held on the 15 and 16 of February 2019 at the Seminole Recreation Center in Seminole Florida. Lots of information on the website.
---------------------------------------------------------------------------------------
The Florida Quilt Trail Expands to Dudley Farm Historic State Park
December 4, 2017 Trenton, Florida – The Florida Quit Museum, home to The Florida Quilt Trail and Trenton's Suwannee Valley Quilt Festival, is proud to announce the expansion of The Florida Quilt Trail into western Alachua County. Dudley Farm Historic State Park, located at 18730 W. Newberry Road Newberry, FL 32669 unveiled "Hands All Around" a Quilt Block painted by Irma Riley, on December 2, 2017.
On this day, the Farm celebrates Ms. Myrtle Dudley's birthday by grinding sugar cane and boiling it into cane syrup.The Quilt Block hangs on the Welcome House at the historic homestead. According to Dudley Farm Staff, the pattern was originally quilted by one of the Dudley ladies in the early 1900's, and is featured on a quilt that is part of the conserved collection of artifacts at Dudley Farm. Inside the house hangs a wedding ring quilt made by local quilter Madalyn Jones, who donated the structure to the State Park. Cindy Frost, a volunteer docent, coordinated the dedication and was the lead demonstrator in the Farm's annual "Cane Day".
Mrs. Stephanie Metts, who originated the Florida Quilt Trail in 2013, was on hand to officially welcome this block to the Florida Quilt Trail."We are excited for Alachua County to hang its' second quilt block on the Florida Quilt Trail", said Mrs. Metts, as the City of Newberry joins the City of High Springs on the Florida Quilt Trail. "And to incorporate historic patterns with a local family connection is very much in the tradition of the American Quilt Trail movement which was started by Donna Sue Groves to honor her mother in 2001 in Adams County, Ohio."
The Florida Quilt Trail is linked to the American Quilt Trail Movement, the largest grassroots art project in the United States and Canada. Trenton, White Springs, Madison, Live Oak, Lake City, Bell, Branford, and other communities are represented on the Florida Quilt Trail as it winds its way through north Florida.Listed on the National Register of Historic Places, Dudley Farm Historic State Park demonstrates the evolution of Florida farming from the 1850s to the mid-1940s-through three generations of the Dudley family. An authentic working farm, the homestead consists of 18 buildings, including the family farmhouse with original furnishings, an 1880s kitchen outbuilding, a general store and post office, and a functional cane syrup complex.