Florida Quilt Network - Newsletter #232
www.FloridaQuiltNetwork.com
Feb 7, 2017
Quilting Friends,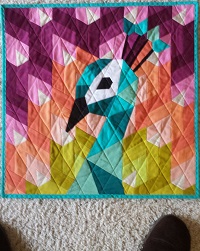 [click to enlarge] This little number is only 20 inches square, but boy does it pack a pop! I'm teaching this version of English Paper Piecing at The Sewing Studio, but I can also come to your guild to teach as well.
Here's a little note from Sew Central shop in Merritt Island:

I never thought to have you put in the newsletter that Sew Central is moving—to Nebraska! That of course means that we are selling everything in the shop so we don't have to move it! We will remain open until the beginning of March unless everything is sold and through February we will continue to have our classes.

Ellen Patton
Sew Central
321-338-2959

If you're a fairly new reader of this newsletter, you may not know that the Calendar page on the website is a quick way to view upcoming events all over the state. Give it a look-see.
Happy Quilting,
Mary-Jeanine
PS: I'd love to hear from you, so drop me a line sometime.
---------------------------------------------------------------------------------------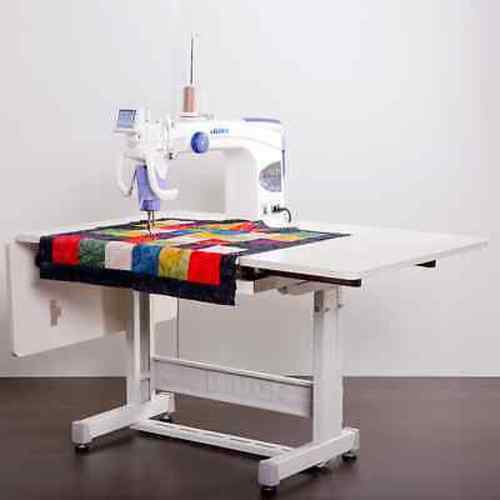 The JUKI TL-2200 QVP S is a sit Down Free Motion Quilting Machine and Table. The only sit down long arm quilter with automatic thread trimmers. Up to 50" wide table on adjustable height metal stand with wood top and leaf for left or right side, 30" overall depth.
Perfect for any sized quilt: the 10" high and 18" wide throat space means the quilt won't have to be bunched up under the machine..
I'm selling this machine for $4000.00. It was set up in my home but I've never used it.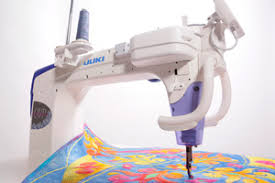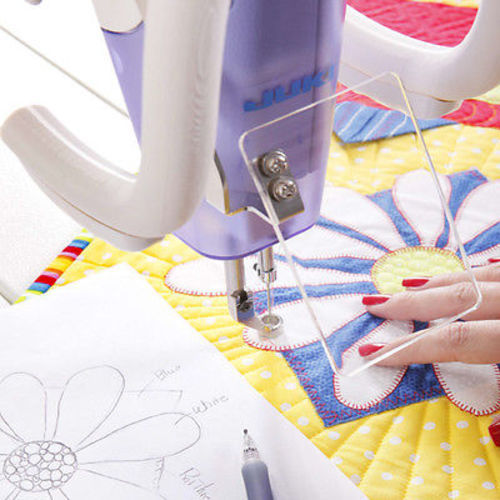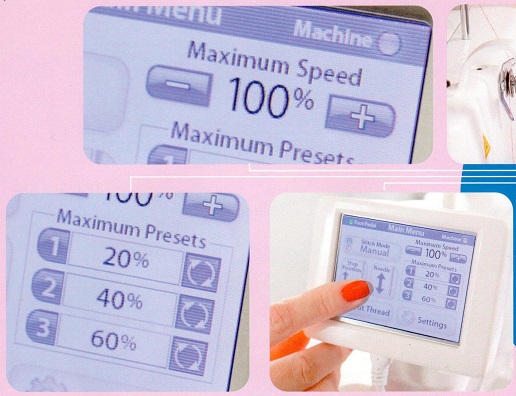 Programmable LCD Touchscreen, Speed Regulation, Automatic needle positioner (up/down). Ergonomically Positioned Auxiliary Hand Wheel, Built-in Bobbin Winder, Great Visibility, Foot Control, Thread Cutter with Auto-set thread lock. 2200 Stitches per Minute maximum sewing speed…get faster results!
Lois Gesell, Winter Springs, FL
larlogesell@aol.com 973-752-8462
---------------------------------------------------------------------------------------
CALENDAR OF EVENTS: (Newsletter number follows)
2018
Feb 1-28 Shop Hop in Tampa Bay area bayareashophop.com/wordpress (#231)
Feb 9 Pat Sloan Trunk Show in Tampa http://www.happyapplequilts.com/PatSloan (#231)

Feb 12-17 Shop Hop in Central Florida Info Here (#231)

Feb 16-17 Quilt Show in Punta Gorda website (#223)
Feb 16-17 Quilt Show in DeFuniak Springs Lesah51@yahoo.com (#229)
Feb 16-17 Quilt Show in Panama City www.sabqg.org (#229)
Feb 17-18 A1 Quilt Extravaganza in Amelia Island (#229)
Feb 16-18 Amelia Island Book Festival in Amelia Island www.ameliaislandbookfestival.org (#229)
Feb 23-24 Quilt Show in Naples www.NaplesQuiltersGuild.com (#226)
Feb 23-24 Quilt Show in Melbourne seasidepiecemakers.com/quilt-show-2018 (#227)
Feb 23-24 Quilt Show in Niceville www.flyingneedlesquiltguild.org (#227)
Feb 23-24 Quilt Show in Mt. Dora www.lakequiltguild.com (#227)
Feb 23-24-25 Quilt Show in New Port Richey www.WestPascoQuilters.org (#228)
Feb 28 – Mar 3 AQS Quilt Show in Daytona Beach
Mar 2-3 Quilt Show in Ocala mailto:ocalawoods@cfl.rr.com (#228)
Mar 2-4 Katie Pedersen Lecture & Workshops in Boca Raton info here (#232)
Mar 3 Quilt Show in Bushnell dotkrest@yahoo.com (#232)
Mar 4 Tent Sale in Lutz www.sweetdarlingquilts.com (#232)
Mar 9-10 Quilt Show in New Smyrna Beach pelicanpiecemakersquiltguild@gmail.com (#226)
Mar 9-10 Quilt Show in Largo Suncoastquiltingcircle.org (#227)
Mar 10-11 Quilt Show in Venice Website (#232)
Mar 15-17 Sewing & Quilt Expo in Lakeland info here (#229)
Mar 16-Apr 26 Fiber Exhibit in Ocala info here (#232)
Mar 17 Quilt Show in Trenton www.TrentonQuiltFestival.com (#230)
Mar 17-18 Quilt Show in Estero momc318@gmail.com (#232)
Mar 23-31 Shop Hop in Central Florida Info Here (#231)
March 28-29 Karen Stockwell, Lecture & Workshops in Melbourne seasidepiecemakers.com (#225)
April 11 Nancy Amidon Lecture in Tampa poodley4us@gmail.com (#232)
April 14 Featherweight Class in Tallahassee jjohnston2654@embarqmail.com (#232)
April 25-26 Lee Chappell Monroe, Lecture & Workshops in Melbourne seasidepiecemakers.com (#225)
July 12-14 Stitchers Paradise in St. Pete www.stitcherparadise.com (#231)
July 20-21 Bus Trip in Lutz www.sweetdarlingquilts.com (#232)
Oct 12-13 Quilt Show in Brandon www.brandonquiltguild.com (#230)
Oct 12-13 Quilt Show in Palm Beach County nanmi@aol.com
(#231)
Nov 9-10 Quilt Show in Ocala www.crqocala.com (#231)
2019
Feb 8-9 Quilt Show in Vero Beach vbsunbonnetsue@Gmail.com (#224)
Feb 15-16 Quilt Show in Seminole www.midpinellasquiltshow.com (#230)
Feb 23-24 Quilt Show in Punta Gorda (#227)
2020
Feb 21-22 A1 Quilt Extravaganza in Amelia Island www.aiquilters.com/quilt-show-2017 (#229)
---------------------------------------------------------------------------------------

LECTURE & WORKSHOPS IN BOCA RATON

South Florida Modern Quilt Guild (SFMQG) is hosting a three day event with Katie Pedersen, Seattle modern quilting instructor and author of Quilting Modern, including a lecture/trunk show and two workshops March 2nd-4th 2018. See http://southfloridamqg.com/events/ for details. Everyone welcome.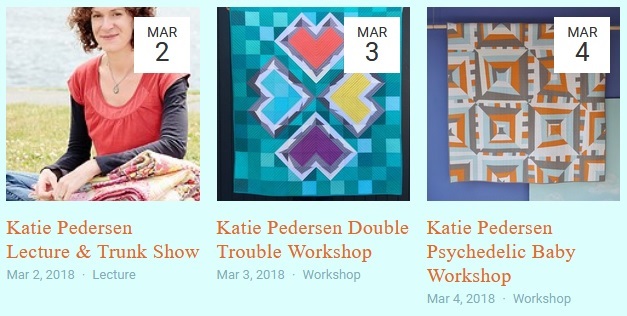 --------------------------------------------------------------------------------------

QUILT SHOW IN BUSHNELL

The Red Oaks Quilters is a seasonal not for profit quilt group that is located at The Red Oaks RV Park in Bushnell. We do an annually quilt show to display our work and to raise money for local charities. The show includes many quilts of varying sizes, vendors, cancer challenge silent auction, treasures auction, raffle quilt, demonstrations, and a boutique. Food is available for purchase for both breakfast and lunch.
Date: March 3, 2018
Time: 9:00 am to 2:00pm
Place: Red Oaks RV Park 5551 SW 18th Terrace Bushnell, FL in Boots Hall
Cost: non perishable food item or monetary donation to the local food bank
Any questions please contact Dorothy Gruntz at - dotkrest@yahoo.com or 724 699 9667.
--------------------------------------------------------------------------------------

TENT SALE & BUS TRIP IN LUTZ

Tent Sale at Sweet Darling Quilts Sunday, March 4 12-5pm
26240 Wesley Chapel Blvd
Lutz FL. 33559
Www.sweetdarlingquilts.com
813-994-2994


*****************
Bus Trip
Seven fantastic stores
JULY 20 & 21, 2018
$190
Call the Store:
813-994-2994
--------------------------------------------------------------------------------------

QUILT SHOW IN VENICE

March 10-11
Quilting By the Gulf 2018 will be held at the
Venice Community Center, 326 South Nokomis, Venice, FL 34285.
Saturday hours are 9-5, Sunday hours are 10-4.
Admission is $8 for one day or $14 for both days.
We'll have over 200 quilts, a quilt raffle (see attached picture), special exhibits, a quilted gift boutique, silent auctions, gift basket raffle, vendors, and a tea room for breakfast, lunch, and snacks.
Website
---------------------------------------------------------------------------------------

FIBER EXHIBIT

"Florida Ice" in Ocala in March/April 2018.
Featuring Kay Koeper Sorensen
My show will open March 16, 2018 at the Ocala, Florida City Hall.
There will be an opening reception from 12:30-2 p.m. on March 16th.
The show closes on April 26, 2018.
The city hall is open Monday through Friday 8 a.m. – 5 p.m.
It is a beautiful building which will highlight my work. These are my Ice Tapestries that started as white cloth and I have dyed using my own unique method of ice dyeing.
There is a large free parking lot.
http://quiltspluscolor.blogspot.com/2018/01/florida-iceshow-details.html

--------------------------------------------------------------------------------------

QUILT SHOW IN ESTERO

National Quilting Day with the Estero, FL Quilt and Antique Engine Show: March 17-18, 2018
What do quilts and antique engines have in common? They are part of the fabric of life at the Koreshan State Park in Estero, FL. The Show runs March 17-18, 2018 from 9-4 on Saturday and 9-3 on Sunday and features not only antique engines but antique and modern quilts .
The venue is an 11 building open-air museum, originally a 1900's religious commune founded by Dr. Cyrus Teed and his followers, the Koreshans. The utopian community of 200 followers relocated from New York to Florida in 1894. The Koreshans built and operated a printing facility, boat works, cement works, sawmill, bakery, store and hostelry. Education, science and art also helped shape their community. Women primarily ran the businesses, a rarity in those days.
Today the site is a national and state historic site with a restored working line shaft to power the large machines used by the Koreshans and a restored generator which powered their own electricity. Of course, the women were seamstresses and left a collection of quilts. At the Show, the quilts will be on display along with modern ones, plus there will be demonstrations on antique sewing machines that explain how quilts are made. Visitors can tour the grounds with the park admission of $5 per vehicle, experience the communal setting of this unusual religious group, participate in a dutch oven baking program and sample goods made on a 1900's era stove. In addition there will be small antique engines running through the day.
This is a perfect match for those interested in quilts, fiber arts, while others pursue the likes of small antique engines.
Contact the Park at (239) 992-0311 or https://www.floridastateparks.org/park-history/Koreshan

---------------------------------------------------------------------------------------
APPLIQUE LECTURE IN TAMPA
The Feather Princesses, Inc.
Nancy Amidon, Master Applique Teacher
Lecture: "A New Look At Turned Edge Applique"
Wednesday, April 11, 2018
11 a.m.
Carrollwood Recreation Center
3515 McFarland Road
Tampa, Florida 33618
$15.00 visitors fee
Contact: Janet Wachter
poodley4us@gmail.com
The Feather Princesses are delighted to host Nancy Amidon of San Diego, California. Nancy will present an exciting lecture about the starched edge freezer paper method of turning applique figures. Nancy and Pearl Pereira of P3 Designs, have been partnering for the past 20 years, offering classes, cruises, and winter workshops in Carlsbad, Calif. You may have visited Nancy's booth and seen her tirelessly demonstrating this method at Paducah and other quilt shows. With her great breadth of experience, Nancy will entertain us, sharing her insights into this very polished method of applique.

---------------------------------------------------------------------------------------

FEATHER WEIGHT CLASS IN TALLAHASSEE

Feather Weight Maintenance Class on Sat. April 14 in Tallahassee FL.
Johnny Johnston
The Old Sewing Machine Man
352-867-8035
WEB SITE: www.theoldsewingmachineman.com
Presents the Following Class for FEATHERWEIGHT LOVERS
THIS IS A HANDS ON CLASS for the Original Featherweight
A brief History of the featherweight.
How to get the most from your Featherweight.
Common featherweight problems and how to resolve them.
Doing your own maintenance. This is hands on and you will service your machine. Bring everything you have to maintain your 221.
What are all those attachments for?
What new attachments are there for my featherweight?
Questions & answers
10:00am to 12:00pm break for lunch 1:00 pm -3:00pm Estimated
Class Size is limited so sign up early
Contact Johnny or Debbie at 352-867-8035 for more info.
Cost $45. Per person
For more information please contact Johnny at jjohnston2654@embarqmail.com or call Ruth Cuzzort 850-838-5470.

--------------------------------------------------------------------------------------
TRENTON CLASSES AND EVENTS FOR FEBRUARY 2018
January 29, 2018: Trenton, Florida – The Florida Quit Museum, home to The Florida Quilt Trail and Trenton's Suwannee Valley Quilt Festival, announces the February 2018 Class and Event Schedule. The Florida Quilt Museum is dedicated to preserving and displaying Florida's quilting heritage, and fulfils its mission in part through education and skill enhancement for crafters of all levels. Reservations are required for all classes. A sewing machine is also required for most classes. For more information on individual projects, kits and supply requirements or to reserve your spot, please call 352-463-3842. Classes are held in the Historic Ice House. 509 North Main Street, Trenton, Florida 32693
Wednesdays' in February 7. 14, 21 and 28 Anything Goes with Lyn 10:00 a.m. – 3:00 p.m. Fee: $25.00
Join Instructor-in-Residence Lyn White as she guides you to reach your individual creative heights in a collegial group setting. Class is Open Instruction and encourages you to create at your own pace, but with a little help from expert Lyn to start or complete any fabric project!
Sally's Wednesday Stitch-In's. It's so much fun with all the stitchers who come to join Sally…It's FREE…they break for lunch and head over to the café where Ragena always has something warm and delicious to eat…plus the desserts!
Friday, February 2 ,2018 Intermediate Fabric Collage 10:00 a.m.—2:00 p.m. Fee: $20.00 Kit: $35.00 Learn from Artist-in-Residence Joyce-Marie the art of Fabric Collage as a way to embellish your quilts with stunning applique and other imaginative items as she shares her well-honed techniques and tricks for success every time! Continuation of January Class

Friday, February 16, 2018 Hanky Panky 10:00 a.m.—2:00 p.m. Fee: $20.00 Kit: $35.00 Want a little Hanky Panky in your life? Join Artist-in-Residence Joyce Marie as she leads you to create a stunning block, made of your vintage, heirloom or new Hanky, embellished with lace, buttons or whatnot! Bring your Hanky and trimmings, or purchase some at the Shoppe, (Our lace collection carries 20 year old pricing and an additional 40% off!). No machine required for this class, just scissors, needle and thread! Background material included in cost of class! 10:00 a.m. thru 3:00 p.m. with a break for Dutch Lunch $25.00 per person.

Saturday, February 17, 2018 Crazy Quilt Purse With Miss Sally 10:00 a.m. – 3:30 p.m. Fee: $25.00
Sally Criswell, the Grande Dame of Cross Stitch guides you to create a purse with a Crazy Quilt Motif!
Saturday, February 24, 2018 Sit and Sew with Karen and Claire 10:00 a.m. – 3:00 p.m. Fee: Free Come on in and Sit and Sew with Karen and Claire. Make new friends and keep sewing with the ones you already know!
MARK YOUR CALENDAR FOR THE 2018 TRENTON'S SUWANNEE VALLEY QUILT FESTIVAL!
Saturday, March 17, 2018

---------------------------------------------------------------------------------------

QUILT EXHIBIT IN TRENTON
Needle and I and Gainesville Charm Quilters works are on display in the Long Gallery of the Suwannee Valley Quilt Shoppe.
The Gainesville Charm Quilters were established in the 1980's. Miss Cotella Bevis kept the group motivated by suggesting and preparing quilt challenges. This group meets the second Thursday of every month, getting together to stitch and gab, then going out to lunch.
Needle and I have also been quilting together since the late 1980's They meet in members' homes and get together regularly to sew and share techniques.
Some of the featured works include Whirling Pinwheels by Margaret Couch; Mary Jean Hanson's Iris Garden and Ann's Roses by Linda Beckenbach.
"Ann's Roses was made for my former boss", relates Ms. Beckenbach. "I reduced the Cleao pattern 25% to make the wall hanging. I did the rose applique and machine quilting myself. I spent six years in this project."
Another standout quilt is the Self Portrait Quilt by the Gainesville Charm Quilters. Each block was made by a member of the guild in the 1990's. 15 ladies represent themselves on this picture-perfect work of fabric art.
Needle and I and Gainesville Charm Quilters quilts will be on display in the Long Gallery of the Suwannee Valley Quilt Shoppe through March of 2018. The Suwannee Valley Quilt Shoppe is located at 517 North Main Street in downtown Trenton, Florida. The Shoppe is open Monday through Saturday, 10:00 a.m. until 4:00 p.m. There is ample free parking available. Viewing the exhibit is also free.