Lemongrass Iced Tea

How to grow Lemongrass: get yourself to your local garden nursery, look in the HERB section. Most will have Lemongrass for sale in small 4" pots. Plant in a sunny location, with lots of room all around because it can grow up to 4 feet in diameter. Within a few months, your plant will be 4-5 feet tall.
To Harvest Lemongrass: take your sharpest kitchen shears (you have kitchen shears, right? If not, get some good ones, you can use them for all kinds of cooking tasks), go out and cut about 3-4 long stems of lemongrass, cutting as far down the stem as possible. Each stem will have 4-5 blades of grass.
To Make Lemongrass Tea: fill a 2 QT pot with water, bring to a boil. Turn off the heat under the pot. Bundle up the lemongrass so it will fit into the pot and drop it in.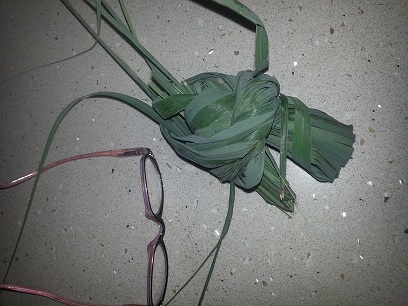 Put the top on the pot. Set the timer for 10 minutes, and then lift out the grass with tongs. Flavor the tea with a couple TBSP of sugar or a 2 second squirt of Agave Nectar. Start with just a little, you'll be surprised how little sweetner you need to pull the flavor out of the tea. Pour over ice and enjoy!
these 2 plants have been with us about 10 years. We chop them down in the winter (one at a time, in case I need some lemongrass). They always come back, with clean fresh green stalks, and no brown ones.