Florida Quilt Network - Newsletter #201
www.FloridaQuiltNetwork.com
June 1, 2015
Quilting Friends,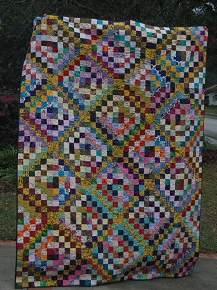 I'd like to introduce you to an impressive young lady named Diana Jasany. If you haven't heard of her yet, she is a Girl Scout who has taken on a neat quilting project as her Gold Award Project. She wants to make quilts for foster kids in NC, and she's using Bonnie Hunter's free pattern called Scrappy Trips to make this happen. Lots of people are helping her with blocks and quilts and other donations. Diana is looking for a donation from every state, and has asked me for help getting the word out in Florida. See her note below, and please consider lending her a hand. I think I have a couple extra blocks from this quilt to send her.
To get a complete, organized, hotlinked listing of all the Florida upcoming shows, retreats, workshops, shop hops, exhibits, etc, please visit the Calendar.
Happy Quilting, Mary-Jeanine
PS: I love to hear from you, so drop me a line sometime!
-------------------------------------------------------------
CALENDAR OF EVENTS: (Newsletter number follows)
2015
May 16-Aug 22 Quilt Exhibit in Melbourne Additional information (#198)
June 1-30 Shop Hop in Tampa Bay area www.bayareashophop.com (#200)
June 20 Community Quilting in Satellite Beach margie@cfl.rr.com (#201)
June 21-Sept 8 Row-by-Row Experience www.rowbyrowexperience.com
(#200)
July 13-17 Kids Quilt Camp in Satellite Beach www.eduquilters.org (#200)
July 17-Aug 15 Florida Shop Hop www.floridashophops.com (#200)
July 18 Community Quilting in Satellite Beach margie@cfl.rr.com (#201)
July 18-29 Quilt Showcase in Deland www.stetsonmansion.com (#200)
Aug 8 Kathy Ward Workshop in Lake Worth www.hibiscusquiltguild.org (#191)
Aug 14-15 Quilt Bus Trip on West Coast Website here (#200)
August 15 Community Quilting in Satellite Beach margie@cfl.rr.com (#201)
Aug 19th , Deborah Karasik Workshop in Boca Raton www.gcqg.org/news (#200)
Aug 22-29 Cruise from Ft. Lauderdale www.DanceAcrossTheSeas.com (#199)
Sept 17-19 Quilt Retreat with MJ Ibarguen in Cedar Key 352-543-9779 (#197)
Oct 21 & 22 Diane Hire Workshop in Boca Raton www.gcqg.org/news (#200)
Oct 23-24 Quilt Show in Crystal River www.creativequiltersofcitruscounty.com (#200)
Nov 6-7 Quilt Show in Brandon www.brandonquiltguild.org (#193)
2016
Jan 8-9 Quilt Show in Ft. Myers www.swfqg.com (#200)
Feb 4-6 Quilt Show in Port Saint Lucie pslquiltinginparadise.blogspot.com (#198)
Feb 12-13 Quilt Show in Palmetto Karonsquilting@hotmail.com (#193)
Feb 19-20 Quilt Show & Tea in Brooksville quiltshow14@gmail.com (#200)
Feb 24-27 AQS Show in Daytona Beach www.americanquilter.com (#197)
Feb 26-27 Quilt Show in Naples www.NaplesQuiltersGuild.com (#199)
Mar 4-5 Quilt Show in Melbourne Event Info (#196)
Mar 4-5 Quilt Show in Mt. Dora lakequiltguild.com (#200)
Mar 11-12 Quilt Show in Largo www.SuncoastQuiltingCircle.org (#199)
Mar 18-19 Quilt Show in West Palm Beach donnajesse8348@gmail.com (#198)
Mar 19-20 Quilt Show in Venice www.VAQG.org (#201)
-------------------------------------------------------------
A GIRL SCOUT'S REQUEST FOR QUILTING HELP
Hello!
My name is Diana Jasany, I am 15 and a 9th grade student in High School in North Carolina. I have been a Girl Scout for 9 years and I am currently working on my Gold Award Project, the highest level of achievement in Girl Scouts.
I am making at least 16 quilts for teenagers who age out of the foster care system in NC. I am using the "Scrappy Trips Around the World" block pattern from Bonnie Hunter, with her permission, and putting 42 blocks together for each twin size quilt. The project is very personal and important to me because I was adopted from Russia at the age of 14 months.
You can read about my project and follow my progress at my own facebook page called:
Diana's Golden Needle.

https://www.facebook.com/pages/Dianas-Golden-Needle/1620860048143753?fref=nf
I began this project in early March and already have made 6 quilts with my own blocks and donations that others have made to my project. So far, I've received donations from 20 states, the UK, and Canada! But, I haven't heard from anyone yet in Florida.
I would love to be able to tell the kids that people from every state in the country cared about them and donated supplies or quilt blocks to my project.
I'm a teenager, so of course, I believe in the power of social media I have been contacting quilt guilds and shop owners to help spread the word! If you could share my message via email or facebook with your local quilt guild or customers, I would be so very grateful! And of course, I would love to hear from FLORIDA!
You can find directions for the quilt block here: http://quiltville.com/scrappytripspf.html It's very fun and easy to make and uses just (6) 2.5 x 16 inch strips to make several 12.5 inch unfinished blocks.
You can contact me via my facebook page MESSAGES or email me: dianasgoldenneedle@gmail.com
Thank you SO very much!
Diana Jasany
704-754-2714
-------------------------------------------------------------
COMMUNITY QUILTING IN SATELLITE BEACH
QAKH community quilt-ins return this summer to Satellite Beach! Quilters Against Kids Hunger and Homelessness is again holding community work days to produce quilts to warm the toes of "our" Brevard kids who need comfort and hope. Every fall the quilts are delivered to kids through the elementary schools. The quilt-ins are on the third Saturdays of each month – June 20, July 18, August 15 - from 9-4. Non-quilters are welcome to pitch in as there are other jobs such as ironing and sandwiching. All supplies are provided so quilters need to bring only their machines and their lunches. Publix supplies drinks and snacks. Come when you can and stay as long as you wish.
All QAKH gatherings are 9:00 – 4:00 at the Scotty Culp Auditorium, 565 Cassia Blvd., Satellite Beach. For questions, email margie@cfl.rr.com
-------------------------------------------------------------
QUILT SHOW IN VENICE
March 19 - 20, 2016 "Quilting by the Gulf XVI" will be held at the Venice Community Center, 326 S. Nokomis Av., Venice FL. 34285
9-5pm on Saturday
9-4pm on Sunday
Details can be found at www.VAQG.org or by following us on Facebook.